With just a few days left in 2016, we are mourning the loss of yet another star.
Carrie Fisher, who will forever be remembered by "Star Wars" fans as Princess Leia, has died at the age of 60, her family confirmed Tuesday.
Fans and friends of the Hollywood legend had been on edge since last Friday, when Fisher suffered a heart attack during a flight from London to Los Angeles. When news of her death began to circulate Tuesday, the internet was quickly flooded with tributes and memories, including from her "Star Wars" co-stars.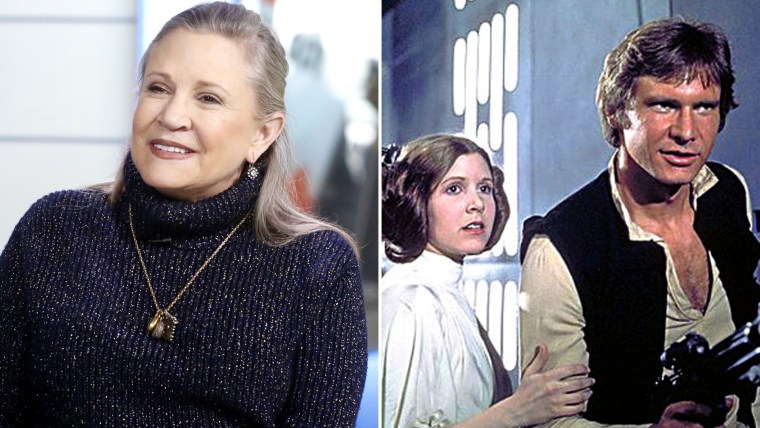 "No words," tweeted Mark Hamill, who played Luke Skywalker to Fisher's Leia.
Harrison Ford, who had a strong bond with Fisher on-screen as Han Solo (and had a bond with her off-screen, too), said in a statement, "Carrie was one-of-a-kind…brilliant, original. Funny and emotionally fearless. She lived her life, bravely...My thoughts are with her daughter Billie, her Mother Debbie, her brother Todd, and her many friends. We will all miss her."
Billy Dee Williams, who played Lando Calrissian in the original "Star Wars" trilogy, tweeted that he is "deeply saddened" by Fisher's death.
"She was a dear friend, whom I greatly respected and admired," he added. "The force is dark today!"
Anthony Daniels, who's portrayed C-3PO in the "Star Wars" franchise, wrote, "I thought I had got what I wanted under the tree. I didn't. In spite of so many thoughts and prayers from so many. I am very, very sad."
The actor behind Chewbacca, Peter Mayhew, posted, "There are no words for this loss. Carrie was the brightest light in every room she entered. I will miss her dearly."
"Star Wars" filmmaker George Lucas described Fisher in a statement as "extremely smart; a talented actress, writer and comedienne with a very colorful personality that everyone loved.
"In 'Star Wars' she was our great and powerful princess — feisty, wise and full of hope in a role that was more difficult than most people might think," Lucas' statement continued. "My heart and prayers are with Billie, Debbie and all Carrie's family, friends and fans. She will be missed by all."
Fisher's mother, actress Debbie Reynolds, thanked fans for their support in a Facebook post.
"Thank you to everyone who has embraced the gifts and talents of my beloved and amazing daughter. I am grateful for your thoughts and prayers that are now guiding her to her next stop," Reynolds wrote in a post signed "Carrie's mother."
Here's how other celebrities reacted on social media to the sad news:
In addition, director Steven Spielberg released a statement that read, "I have always stood in awe of Carrie. Her observations always made me laugh and gasp at the same time. She didn't need The Force. She was a force of nature, of loyalty and of friendship. I will miss her very much."