Busy Philipps spent four hours in the ER this week after a full day spent under bright lights left her eyes badly damaged.
"I sunburned my eyes from my photo shoot today," the actress shared in an Instagram story video on Tuesday.
She then continued to explain what happened, poking some fun at the situation.
"I was just saying though, it's so on-brand. I get one big magazine cover and I do one photo shoot and I burn my eyeballs," she said with a laugh.
The 38-year-old actress posted photos of her visit late Monday night to a California hospital.
"I couldn't sleep because it felt like there were shards of glass in both my eyes," she said.
Doctors told Philipps she suffered from photokeratitis, a condition that occurs when the cornea is damaged by excessive exposure to ultraviolet light.
"I have Photo Keratitis from bright lights/sun exposure! WHO EVEN KNEW THAT WAS A THING?" Philipps wrote in the caption of a separate Instagram post.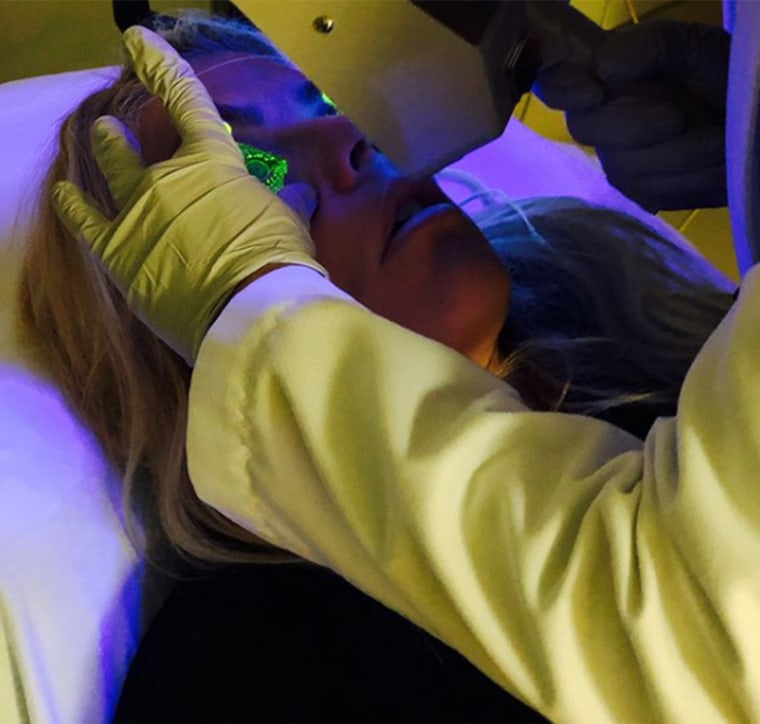 The condition occurs when ultraviolet radiation burns the surface layer of cells of the cornea, which is covered with sensitive nerves, according to Dr. Sean Donahue, a neuro-ophthalmogist and professor at Vanderbilt University.
"All that UV light gets reflected and so much of it goes into the eyes," Donahue told TODAY, "and you can get a burn on the surface on your eyes, especially if you're exposed for a long time."
Doctors frequently see photokeratitis among welders who work under harsh welding lamps that can provide flash burns within seconds. But the same thing can happen from regular sunlight too, particularly when it's reflected on bright ski slopes or white sandy beaches, Donahue said.
Though many people haven't heard of the condition, Phillips isn't the first notable name to experience its painful effects. CNN anchor Anderson Cooper also came down with the condition in 2012. It happened after he failed to wear sunglasses while out on a boat in Portugal during a reporting trip.
"Temporarily blinded last week while on assignment. UV light bouncing off water. Much better now," he said in an Instagram post at the time.
There is no treatment for photokeratitis other than rest, although some people use topical moisturizers or eye drops to help sooth the eye.
"The good news is the cornea heals exceedingly fast," Donahue said. "Within 24 to 48 hours, (Philipps) should be completely better."