Apparently being a Grammy Award-winning singer and Broadway performer isn't enough to stop New York City subway riders in their tracks.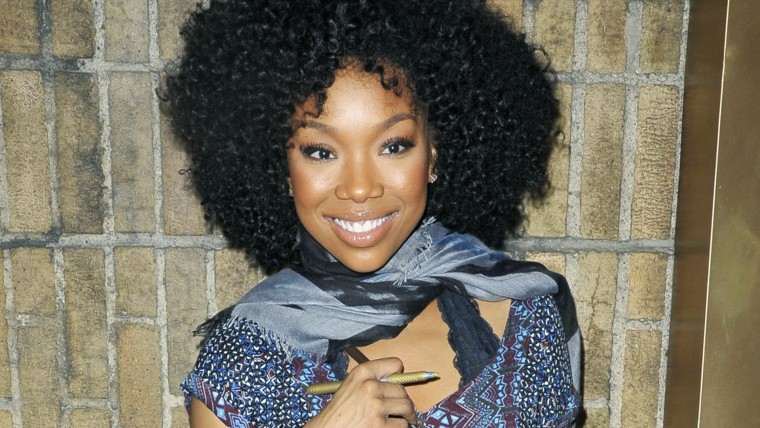 Just ask pop star Brandy, who had someone film her subway-car performance while unmoved commuters in the background continued to look in other directions.
Uploaded to YouTube Monday, the three-minute video — titled "#aMomentinNY: Riding the subway & singing my heart out!" — has collected more than 100,000 views in 24 hours.
"What did y'all thought of that?" she asks her fellow subway riders, who don't appear to respond. "Y'all thought that was cool? Hello? Nobody heard anything? Nobody cares? … I just gave that my all, and ain't nobody sayin' nothing."
Brandy does manage to chat with at least one supporter, who praises her voice and offers constructive criticism before she gets off the train at 50th Street and Eighth Avenue.
In all likelihood, there are at least three reasons why fellow subway riders didn't erupt in cheers or toss roses at the Grammy Award winner's feet during and after her performance.
1. New York City commuters are notoriously laser-focused on getting to their destinations. They're probably not searching for talented subway riders, let alone expecting celebrities to travel among commoners. A genie could have emerged from a puff of smoke to announce the granting of wishes for everyone aboard the car, and not one soul would have removed his/her earbuds.
2. Even an amazing performance can be construed as invasive if there's no safe escape. Unauthorized movement between subway cars is prohibited, so even an accomplished vocalist's tune could be considered an affront if there's no safe (or legal) escape.
3. New Yorkers think they've seen it all. Proof: When Brandy asks a fellow rider what he thinks of her song, he says that while she's got talent, she may need a platform that's not at the bottom of subway stairs. "We've seen this [subway-car performance] a million times," he adds. "You've got to do something different."
MORE: Watch U2's disguised subway performance with Jimmy Fallon on 'Tonight'
Thankfully for Brandy, she already has something different in play. Plenty of New York audiences are paying to watch her sing on Broadway, where she's a featured performer in the current production of "Chicago." She'll continue to play the role of Roxie Hart through Aug. 2.
Follow TODAY.com writer Chris Serico on Twitter.