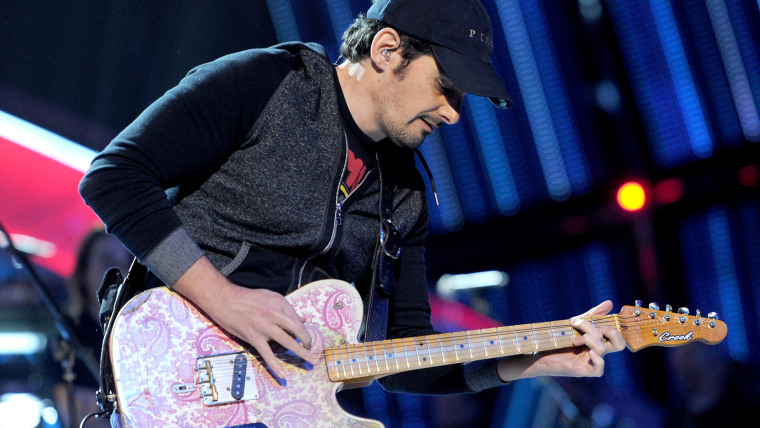 Country singer Brad Paisley was so touched by the actions of American doctor Kent Brantly, who is fighting the Ebola virus in a special isolation unit in Atlanta, that he dedicated a song to him.
Over the weekend, Paisley tweeted that he had been reading the news, and then asked for prayers for Brantly. He then shared a one-minute YouTube video of his performance of the 1971 Tom T. Hall song, "Me and Jesus," beginning it with, "Don't you know, God's got a lot of good people out doing his work."
Fans were touched, with one YouTube listener posting, "Bless you Brad for this and the reason you leaked it. Many, many prayers are being said for this gentle man while we wait for God to do His healing magic."
Brantly, 33, was treating patients in Liberia when he and fellow American Nancy Writebol came down with the disease. He was flown to Atlanta on Saturday, the same day Paisley dedicated the song to him. Writebol was flown to the same hospital on Tuesday. Both are said to be improving since taking an experimental drug.
Paisley has been sharing songs and tidbits from his upcoming album, "Moonshine in the Trunk," and told USA Today that the sharing is not approved by his record label.
"I'm having a ball with (the sharing)," he told the newspaper. "I have a whole plan in my mind, but the label doesn't know it."
Paisley had fun leaking another song, called "Cover Girl," sending the link to his wife, actress Kimberly Williams-Paisley, comic Joan Rivers, singers Kesha and Carrie Underwood, and actress Olivia Munn, telling each woman the song was about her.
"Moonshine in the Trunk" comes out Aug. 26.