Any celebrity can post a cute photo from the past and get a few likes for it on social media, but some vintage pics are too transcendent for one #ThrowbackThursday alone.
According to Know Your Meme, the weekly phenomenon — #TBT for short — can trace its online origins to 2003, but didn't become an established Instagram trend until November 2011, some 10 months after the photo-sharing social media site introduced hashtags. These days, the act of sharing photos from yesteryear (or yesterday) has spread to all social media platforms, with millions of commoners and A-listers participating in adorable, hilarious and often self-deprecating ways.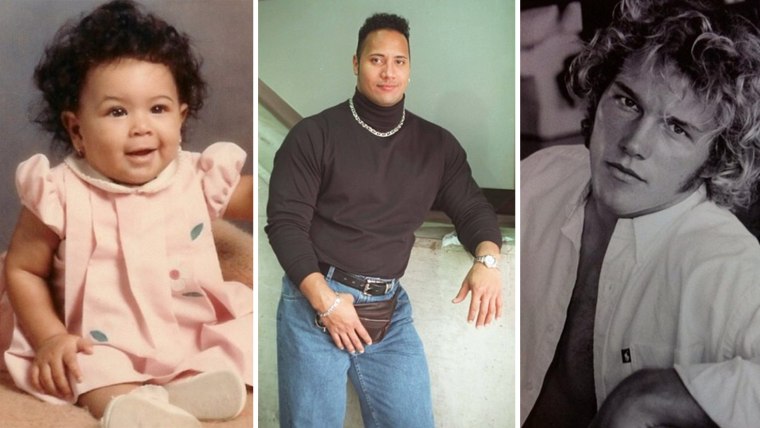 Some stars of film, TV and music have posted particularly incredible old-school images that deserve to be celebrated every week for the rest of time. In no particular order, here are TODAY.com's 10 greatest celebrity #ThrowbackThursday photos of all time.
1. Beyoncé
Behold the next-level cuteness of baby Beyoncé, perhaps to be known from now on as Baby-oncé.
Already fashioning a turtleneck and gold chain, the movie and wrestling star acknowledges that the glorious fanny pack and lean in this '90s pic "take this to a whole other level." (Honorable mention: His #TBT photo from an era when other teens thought he was an "undercover cop.")
3. Taylor Swift
More than a decade before taking her red-lip, classic "Style" for a walk on her star-studded concert tour runways, there was that "braids phase" she had in 2002.
4. Chris Pratt
As Jimmy Fallon found out on "The Tonight Show," the hilarious back story behind the "Guardians of the Galaxy" star's glamorous — and first — head shot might be even greater than the 2000 photo itself.
5. Aziz Ansari
Pratt's "Parks and Recreation" co-star was pretty festive as a South Carolina kid in a dance class. Bonus points for clarifying that he's in the "back row, 2nd from the left."
6 (tie). Justin Timberlake and Justin Timberlake
Let's face it: It's impossible to choose between this holiday He-Man realness and that banjo freshness.
7. Kim Kardashian and Nicole Richie
No matter how you feel about the Kardashian empire, this photo of two eventual reality-TV stars as 13-year-olds is a victory for awkward phases everywhere.
8. Barbra Streisand and a few of her A-list friends from 1989
Speaking of awkward phases, the year 1989 was sartorially that for pretty much everyone, as Streisand's vintage photo proves. But as it turns out, hanging out with a crew that includes Meryl Streep, Mick Jagger and Michael Douglas hasn't gone out of style.
9. Jenna von Oy and a '90s "teenage boy's dream team"
The actress who played Six from NBC's "Blossom" posed with this crew of young actresses — including Danielle Fishel ("Boy Meets World"), Tatyana Ali ("The Fresh Prince of Bel-Air") and Keri Russell ("Felicity") — about two decades before the social-media concept of "squad goals" would be beaten into our skulls.
10. Carson Daly and a "Total Request Love" all-star team
Brought to the TODAY co-host's attention on Twitter by Perez Hilton, the former "TRL" host had to marvel at this all-star assembly of late-'90s/early-'00s pop stars — including 'NSYNC, Destiny's Child, Fred Durst, Britney Spears, Christina Aguilera, Jennifer Lopez, Sean "Puff Daddy" Combs, and Lenny Kravitz. "HOLY CRAP!" Daly tweeted in 2014. "Haven't seen that in YEARS!"
Follow TODAY.com writer Chris Serico on Twitter.