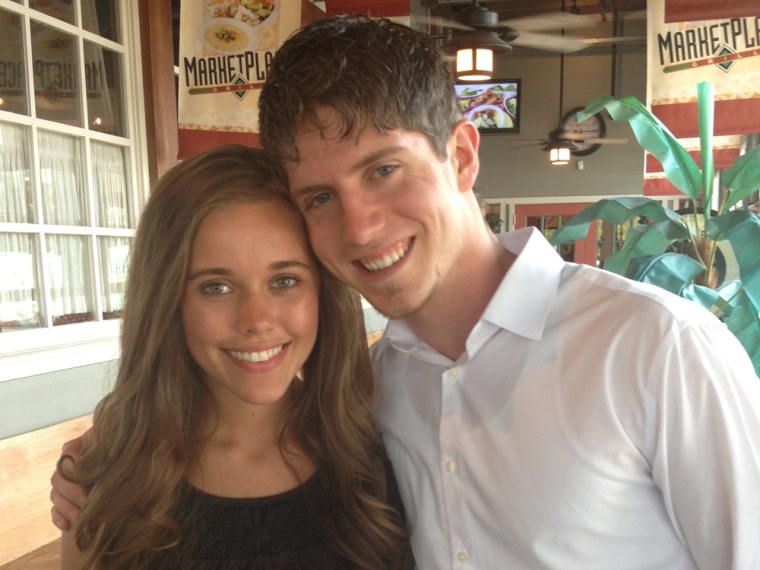 Jessa Duggar and Ben Seewald are ready for marriage!
The "19 Kids and Counting" star accepted Seewald's proposal Thursday night, E! News confirms. "We are so blessed to be engaged! God has written an amazing story through our courtship, and another chapter has just begun!" they say in a statement. "We are thrilled to see what the future holds — especially the wedding bells!"
Perhaps Ben knew she'd say yes, because hours before he popped the question, Jessa Instagrammed a photo of them together, writing, "I admire this man with all my heart! @ben_seewald, you're absolutely the best!" Specific details regarding the proposal have not been revealed.
Jessa has since taken her fiancé's surname on Twitter and Instagram.
Arkansas-based Jessa, 21, and Ben, 19, began courting last year, and they celebrated their "11th 'monthiversary'" Saturday. To fête the occasion, Jessa Instagrammed a picture of her boyfriend, writing, "It was 11 months ago that this dashing man asked to court me! Darling, I love you now more than ever! These 11 months together have been AMAZING...I'm sure only to be superseded by the next 11!"
In accordance with their strong Christian faith, the couple mutually decided to save holding hands until their engagement. Like her elder sister Jill Duggar, Jessa decided to save her first kiss until her wedding day.
PHOTOS: Celebrity couples in love!
When Jill married Derick Dillard in front of 1,000 guests on June 21, Ben discussed his relationship with the bride's sibling in a People interview. "People always ask us when we are getting married. We don't feel pressure to get married," he vowed. "If there's any pressure, it's a good kind of pressure."
Jessa is the third daughter of Jim Bob Duggar and Michelle Duggar, while Ben is the oldest of seven siblings. They hope to have a large family of their own. Of course, Jessa said they'll "leave it up to God."
"We are talking about our goals and even just like future, with family, we both talked about adoptions," Jessa told the magazine two months ago. "We are open to having children and both want to adopt, too."
TLC's "19 Kids and Counting" returns Sept. 2 at 9 p.m.