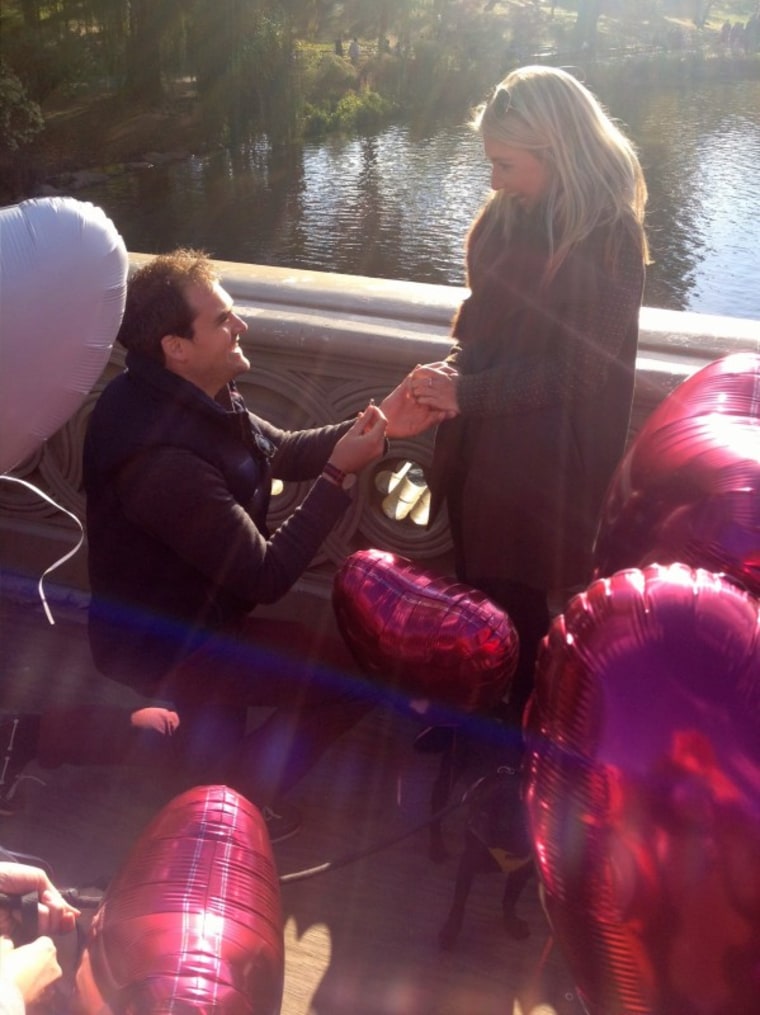 Central Park has served as a beautiful backdrop to many an engagement. But vacationing Brit Ed Grant, 27, brought a little something extra to set the scene for his park proposal to long-term girlfriend Alexandra Justins: 16 pugs.
"I have never seen Alex happier than when she sees a pug so I thought I would make her super happy (by seeing 16 at once), and then I hoped even happier by proposing to her!" the London resident told TODAY.com via email.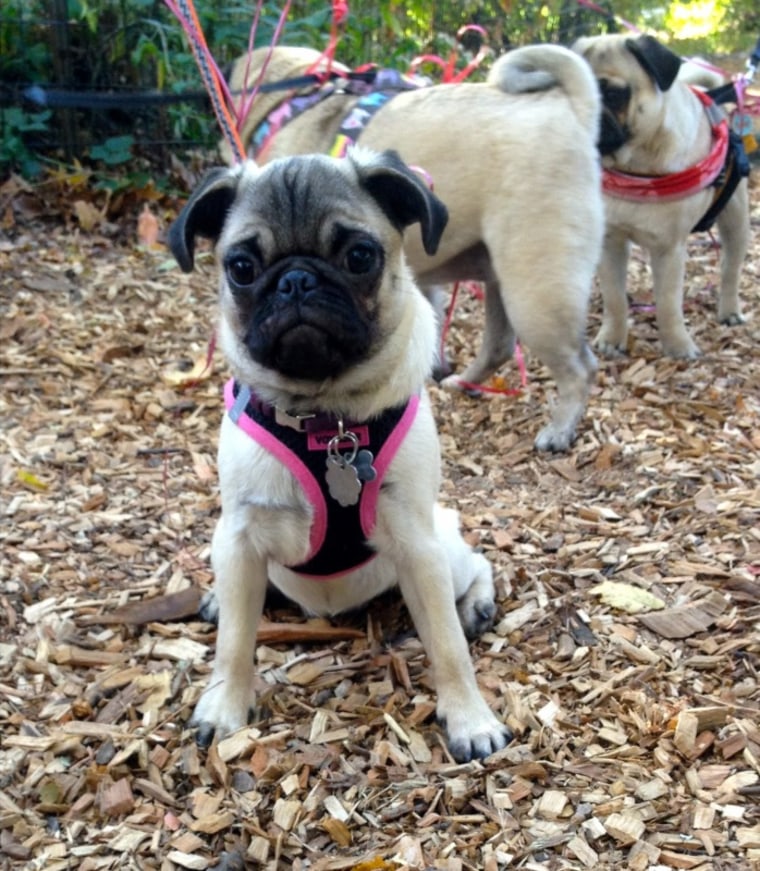 Grant started planning the proposal two weeks before the couple embarked on a 4-day New York City vacation. Since Justins, 27, has a thing for pugs, Grant contacted a pug meetup group that was more than happy to help him pop the question. On Oct. 27, a warm and sunny autumn day, 10 people and 16 pugs from New York and New Jersey arrived at Central Park to be a part of the event.
"It was incredible how people just seemed to trust me even though we had never met and it was heartwarming that they all wanted to help so much," Grant said.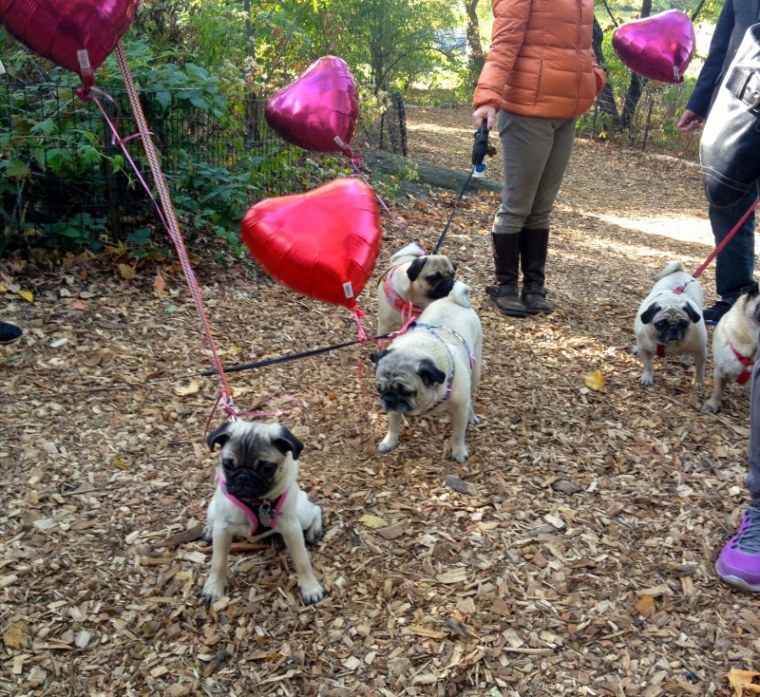 While volunteers waited for all the pugs to arrive, Grant kept Justins busy with a romantic boat ride through Central Park and a glass of Champagne over lunch. He eventually lured Justins over to the park's famous Bow Bridge, where he intended to propose, claiming he just wanted a picture. 
A crowd of people had already gathered nearby, attracted by the irresistible sight of pugs with heart-shaped balloons tied around their collars. Word had already got out that they were about to witness a proposal.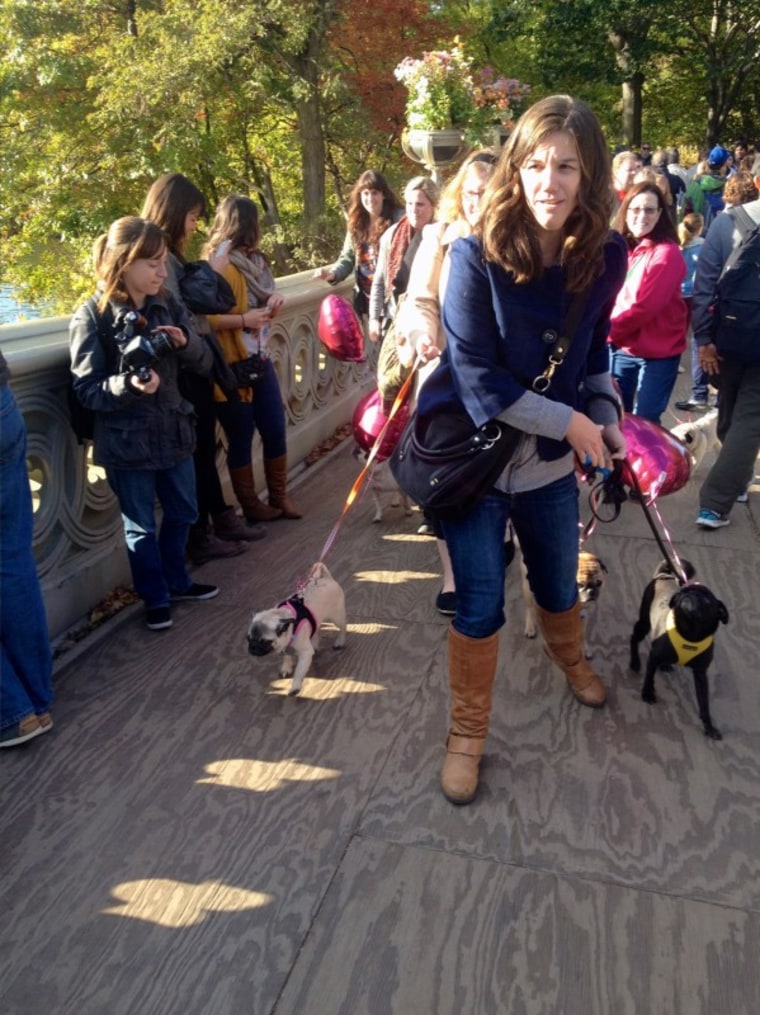 Justins rushed over to one of the pugs and wondered aloud why a balloon was attached to him. Then 15 more pugs paraded onto the bridge, surrounding the couple with helium hearts.
"Alex was overwhelmed and I think the penny dropped that something was about to happen, especially as there was a huge crowd of people all with their camera phones ready!" Grant said.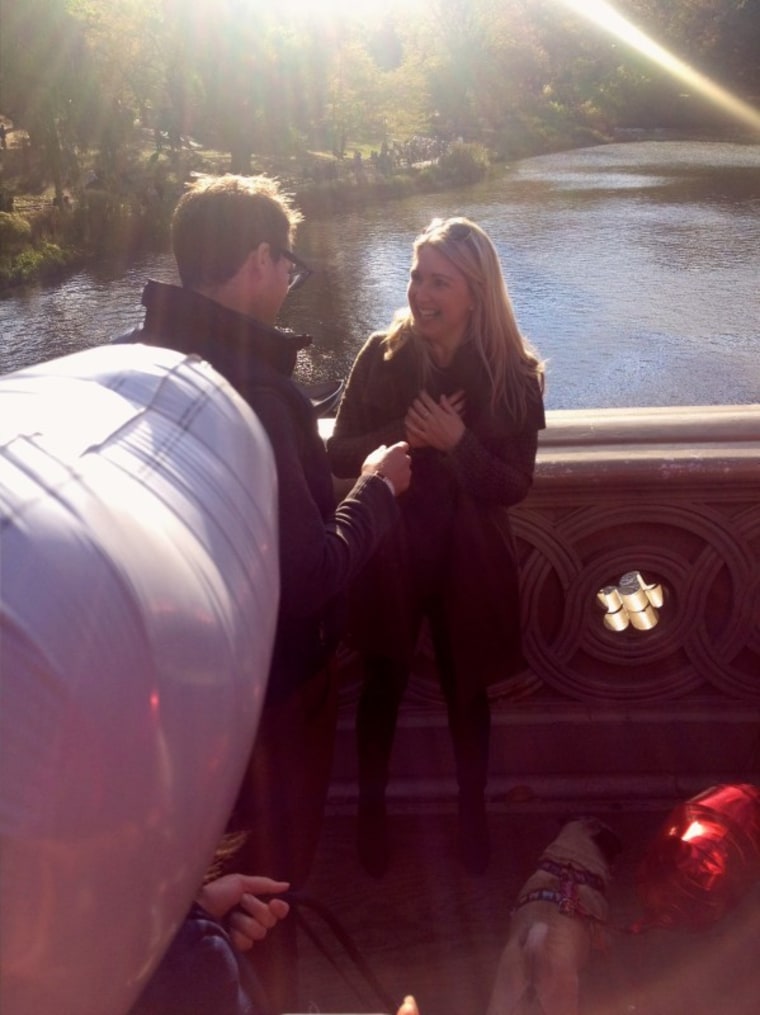 He was "so nervous" but managed to recite a short speech he had prepared before dropping down on one knee and asking Justins to be his wife. The crowd erupted with cheers when she said yes.
"I was totally overwhelmed and I could not believe that Ed had organized everything," Justins told TODAY.com via email. "It made an incredibly special moment even more memorable. I was so touched that people that we had never met wanted to be a part of our special moment."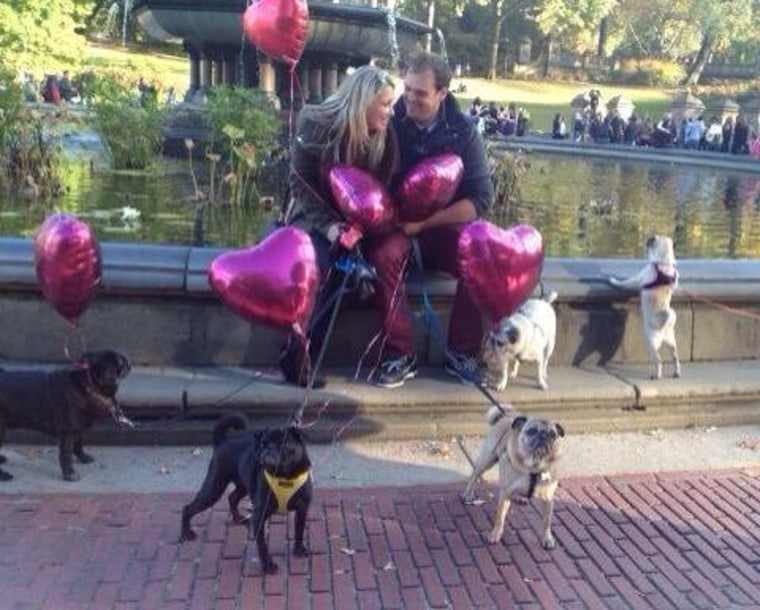 Afterwards, the couple celebrated with the ten pug owners over drinks.
"I thought the whole proposal was very sweet," Wendy Frink, who attended the event and wrote about it on BarkBox's BarkPost, told TODAY.com. "Extremely thoughtful, personal, down-to-earth and heartwarming. Alex was just ecstatic."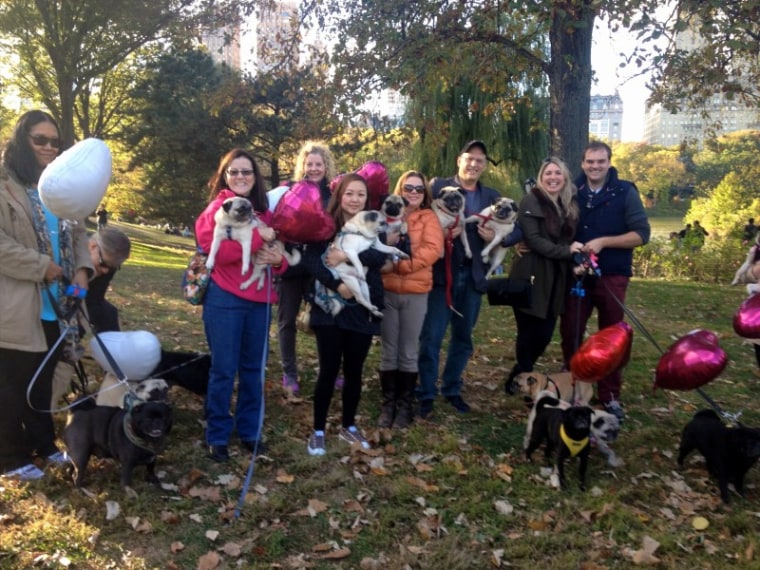 The couple does not have a pug of their own just yet, as their apartment is a little too small for a third resident. But they plan on bringing one home just as soon as they upgrade to a larger space. In fact, they already have a name picked out: Bow, in honor of their Central Park engagement.