As TODAY.com reported last week, Hank the cat is running for Senate in Virginia on a platform of job growth and economic prosperity.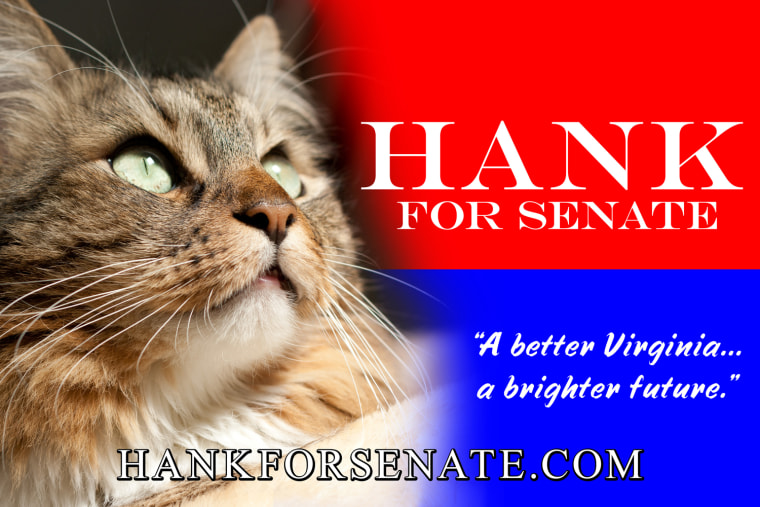 But as in any political contest, human or otherwise, things have gotten ugly. 
A mysterious Super PAC calling themselves Canines for a Feline-Free Tomorrow launched a vicious attack ad against the Maine coon, dogging him with questions about his unreleased birth certificate and tax returns, as well as allegations that he has used catnip. The ad is calling for "more facts and fewer fat cats in Washington."
The group behind the "attack" ad is The Big Honkin', a Virginia-based internet comedy troupe.
Hank, never one to strike up a catfight, responded on his Facebook page. He said, "They're already afraid of me in Washington! Let's show them that we have no fear, and we will win in November!" Hank's fans rallied behind him, responding with messages of support and encouragement, such as, "Stay Strong, Hank! They're afraid of your fierceness," and many assurances that he is fuzzy, not fat.
Hank stuck to his message, releasing a new ad yesterday about the real problems facing America, like high unemployment and foreclosures. "We need to stop the rhetoric," the ad says. "Hank is a refreshing voice of change and he offers real solutions to our problems."
More: Romney boys get the 'SNL' treatment
Attention: Bo Obama has an announcement
Which presidential hopeful has the best campaign merchandise?
TODAY.com contributor Jillian Eugenios asked her cat, Izzy, for comment on this article, but Izzy was too busy to be questioned, as she is currently printing out "Hank for Senate" lawn signs.