Jon Boyer has always had a soft spot for animals in need, and now animal lovers across the country have a soft spot for him.
As a police officer with the Baltimore Police Department for the past three and a half years, Boyer often rescues stray cats and dogs and brings them to the Baltimore Animal Rescue and Care Shelter (BARCS), the city's largest open admission shelter. The 26-year-old cop considers the rescues as just a part of the job, but when he agreed to pose for a photo with a kitten he brought into BARCS last May, his private good deeds became an online sensation when the shelter posted the picture on its Facebook page.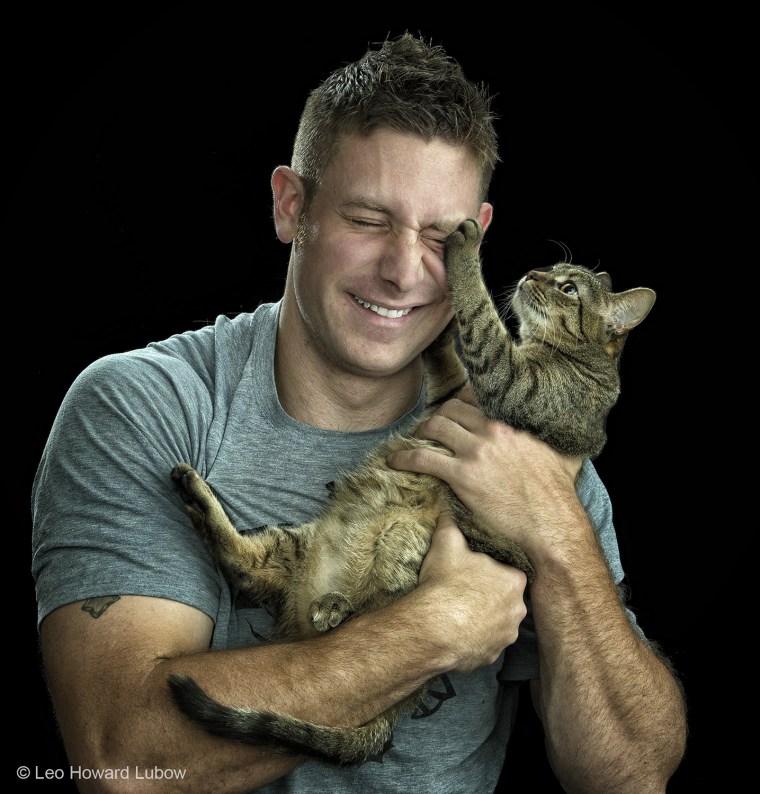 "It was kind of weird. I hadn't been expecting that attention at all," Boyer told TODAY.com about the post, which received more than 4,000 likes and several hundred comments that praised his good works — and good looks. "[Rescuing animals] was kind of a thing I'd been doing a little while before that. It just happened to blow up with that picture."
Boyer said he has always had a natural affinity for four-legged creatures, especially cats. "I used to hang posters in my room of cats, because I loved them," he said. "My parents always wondered why I didn't like dogs. I love dogs, but cats are kinda my thing." 
Cats are still his thing: He once owned six cats, all but two which were rescues. He now has three cats, including Lilly, the kitten in the photo that made him famous.
Besides getting national media attention from outlets such as Buzzfeed and The Huffington Post, he was featured in ads for the animal rescue "Show Your Soft Side" campaign and has his own Facebook fan page. Boyer said that he understands why his story attracted so much interest — "the whole guy in a police uniform with a kitten makes people melt" — but humbly points that out that "I'm getting attention for one of the million things [Baltimore police officers] do on a daily basis."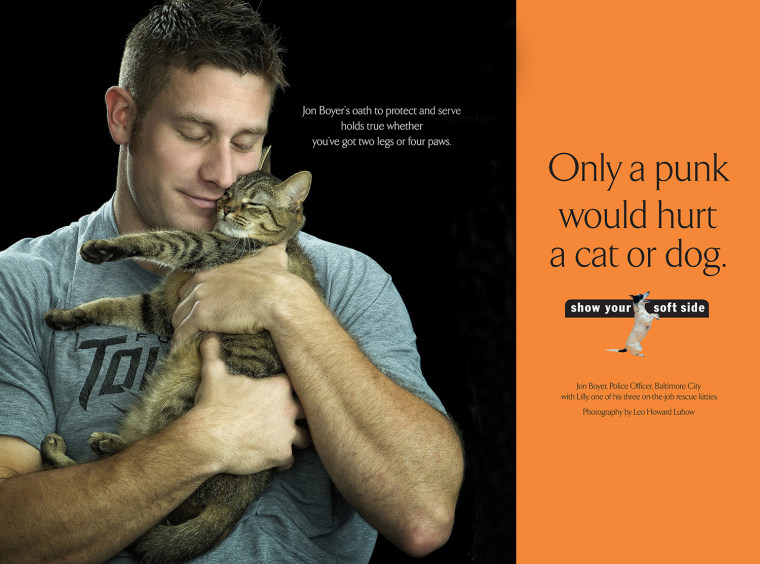 Boyer has a strong camaraderie with his fellow officers, and said that his colleagues have responded to his newfound fame with some good-natured teasing, including calling him "cat man." He added that he was glad for the interest if it meant bringing a greater awareness to the cause, including making himself available to events benefiting BARCS.

Even with his increased profile, Boyer said that beyond having more Facebook friends, his life hasn't changed since becoming an Internet hero. But he is pleased to know that the attention has the potential to bring about change for stray animals in Baltimore and beyond.
"If [the media interest] is giving animals a chance to get rescued that wouldn't have had a chance to before because someone sees my story, that makes me happy."