/ Source: TODAY Contributor
A friend who lives in a different state recently asked me if my children had "fidget spinners" yet. I had never heard of a fidget spinner, so she showed me a picture of the palm-sized gadgets and told me that supposedly, they could help some kids focus while they play with them.
The next day, my 14-year-old son wandered into my bedroom to ask me a question, and I noticed something in his hand. "What's that?" I asked him. "My fidget spinner," he said casually. "I bought it on Amazon a few weeks ago."
Two things became apparent: I no longer know everything my child is buying for himself on Amazon, and fidget spinners are officially a thing. And they are: Mandy Wideman, a mother of three in Alabama, told TODAY Parents, "They're huge here in Birmingham! I just drove to two stores tonight to look for them. One had sold out and the other one said they had sold over 200 today and over 2500 in the last week!"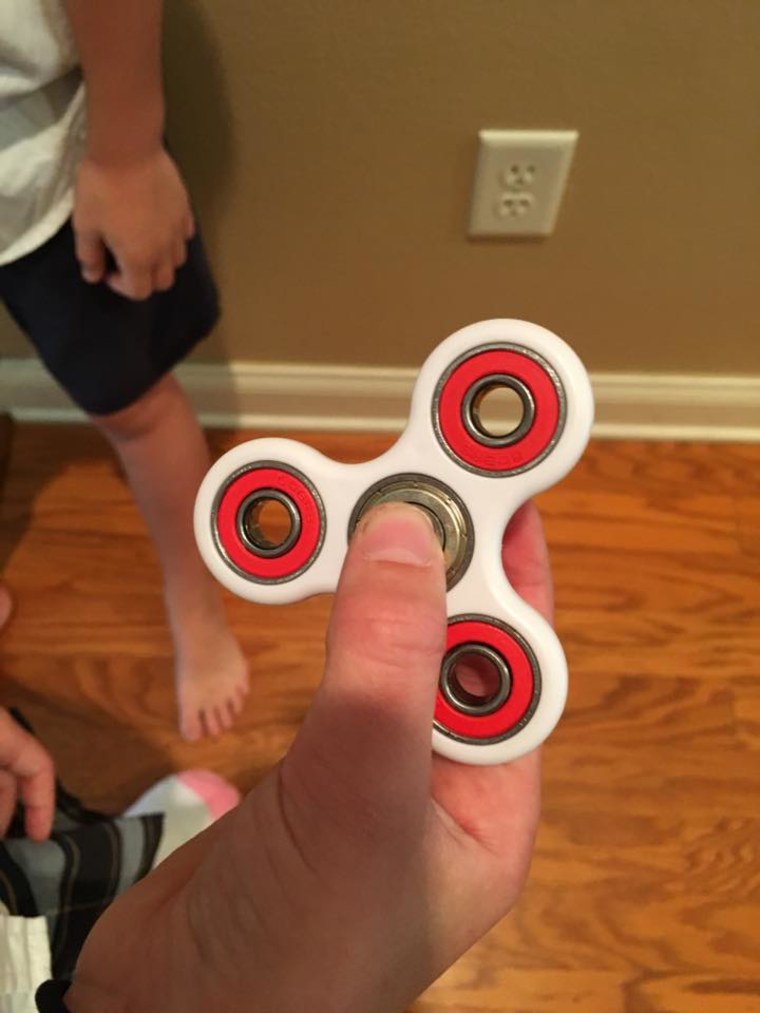 Soon, my own children were begging for more fidget spinners in various colors, one of my children's teachers began keeping a supply of them in her desk to hand out to kids who could benefit from using them in class, and articles began popping up all over my Facebook feed, most notably a first-person essay in Working Mother by Christina Bolusi Zawacki entitled, "I'm a Teacher, and Trust Me When I Say That Fidget Spinners Are the Effing Worst."
It seems that fidget spinners — which some teens are also making themselves in their garages out of bicycle chains or on 3-D printers — are the new slime-making or bottle-flipping craze, dividing parents and teachers as to whether they are good or bad for kids and their classroom environments. Some parents believe children with ADHD benefit from having a fidget spinner (or a related item, such as a fidget cube or tactile putty) in class with them, but because they can cause classroom distractions, some schools are instituting bans.
Never miss a parenting story from TODAY.com! Sign up for our newsletter here.
"As the teacher, I am thoroughly distracted by your child's trendy toy," wrote Zawacki in her viral essay. "It makes it difficult for me to focus and do my job, and I worry about the students in the room who are completely thrown off-track because it's all they see. These are not the helpful devices they were intended to be. Instead, they've become the Millennial/Gen Z/Linkster version of Pokémon cards, POGs or Tamagotchis. Now I understand why MY teachers hated those obnoxious things with the same red-hot rage I feel for fidget spinners."
But some parents say fidget devices are not toys, but therapy tools that help their children focus; they don't want this latest trend to keep their children from utilizing the devices in the classroom. Some students have 504 plans in their educational files that assure them certain classroom accommodations, including, in some cases, fidget spinners. For those children, school-wide fidget spinner bans could deny them help they actually need.
Ro Marks, mother of Ben, 13, and Danny, 10, in Lawrenceville, New Jersey, told TODAY Parents, "Our middle school just banned them, and my son has been using them as part of his 504 plan. I have already written the school about this, because although he could still be allowed to use it legally as part of his 504 plan, he doesn't want to because it will now draw unwanted attention towards him by his peers. Solving an annoyance problem of this viral craze by making a blanket ban actually does more harm than good and creates a more serious issue. Plus, kids who don't need them as therapy toys will likely lose interest in them in about two weeks. Problem solved."
Adam Greenberg, a special education and social studies teacher in Springfield, Virginia, told TODAY Parents he thinks the answer to the fidget-spinner controversy is somewhere in the middle. "I think responsible usage can be beneficial, but students and parents need to include their teachers in that discussion," he said, noting that even for children with ADHD, fidget spinners are not a "cure-all."
TODAY Tastemaker and child development expert Dr. Deborah Gilboa agreed with Greenberg. "The trick is great communication with your child and with your child's teacher. Does this activity help your child focus better on what's happening in class, with fewer distracted or unfocused moments or outbursts? Or does it take your child's attention away from learning?
"Give it a few tries — anything new is by definition distracting," said Dr. Gilboa. "But if, at the end of the school week, this is still doing more harm than good? It's time to leave it at home."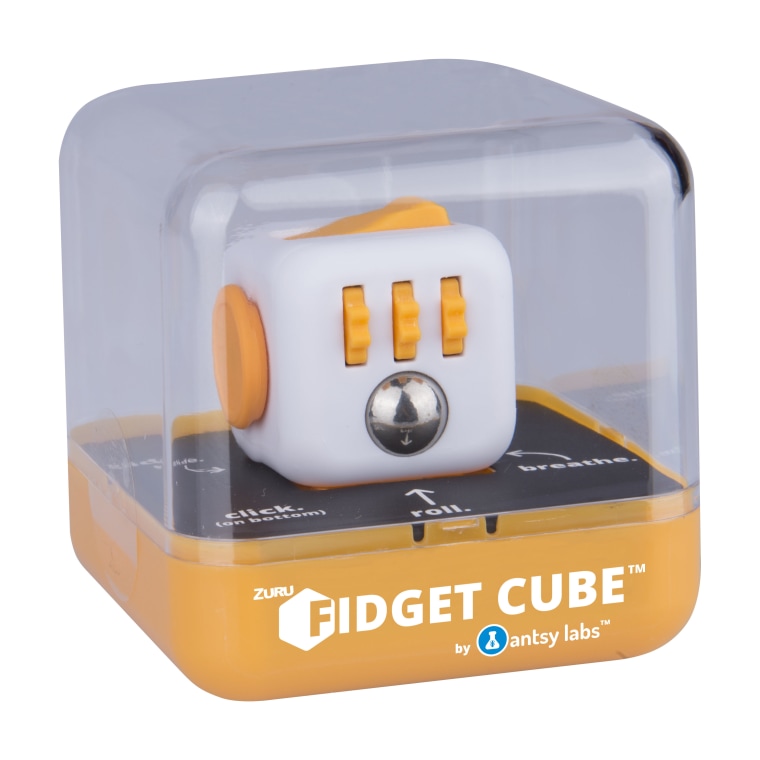 Fidget toys aren't going anywhere either. Soon, families will have a whole array of fidget gadgets to choose from, and from a major retailer. Richard Barry, Executive Vice President and Global Chief Merchandising Officer for Toys 'R' Us, told TODAY Parents that a whole slew of choices are heading to their stores as soon as this week, with more arriving for the next several months, including fidget cubes, Zing Thumb Chucks — a fidget device involving two colored balls on a piece of string that children can use to spin the balls and do tricks with them — as well as new versions of fidget spinners that are lighter, geared differently, and some that will feature favorite licensed characters such as Spider-Man or Iron Man.
Barry said Toys 'R' Us has had the fidget-gadget trend on their radar for a while, having noticed sales of toys like Rubik's Cubes on the rise as well as other tactile toys. He feels that the trend could have a positive effect for children who need help with focus or lowering anxiety. Plus, they are just fun, he said, for kids and adults.
"If you hold a fidget cube in your hand, it's almost impossible not to be clicking, rolling, and gliding your fingers over it," Barry said. "It's impossible to put it down."