/ Source: TODAY Contributor
New Hampshire principal Courtney Vashaw has taught her students to be compassionate, caring and community-minded during their six years at her school. This week, she found out just how well they were listening.
The 41 seniors at Profile Junior-Senior High School in Bethlehem, New Hampshire, voted unanimously to skip their senior trip to a New York dude ranch and donate their entire treasury of about $8,000 to help Vashaw fight a rare and aggressive soft-tissue cancer.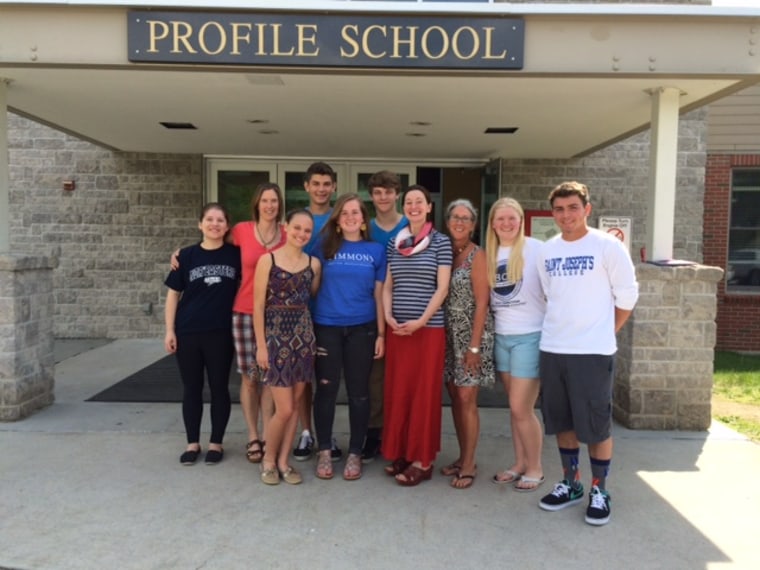 "I was just astounded by their generosity," Vashaw told TODAY.com Wednesday, a day after the seniors gathered with her to announce their gift. "I know how hard they worked to try to plan a good last hurrah. For them to make that decision is really a testimonial to the character of the kids."
Vashaw, who served as assistant principal at the public school for five years before rising to the top job two years ago, says that as an educator, "you're never really sure if your message sinks in."
"You plant the seeds and hope they flourish but you don't often get to see the fruits of that labor for a long time," she says. "It's pretty remarkable to see that something stuck. Before they even have to make those adult decisions, they're already doing remarkable things."
In late April, Vashaw, 37, had a tumor removed from under her left arm and was diagnosed with synovial sarcoma two weeks later.
Because May is such a busy month with exams, she waited as long as she could to inform the students of her illness, holding an emotional meeting last week to tell the seventh through twelfth graders of her uncertain days ahead.
"It was the hardest thing I've ever done," Vashaw said.
Soon, several seniors eating breakfast during senior skip day came up with the donation idea, which they shared on their class Facebook page. On Friday, the tight-knit senior class voted unanimously to give their funds to Vashaw and take a smaller trip close to home.
"When you have an opportunity like that, it's much better to do that than ride horses at a dude ranch," said Hunter Leighton, 18, one of the students who first thought of helping the principal.
Leighton and several students interviewed Wednesday said it wasn't a hard decision to miss the trip this weekend. They praised Vashaw as a great leader who is involved, supportive and caring, the kind of person who would do anything for anybody.
"Ms. Vashaw really touched us all and influenced our lives," said another senior, Leanza Hunt, 17. "And we know she would have done the same for us. We wanted to give back to her after she's done do much for us."
Senior Marina Sellers, 18, added: "She's such a good role model and she's so compassionate. She's taught us all so much. I felt like she deserved it."
Vashaw, who lives with her partner and 2-year-old son, is trying to work a few hours each day as the school year winds down. She is heading to Memorial Sloan Kettering Cancer Center in New York next week for a treatment plan.
The former English teacher who was left speechless by her students' actions on Tuesday summed up her feelings this way:
"One sense of pride is when you can see a student writing a beautifully turned paper putting all their ideas out succinctly and eloquently," she said. "Then there are these actions that come out of something bigger.
"This is not a literary critique," she added of the donation. "This is life. This is something meaningful and beautiful they have been able to create."
The money her students raised over the last four years through bake sales and homecoming activities, Vashaw says, gives her peace of mind.
"Hopefully, I'm in a situation where I don't even have to access these funds but it's amazing to think they might be available if they're needed," she said.
"I will never be able to pay them back," she says of these seniors, "but it is my full intent to pay it forward."
Lisa A. Flam, a regular contributor to TODAY.com, is a news and lifestyles reporter in New York. Follow her on Twitter.