Adriana Lopez was diagnosed with breast cancer in January, just months after the veteran teacher transferred to Staten Island's Public School 22.
Despite surgery and then grueling chemotherapy treatments, she continued to pour her heart into her work and her fourth-grade class. She was one of the first teachers who arrived at school and the last one to leave, said Gregg Breinberg, the school's chorus director.
"She's one of those teachers," he said. "She's one of the unsung heroes, and it was time for her to be sung to."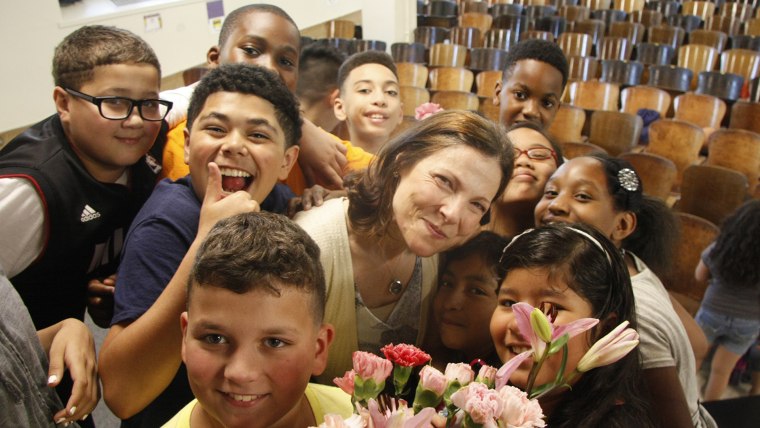 So on the second to last day of school, Breinberg's fifth-grade chorus did just that, bringing her into the school auditorium for their final practice and a private performance of Martina McBride's "I'm Gonna Love You Through It."
The song, about fiercely loving someone battling cancer, brought the bilingual teacher to tears. She wept openly, repeatedly wiping away her tears with tissues.
"I just felt so supported and from all these little kids, who don't know what cancer really is," she told TODAY.com. "Just for them to be there singing this powerful song, it was an overwhelming feeling. I couldn't contain myself. I just couldn't stop crying."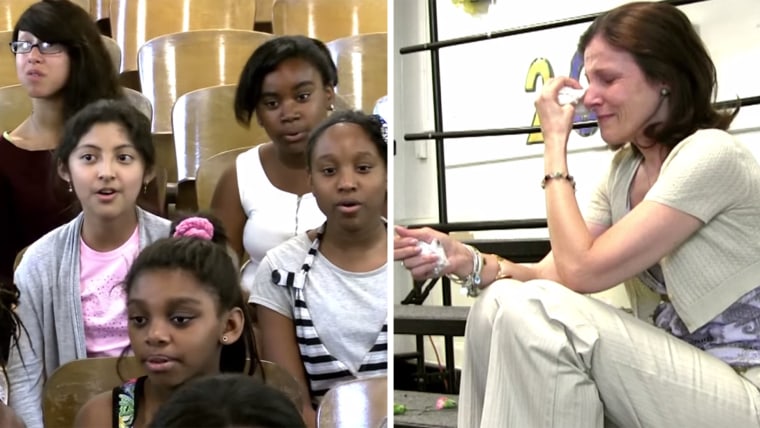 Although the presentation took place more than a month ago, Breinberg posted a video of it Tuesday on the Youtube page for PS22 chorus. Within its first day, the video racked up more than 200,000 views and dozens of comments reflecting emotions identical to the ones expressed by Lopez.
After her initial diagnosis and surgery to remove her tumor, Lopez learned her cancer had spread and started chemotherapy. She finished her sixth treatment last week, but still has two more to go. She then will have 35 days of radiation treatment, which she plans to do every day after school.
"Going to work does help because it keeps you busy, and no one keeps you busier than 25 kids in a class," she said.
For the PS22 chorus, which Breinberg started in 2000, fame is nothing new. The group has performed at the Academy Awards and sung with celebrities including Carrie Underwood and Katy Perry. They performed at President Obama's second inauguration and their YouTube page has received nearly 70 million views. Yet, Breinberg said he didn't anticipate the kind of response his newest video has received.
"It was kind of a personal thing that we did, for us and for her. It was like a give-back moment," he said. "This was something we wanted to do for her and it blew up beyond expectations. When you least expect great things to happen, that's when they do. I'm just so happy that she's at the center of this, and she's getting love and messages of support from all these people."
Lopez, who taught in Brooklyn for 28 years before transferring to PS22 so she could shorten her commute to New Jersey, expressed gratitude for all the support her new co-workers have shown her. She said they have done everything from show up to school in pink — including the custodial staff and kitchen workers — to giving her a hug or thumbs up in passing.
"Everyone still is so supportive, even through the summer. I'm getting text messages from people checking up on me," she said.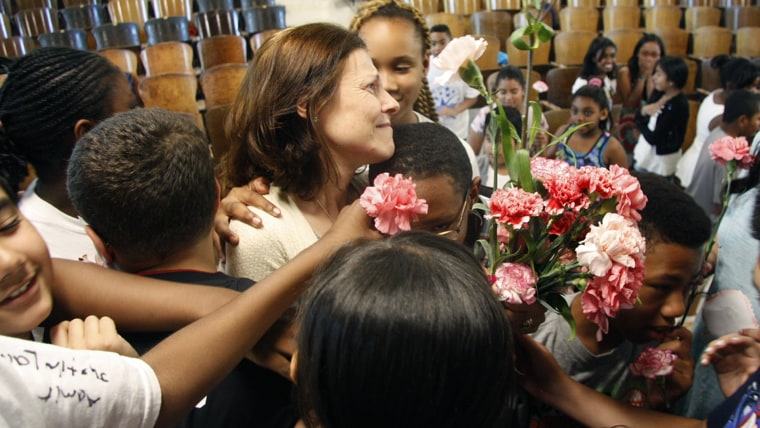 She said the viral reaction to the video has been as overwhelming as when she first heard the children sing to her.
"I hope that others can see how little kids really support you in any way they can," she said, adding she also hopes her experience will inspire others going through a similar ordeal.
"It does get hard with every treatment. There's always something new or a new reaction, but there's a light at the end of the tunnel, so just keep crossings those days off on the calendar until you reach your end."
Follow TODAY.com writer Eun Kyung Kim on Twitter.