When Savannah Guthrie introduced her newborn son, Charles Max, to the world, she went all-natural.
We're not talking about whether she had any medication during birth. That's none of our business!
But Savannah, bucking a recent trend among celebrities to sport a full "glam" look, chose not to have her hair and makeup done for her photos.
Read more: Savannah Guthrie welcomes baby Charley
Celebrities — and women in general — feel strong pressure to look "perfect" at all times, even when they have just given birth. But with her bare face, Savannah continued a tradition that she started with her first child, Vale, when she said makeup and a blow-out were really not on her mind.
"The only makeup I'm wearing is joy!" Savannah said after Vale was born in 2014. "Honestly, it didn't even cross my mind to have fixed-up hair and makeup."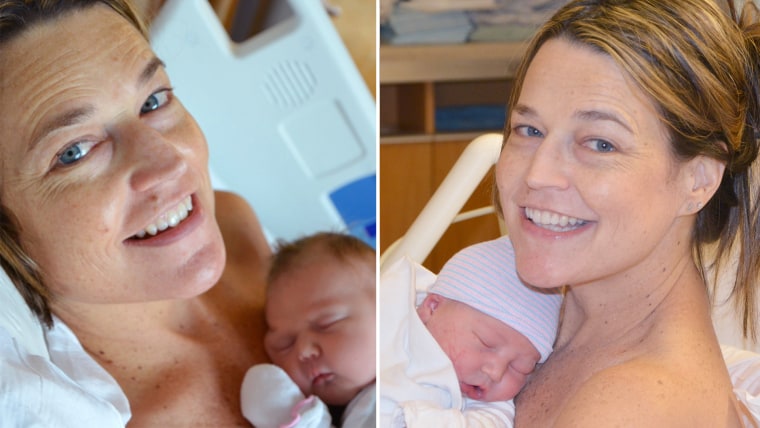 Related: New moms share makeup-free photos, moving stories
TODAY fans have been quick to congratulate Savannah on her new baby, and her natural look.
"I love that Savannah isn't all made up for the camera.... You look absolutely beautiful," Anne Gallagher wrote on the TODAY Facebook page.
Never miss a Parenting story with TODAY newsletters! Sign up here
"I'm also very impressed that you shared an all natural picture with the world," said Tricia Parker Tate. "What a great role model you are to young girls and women! It's important for us to see others just as God made us and not all made up all the time."
Related: Expert advises Dylan and Savannah on baby names
Of course, it's a personal choice. If a new mom wants to get a blow-out or have her makeup done for those newborn photos, more power to her. Go for it. Some women feel naked without their lipstick. Some want to look a certain way for the photos that will certainly be shared and treasured throughout the years.
Read more: Powerful images show the faces of childbirth
Joelle Garguilo, a TODAY producer and a mom, swears by false eyelashes for getting a "glam" look with little effort in postpartum photos. (She also ran the New York City Marathon with her false eyelashes firmly in place — girl's got her priorities!)
Every mother should feel celebrated and beautiful after bringing new life into the world — whether she's wearing a full face of makeup or totally bare.
Many fans hailed Savannah for embracing and sharing her natural look. "Love the natural mother's glow," said Anna Victoria Fristic-Jones.
"The truth is, we are our most beautiful during and after labor. Natural raw beauty," said Sarah Ledford, a professional photographer in Caldwell, Idaho, who specializes in maternity, birth and family photos. "None of us 'feel' gorgeous during that time. We just spent countless hours in pain and overwhelmed with exhaustion but we naturally glow the entire time. We don't need any 'tips' on how to look good without makeup. We all look good without makeup. We just don't realize it until we realize what life is truly about. And there's no way to explain that moment when it hits you; you have to experience it yourself."
Related: See the emotional birth photo (of a dad) that went viral