As the mother of Columbine High School shooter Dylan Klebold prepares to speak out in her first interview since the gruesome 1999 shooting massacre, a survivor of the attacks has released a powerful message of forgiveness — one she hopes will provide some peace.
"I have forgiven you and only wish you the best," Anne Marie Hochhalter said in an open letter to Sue Klebold, whose son committed the deadliest high school shooting in U.S. history along with his friend, Eric Harris, 17 years ago.
Hochhalter posted her letter in a Facebook post Thursday, a day before ABC 20/20 is set to air Klebold's first television interview. The sitdown coincides with next week's release of Klebold's book, "A Mother's Reckoning: Living in the Aftermath of Tragedy," in which she details her ongoing struggle with guilt and shame.
Hochhalter said her ability to demonstrate such grace toward her attacker's mother stems from the compassion revealed by a heartfelt, hand-written card Klebold sent her in the hospital after the attack.
"You and your husband wrote me a letter a few months after I was paralyzed saying how sorry you were. It was genuine and personal," she said in her Facebook letter to Klebold.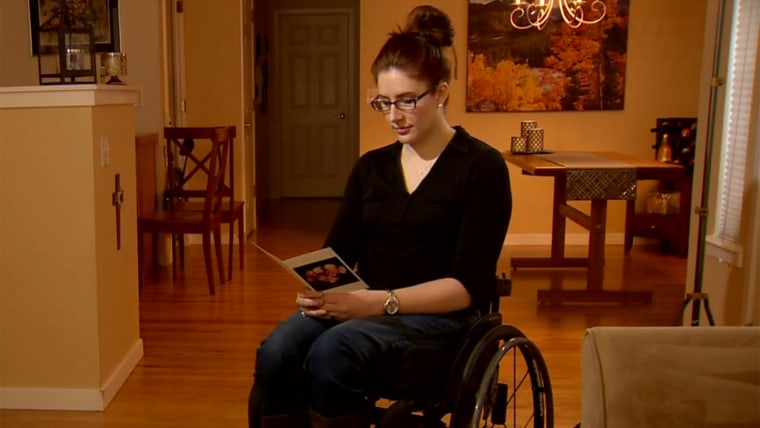 Hochhalter said she was touched to learn that all proceeds from the book will go toward helping people with mental illness: Six months after Columbine, Hochhalter's mother, who had struggled with depression, committed suicide.
"I'm sure you have agonized over what you could have done differently. I know, because I do the same thing with trying to think of ways I could have prevented my mother's death," Hochhalter told Klebold in her letter. "I have no ill-will towards you. Just as I wouldn't want to be judged by the sins of my family members, I hold you in that same regard. It's been a rough road for me, with many medical issues because of my spinal cord injury and intense nerve pain, but I choose not to be bitter towards you."
In an interview with NBC-affiliate KUSA/9news.com, Hochhalter said Klebold reached out to her again in 2004.
"But I wasn't ready. But if she did reach out to me now, I would be willing to talk to her, only if she wants to," she said. "If I can help her by telling her that I forgive her, maybe that's one less person that she has to worry about if she even does work about me."
In the card Klebold sent 17 years ago, she apologized "with deepest humility" for the suffering her son brought Hochhalter and her family.
"Your recovery process will be a long and difficult road, and we hope that the support of people all over the world will help you find strength and courage as you meet the many challenges you have yet to face," Klebold said.
"When we read reports of your progress, we marvel at your resolve. It is still terribly difficult for us to believe that the son we knew could play a role in causing harm to you and others. The reality that he shared in the responsibility for this senseless tragedy is beyond our comprehension. We offer our love, support, and service as you and your family work to gain control over your lives. May God watch over you during your recovery process and beyond. May each day bring you successes, however small, that bring you hope and encouragement."
Follow TODAY.com writer Eun Kyung Kim on Twitter.