/ Source: TODAY contributor
The Southern California woman who gave birth to octuplets last week told TODAY's Ann Curry in an exclusive interview that growing up as an only child, she had always dreamed of having "a huge family." She also denied charges that she was irresponsible to have so many babies — especially with six other children already at home.
"People feel, you know, this woman is being completely irresponsible and selfish to bring these children in the world without a clear source of income and enough help to raise them," Curry told Nadya Suleman in a segment that aired Friday on TODAY. "The world outside is saying, 'What are you doing?' "
"I know I'll be able to afford them when I'm done with my schooling," the 33-year-old single mom replied. Calm, poised and articulate in the glare of the media spotlight, Suleman added: "If I was just sitting down watching TV and not being as determined as I am to succeed and provide a better future for my children, I believe that would be considered, to a certain degree, selfish."
'I love my children'
Suleman, who said she holds each premature infant 45 minutes each day, said she was hoping to have one more child after having six previous children, all of whom are under the age of 7. She said she had six embryos implanted, two of which resulted in twins. Curry reported that although Suleman has received disability payments from the state of California, she said she refuses to accept welfare payments. Suleman and her children live with her mother, Angela Suleman.
"All I wanted was children. I wanted to be a mom. That's all I ever wanted in my life. I love my children," she told Curry.
Curry said that Suleman said she intends to return to college in the fall to complete a master's degree in counseling. Suleman had worked in a state mental hospital from 1997-2006, but spent much of the time after 1999 on disability after injuring her back in a riot at the facility.
Suleman said she is a good mother.
"I'm providing myself to my children. I'm loving them unconditionally, accepting them unconditionally," she told Curry. "Everything I do, I'll stop my life for them and be present with them. And hold them. And be with them. And how many parents do that? I'm sure there are many that do, but many don't. And that's unfortunate. That is selfish."
'Phenomenal risk'
Suleman said she was fully aware of the risks of carrying eight fetuses. "Those are my children, and that's what was available," she said. "It's a gamble."
In a separate segment, NBC's chief medical editor, Dr. Nancy Snyderman, said the gamble didn't end with the live births of all eight babies.
"That risk is not only to mom — her uterus can rupture and she can die — there's a phenomenal risk to eight babies. Eight babies, by definition, cannot be born normal weight and robust," Snyderman told TODAY's Matt Lauer after watching Suleman's interview with Curry.She explained: "They're going to watch these kids very carefully for eating problems, growing [problems], and then seizures, jaundice, heart problems, lung problems, blindness, developmental delays — there's a laundry list of things. Long term, because some of these children will be physically or mentally challenged, there's a looming price tag out here. The hospital bill alone will run $1.5 to $3 million. Forget about getting to college; just to get through special-needs stuff — it's going to have to come from somewhere, either the taxpayers of California or her family or her church or the hospital. But she can't do it alone."
NBC contributor and psychiatrist Dr. Gail Saltz added that there will be emotional issues to deal with as well. "Undoubtedly these eight children are going to have issues: at the minimum, the issue of neglect," Saltz told Lauer."Obviously, she's saying she's going to love them, but there are 14 children and [only] one of her," Saltz continued. "There's going to be an absence of some emotional needs. There will probably be developmental delays at best in these children; maybe learning disabilities. There are going to be major issues that they're going to need various therapies for."
Childhood dream
Suleman said she went to the same in vitro fertilization clinic to have all 14 of her children. All were conceived with donated sperm from the same father, Suleman said.
Suleman told Curry that the father is a bit overwhelmed right now, but she is hoping that he will want to get to know his children when he is ready.
"How did an only child end up with 14 children?" Curry asked Nadya Suleman.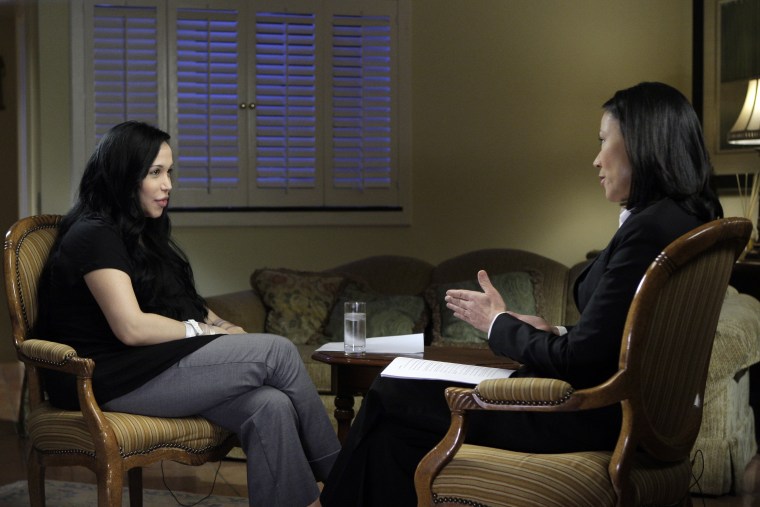 "That was always a dream of mine, to have a large family, a huge family, and I just longed for certain connections and attachments with another person that I really lacked, I believe, growing up," she replied.
The entire exclusive interview will air along with exclusive video of the babieson TODAY Monday, Feb. 9, and on Dateline at 10 p.m. on Tuesday, Feb. 10."Describe what you felt you lacked within," Curry said.
"Feeling of self and identity," Suleman replied. "I didn't feel as though, when I was a child, I had much control of my environment. I felt powerless. And that gave me a sense of predictability. Reflecting back on my childhood, I know it wasn't functional. It was pretty dysfunctional, and whose isn't?"
Saltz later opined to Lauer that Suleman's statement reveals emotional issues. "I think she's in a bit of denial here and quite defensive, because in fact she does talk about the fact that this has been her life's mission: to have babies, have babies, have babies. There's an obsession to this, and I think it's quite disturbing," the psychiatrist said.
"When you don't have a connection in childhood, you go see a therapist," she added. "You don't have 14 babies."
An ethical debate While the world celebrated the birth of fairly healthy octuplets, public sentiment has shifted as it's been revealed Suleman also has six other children, ages 2 to 7, and is a single parent who conceived all 14 of her children through in vitro fertilization.
The divorced single mom told Curry she tried to get pregnant for years before finally succeeding. 
"I went through about seven years of trying, through artificial insemination, through medication. And all of which was unsuccessful. And then the first IVF procedure from that facility — it was successful. And then I just kept going in."
While it hasn't been revealed which doctor implanted eight embryos at once into Suleman, the octuplets' birth has sparked an ethical debate in the medical community.  
Dr. David Adamson, former president of the American Society of Reproductive Medicine, said he was bracing for some backlash against his specialty.
In 30 years of practice, "I have never provided fertility treatment to a woman with six children," or ever heard of a similar case, said Adamson, director of Fertility Physicians of Northern California.
'Most sought-after mom in the world'Suleman was released from Kaiser Permanente Bellflower Medical Center in the early morning hours on Thursday, avoiding reporters and photographers, said hospital spokeswoman Nancy Tovar-Huxen. Suleman's publicist, Mike Furtney, told The Associated Press that she was staying at "an undisclosed location" where she was confident she could avoid reporters and photographers.
Later in the day, she sat down for her interview with Curry. NBC said that the network did not pay Suleman for the interview.
Furtney said the mother was still evaluating potential offers, including possible book and TV deals, and might do other interviews later.
"There are lots of potential opportunities out there and she's looking at them carefully," he said.
Meanwhile, hospital officials said the six boys and two girls born to Suleman on Jan. 26 were in good condition Thursday. The eight babies are the longest known surviving octuplets in the world.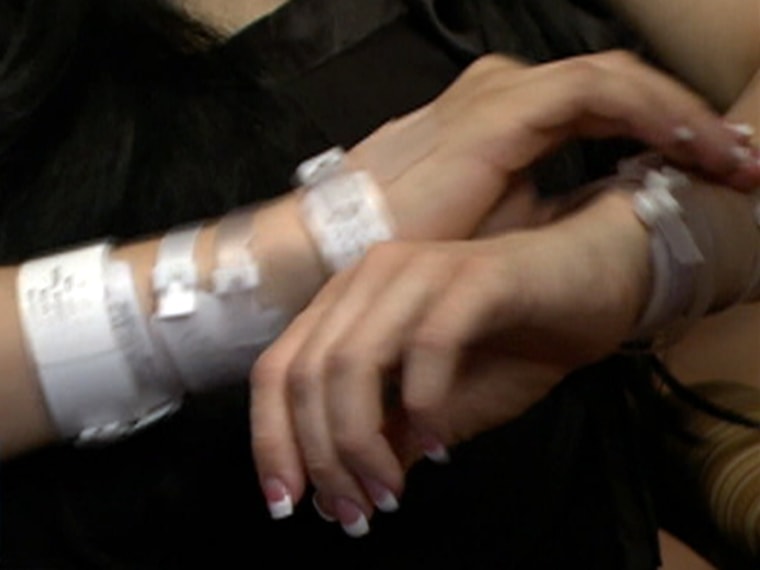 Furtney said Suleman is "feeling great" and looking forward to being reunited with her octuplets, who are expected to remain in the hospital for several more weeks.
"She's happy to be out of the hospital, although she misses her children," he said. "She can't wait until they join her."
Joann Killeen, Furtney's partner, told TODAY earlier this week that her client is being deluged with offers for book deals, TV shows and other business proposals, but has not decided what she might do other than care for her children, her newly hired spokeswoman said Monday.
"She's the most sought-after mom in the world right now," Killeen said. "Everyone wants to talk to her."
The country's first set of octuplets was born to Nkem Chukwu of Texas on Dec. 20, 1998. A week later, the tiniest of the infants died of heart and lung failure. The surviving seven siblings celebrated their 10th birthday in December.
-- The Associated Press contributed to this report.