For LynnMarie Rink, whose 9-year-old son, James, was born with Down syndrome and autism, running a simple errand can be anything but simple.
That's why she was particularly thankful recently when a young Apple store employee in Tennessee took a little extra care after James suffered a big tumble inside the store.
"We try hard to look like everyone else, but it doesn't always happen," Rink told TODAY.
The episode occurred on Jan. 21 while LynnMarie and James were out shopping for an iPad at Green Hills mall.
James uses the gadget as a learning and communication tool, and the new one was a gift from a charitable organization.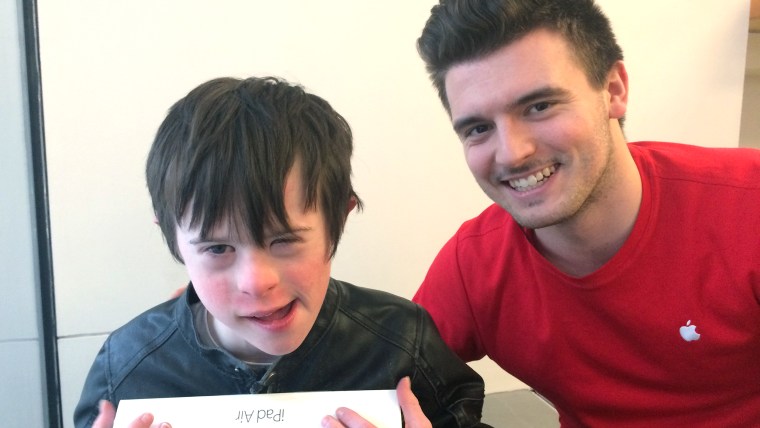 "James likes to push the elevator buttons, so, on this particular day, we had been riding the elevator for 20 minutes before we even arrived at Apple," Rink recalled.
"I was ready to just get in and get out."
RELATED: Target cashier's patience with elderly customer inspires others
At the store, while LynnMarie darted around in search of the iPad, James became distracted by the busy mall outside.
Spotting something of interest, he broke free of her grip and ran full speed at the door, crashing into the solid glass wall with enough force to make the whole store gasp.
Apple employee Andrew Wall, 23, sped over to offer assistance.
Rink, still seated and cradling James, who was unhurt, asked Wall to help them set up the new iPad.
RELATED: My heart ached for them': Deputy buys gas for stranded couple in need
She was shocked when he immediately knelt to do so — right there on the floor.
"They sat together with the iPad, and when they were done, James even held out his hand for a fist bump," Rink said. "He blew a kiss as we exited the store."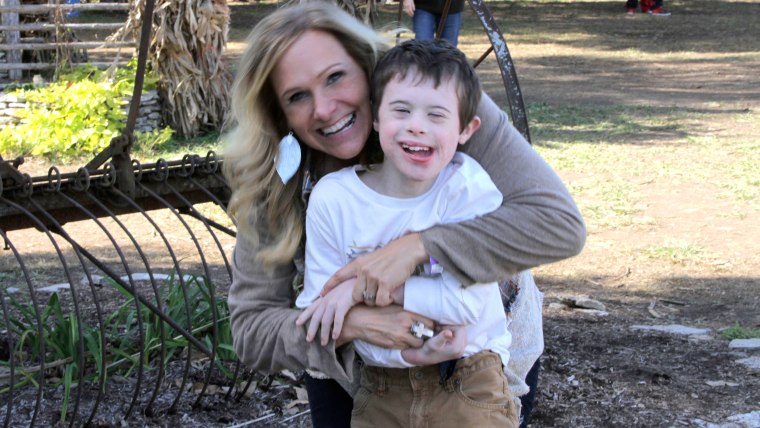 Rink said she was taken aback by the young employee's patience.
"To be honest, [Wall's] response isn't the norm when I bring James out in public," Rink said. "Most people are uncomfortable. It's frustrating, but I get it."
"To have a kid who's 23 be so open and accepting … He met us where we were and gave us exactly what we needed in that moment. It made such an impression, and I was so grateful."
The next day, Rink sat down to pen a letter to Apple about the exceptional service she had received.
She shared the letter on Facebook, hoping it might make its way back to Wall, whose name she could not remember.
The Internet came through. Rink's story was shared hundreds of times, and her email inbox exploded with messages from special-needs parents around the world.
"I heard from people in Japan. London. The Philippines. I got a note from a local Uber driver who offered to drive me to the Apple store, free of charge, so that I could thank Andrew in person," she recalled.
That wasn't necessary.
Wall reached out to Rink via Facebook, writing, "I began working at Apple in hopes of having fulfilling moments like this. Post-Apple, my hopes are to work within the realm of youth counseling. Thanks again for making my day!"
For Rink, who wrote a book about the challenges of raising an autistic child, the experience affirmed the role that children like James can play in the lives of others.
"Helping others isn't always about the grand gestures," she continued.
"Sometimes, it's just about doing what needs to be done….It's the little stuff that makes all the difference."
In a statement, Angela Ahrendts, Apple senior vice president of retail and online stores, praised Wall and wished the Rink family the best.
"We're so proud of Andrew and celebrate how he and so many of our employees interact with their local communities every day," Ahrendts said in an email to TODAY.