/ Source: TODAY Contributor
Heather Larkin, the photographer behind Fairyography, loves to dress little girls up as fairies and princesses and photograph them in elaborate, fairy-tale settings. Once a year, Larkin holds a contest to seek out children with special needs — those with genetic or medical conditions, or who have suffered trauma or abuse — and treats the winners to a fairy-tale photo shoot where they can momentarily escape their daily difficulties and feel like princesses.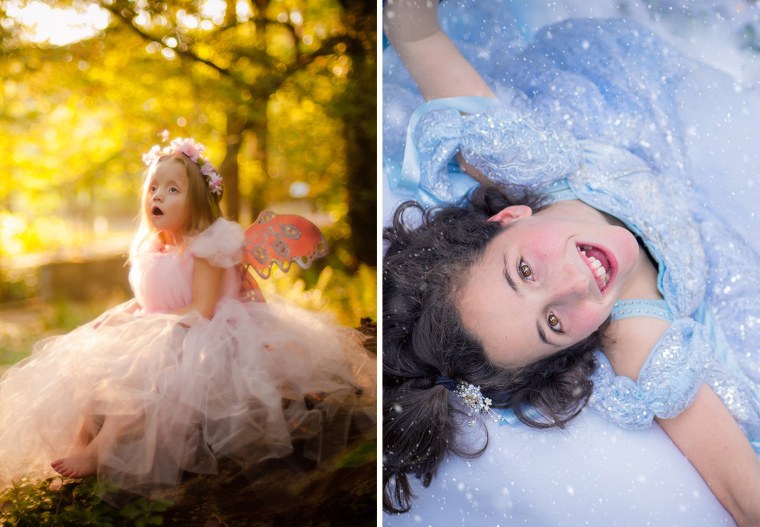 But, after throwing around ideas for her business with her husband and friends, the Georgia photographer decided to let her quirky sense of humor show by holding a different kind of once-a-year photo shoot — an April Fools' Day project featuring hairy men as fairies instead of sweet little girls.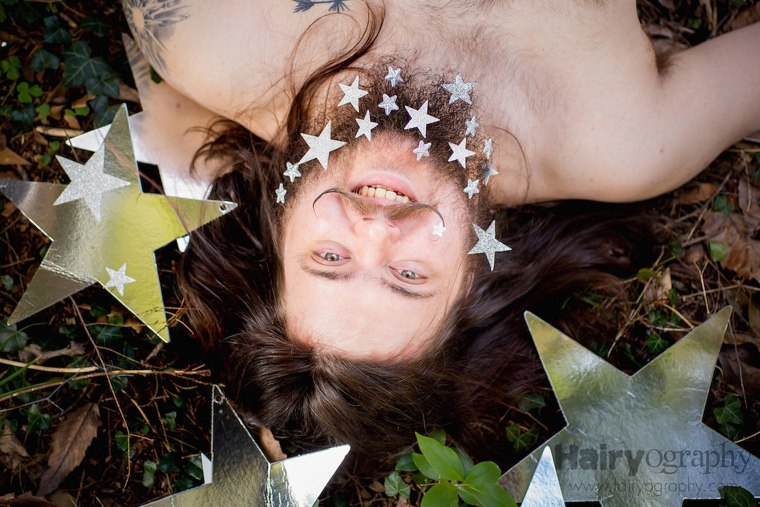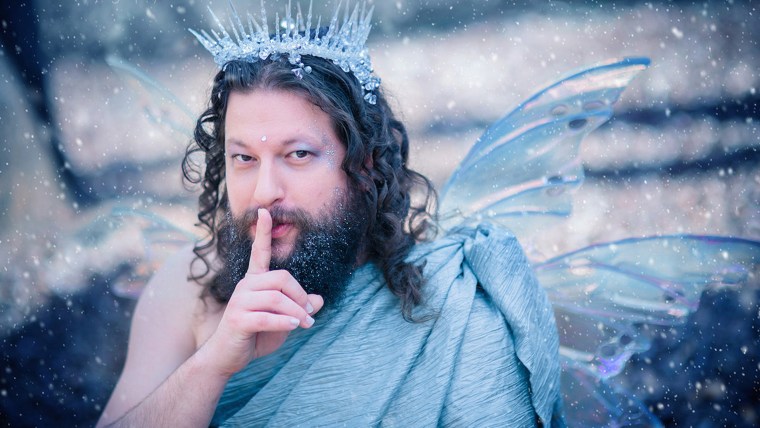 Larkin calls the project "utterly awful in a hilarious way," admitting that her fuzzy, male subjects proved to be a bit of a challenge for her costume and photography skills.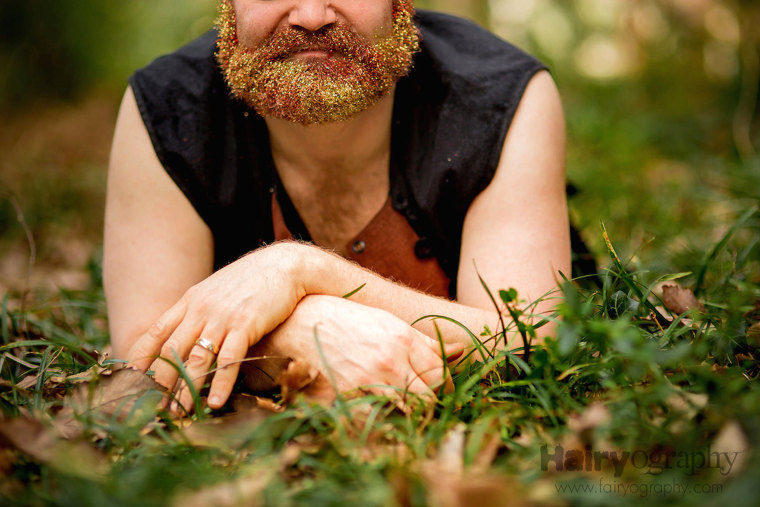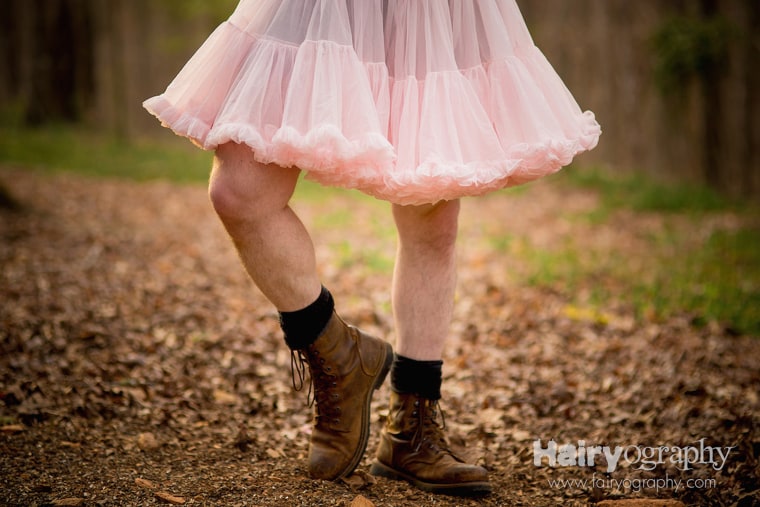 "My normal job is to make little girls feel pretty, but these guys don't care about feeling pretty," Larkin told TODAY parents. "I don't really have dresses in guy sizes, so I had to cobble a lot of (the costumes) together from random pieces I had through the studio or my house. And then, there's the hair. I mean, I don't spend a lot of time thinking about body hair, and I certainly don't take pictures of it."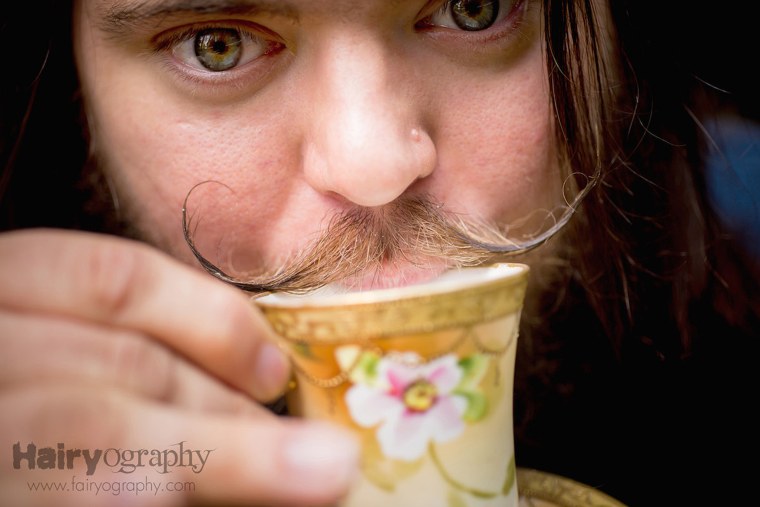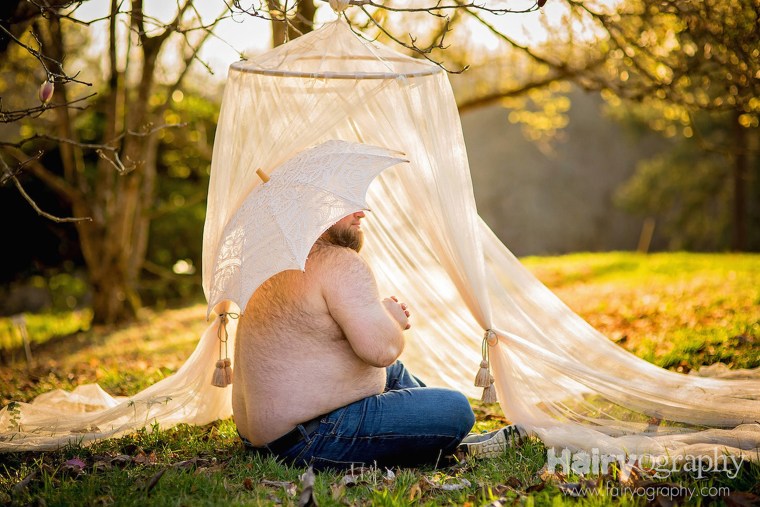 The hairy godmothers were adorned with glitter beards, fake eyelashes and bows, and posed with lace parasols, pink and purple flowers, and even a taxidermy deer fawn statue.
Tim Welsh, who posed for the project wearing a headband with leaves and tiny deer antlers, said the experience was one he will not soon forget.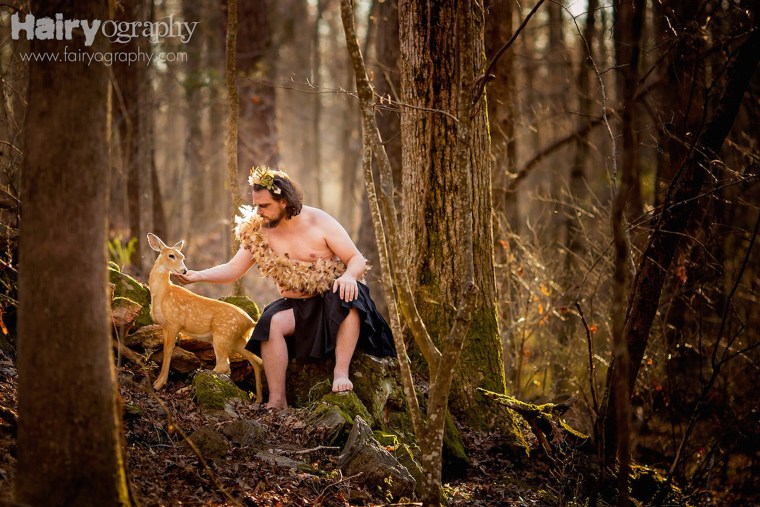 "I certainly felt special, and pampered. Being the center of attention was a nice change of pace," said Welsh. "It wasn't about being pretty as much as being majestic."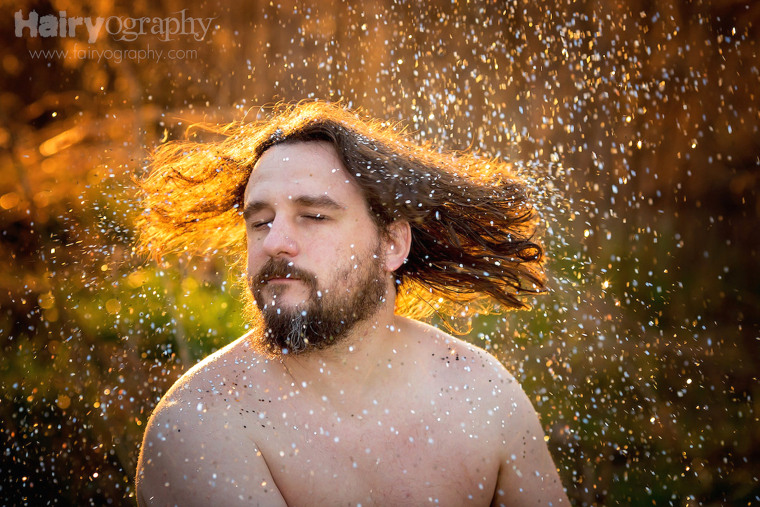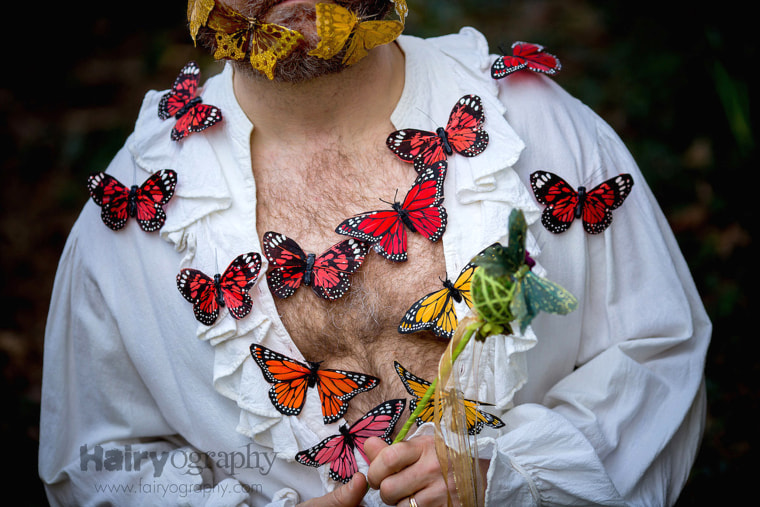 Colt Facer posed for his Hairyography photos with beautiful beds and bouquets of flowers.
"During the shoot it was surreal. It just felt silly," said Facer. "But after, it's hilarious. Heather was able to take something so wrong and make it beautiful."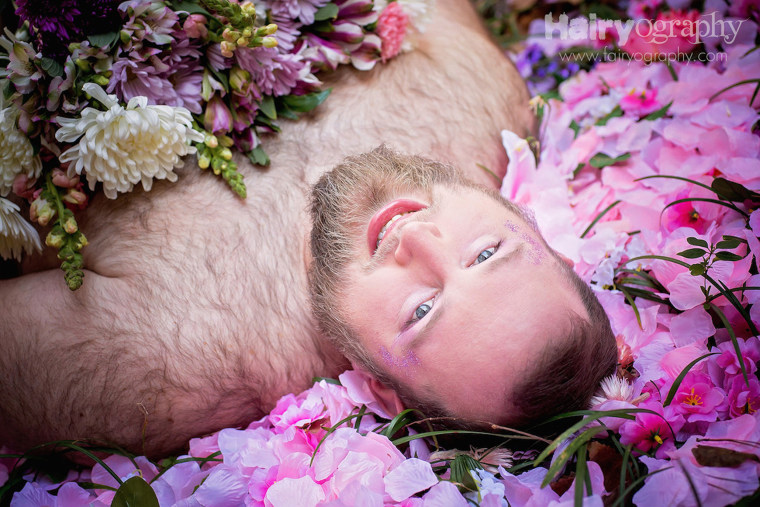 Larkin says while she giggled her way through most of the photo shoots, she is thrilled with the final project, which she compiled into a book made of pastel faux fur and rhinestones with the help of FINAO, a company that creates photo albums.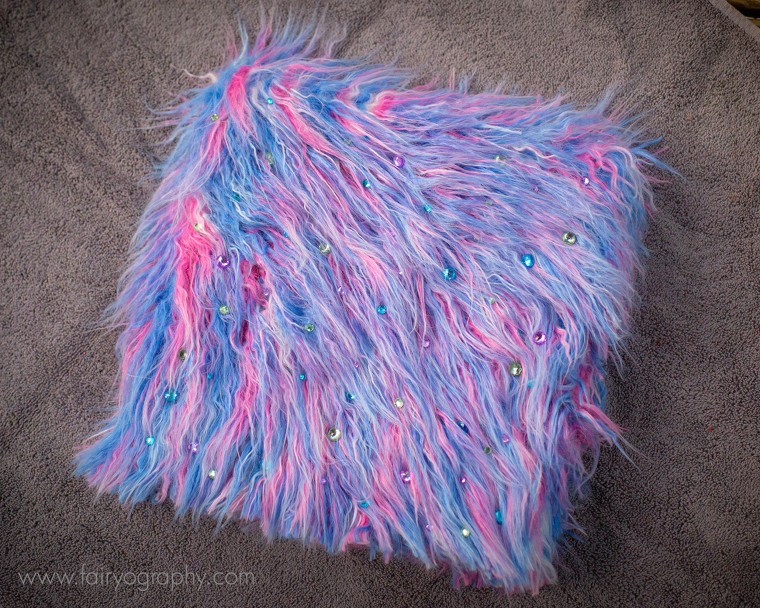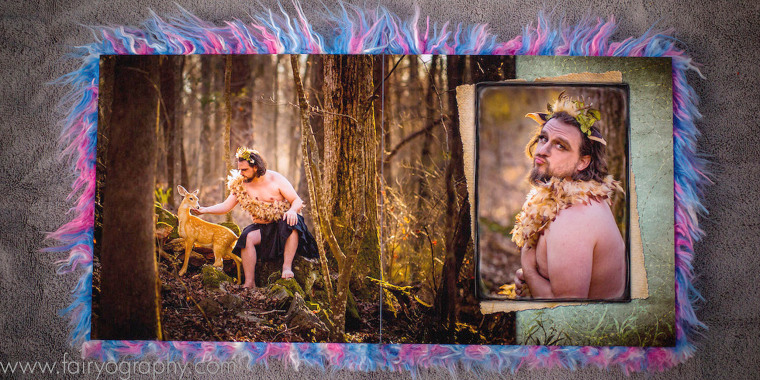 "I like the concept of April Fools' when it's funny in a nice way," said Larkin. "I don't like mean jokes, or jokes that make people feel bad or stupid. I like stuff that you can tell is a joke, but it's still funny anyway. That's really the reason for this, just to have a good laugh with some people who also think it's funny."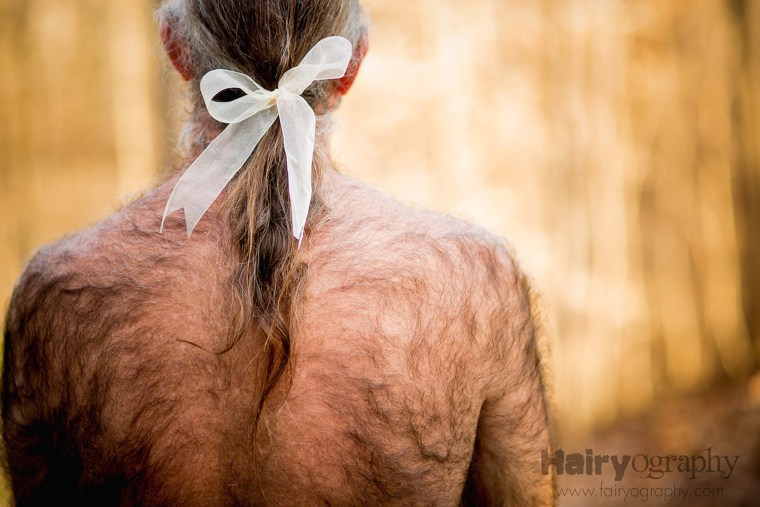 "I really had no clue that when I asked for hairy guys, I would get such a range," Larkin continued. "Some guys with hairy heads, then other guys with pretty much a fur suit. I have realized that my husband isn't as hairy as I thought he was, comparably."