/ Source: TODAY Contributor
As October approaches, parents brace themselves for Halloween, a dream holiday for kids that combines two of their favorite things: treats and dress-up play. It's a less-dreamy holiday for parents, who endure the fickleness of children and their costume choices, the whines of kids who find those costumes to be "too itchy" or "too hot" when the big day arrives, and the inevitable sugar crash that leaves parents with actual goblins and monsters in their homes.
For families with children who live with food allergies, however, Halloween can be tricky. The fun of trick-or-treating can be actually dangerous, if not life-threatening, when a child does not know what is in the candy bowl.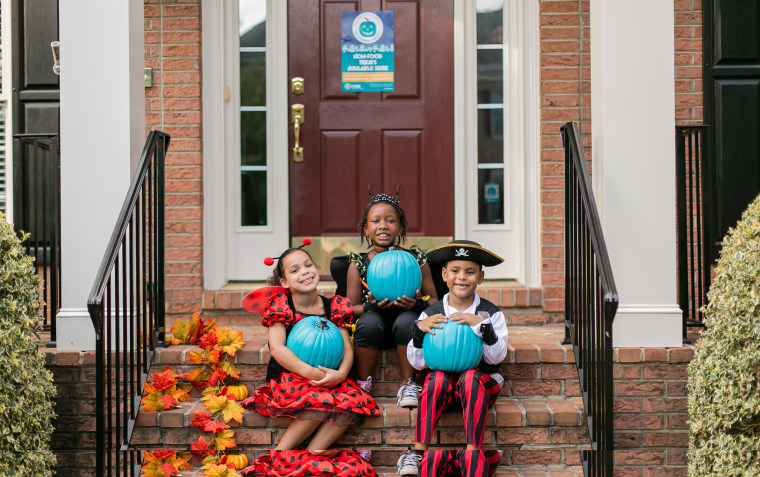 Never miss a parenting story with TODAY's newsletters! Sign up here
In 2012, a Tennessee mother named Becky Basalone, whose son suffered from anaphylactic food allergies, had the idea to paint a pumpkin teal, the color for food allergy awareness, and put it on her doorstep for Halloween. Basalone, who was at the time the director of FACET (Food Allergy Community of East Tennessee), also decided to hand out non-food treats such as stickers or glow sticks instead of candy to ensure the safety of every child that came to her door.
Basalone's idea worked so well that in 2014, FARE (Food Allergy Research & Education) created the Teal Pumpkin Project, encouraging people around the country to place teal pumpkins on their own doorsteps and to offer safe alternatives to Halloween candy for trick-or-treaters with food allergies. This year, FARE senior director of communications Nancy Gregory told TODAY Parents the group's hope is to get at least one teal pumpkin on every block in the United States.
"Bringing the Teal Pumpkin Project into your home is a wonderful way to talk about empathy and inclusion with your kids — whether or not they have food allergies," Gregory said.
New Hampshire mom Amy Mayo told TODAY Parents that although her daughter Emily, 9, does not have a food allergy, they have participated in the Teal Pumpkin Project for the past two years, painting their pumpkin teal, putting up a sign indicating they were food-allergy friendly, and offering trick-or-treaters candy and non-candy items that they kept on separate tables. "We've found it's easier to include something for everyone, just in case someone in our neighborhood does have allergies or aversions," Mayo said.
That kind of effort makes a big difference to parents and children. "I think the Teal Pumpkin Project has been so meaningful for families affected by food allergies not only because it helps create a safer, happier Halloween for kids with food allergies, but also because it's a movement that recognizes the seriousness of a disease they're managing daily," said FARE's Gregory. "Kids with food allergies want to participate in Halloween in the same way that their friends do, but they end up giving away so many of the treats they collect because they're unsafe. Handing out non-food treats that kids can enjoy without fear — it's a simple gesture that means a lot."
For families that appreciate a good craft opportunity, picking out a pumpkin from the pumpkin patch or an artificial pumpkin at a craft store and painting it teal can be a fun family project. And for parents who don't have time or painting skills, pre-made teal pumpkins are now available at major retailers across the U.S., including Michaels, which is partnering with the Teal Pumpkin Project this year.
"For my family, the Teal Pumpkin Project allows us to raise awareness about food allergies," said Christi Floyd of Charlotte, North Carolina. "My son has allergies to peanuts, tree nuts, coconut, seeds and legumes. We can talk to our neighbors and friends about why our pumpkin is teal and why it's important to us. We were so excited to see a teal pumpkin last year at Great Wolf Lodge! My son was beaming with excitement that the treats would be safe for him too!!"
The Teal Pumpkin Project has lots of free resources on its website, including downloadable signs to let trick-or-treaters and their parents know that a home is offering non-food treats. FARE's Gregory suggests participating homes use a sign telling children to pick between "candy or a prize" to get kids excited about the choice. "We just ask that non-food treats be kept in a separate bowl from candies, if you're going to do both, to safeguard against cross-contact," she said.