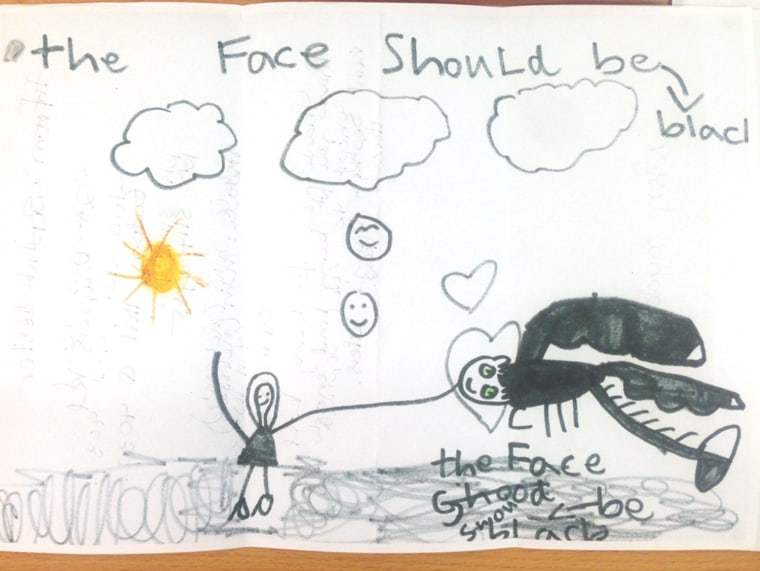 It's pretty common for parents to field requests for pet puppies, kittens, hamsters, turtles and even the occasional snake or ferret. But what's a mom and dad to do when their little girl wants a pet dragon?

That's easy. Contact some scientists.
Or, better yet, have your kid contact some scientists.
Shortly before Christmas, Sophie Lester, 7, of Brisbane, Australia mailed an earnestly polite letter to Australia's national science agency, the Commonwealth Scientific and Industrial Research Organisation (CSIRO). The letter (complete with a drawing) proved to be such a hit at the agency that smitten scientists tailor-made a titanium dragon for Sophie. They also told her they'd love to have her join their team when she's old enough, so long as she manages to "stay curious."
Related story: Turn up the girl power in science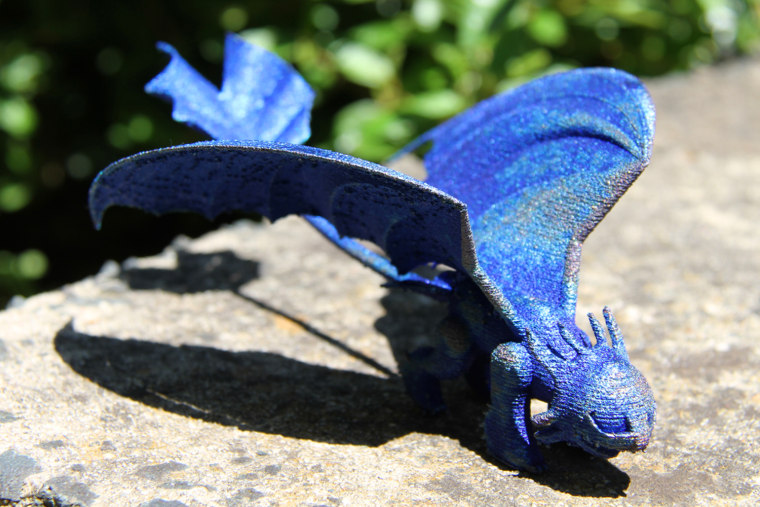 Here's the full text of the note from Sophie that started it all:
Hello Lovely Scientist
My name is Sophie and I am 7 years old. My dad told me about the scientists at the CSIRO. Would it be possible if you can make a dragon for me. I would like it if you could but if you can't thats fine.
I would call it toothless if it was a girl and if it is a boy I would name it Stuart.
I would keep it in my special green grass area where there are lots of space. I would feed it raw fish and I would put a collar on it. If it got hurt I would bandage it if it hurt himself. I would play with it every weekend when there is no school.
Love from Sophie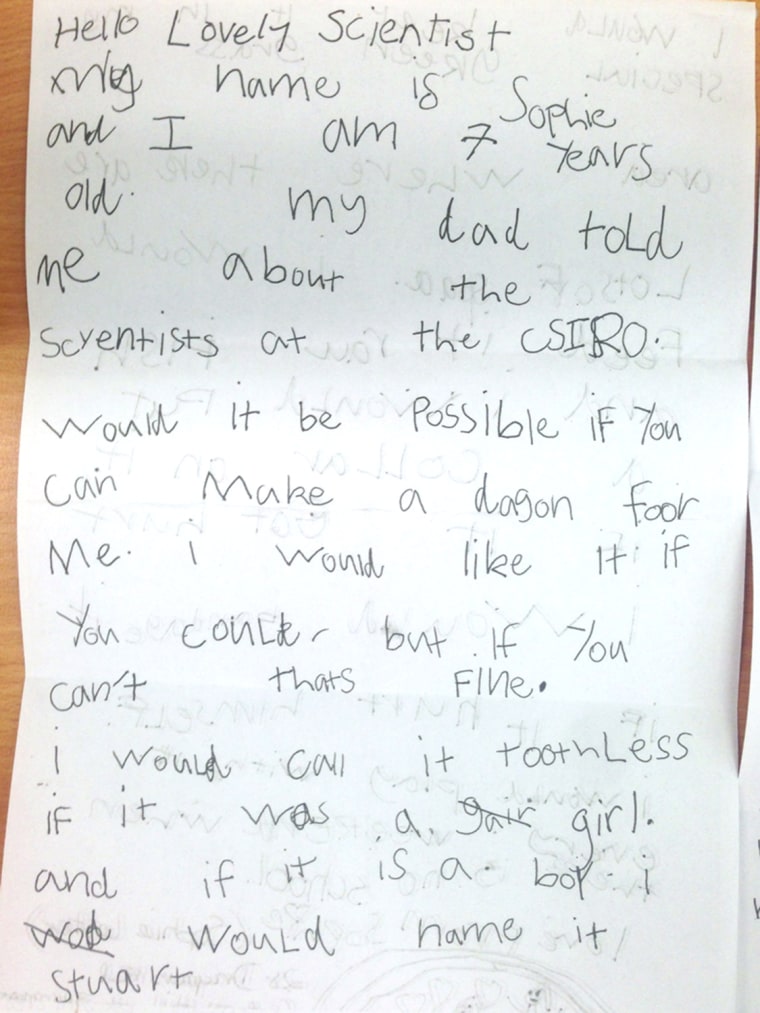 The young girl quickly learned that the scientific community in Australia consists of a bunch of big-hearted softies. Vanessa Hill, a spokeswoman for CSIRO, wrote a formal —albeit tongue-in-cheek — reply to Sophie in which she apologized for the lack of dragon research being done at the agency and pledged to remedy the situation.
"Over the past 87 odd years we have not been able to create a dragon or dragon eggs," Hill wrote in her response, which she posted on CSIRO's website. "We have sighted an eastern bearded dragon at one of our telescopes, observed dragonflies and even measured body temperatures of the mallee dragon. But our work has never ventured into dragons of the mythical, fire breathing variety.
"And for this Australia, we are sorry."
Hill also praised Sophie for getting scientists at the agency to start asking bold new questions about uses for dragons.
"How much energy could (a dragon) produce?" she wrote. "Would dragon fuel be a low emissions option?
"Thanks for the fuel for thought, Sophie. We're looking into it."
In an email message to TODAY.com, Hill said she took the time to respond to Sophie as thoughtfully as she did because she wanted to "encourage her imagination."
"We get a lot of enquiries, but the letter was so polite and hopeful I really couldn't ignore it," Hill explained. "We do a lot of great research, but it struck me that it's really all too mainstream. An apology was in order for our lack of dragon research. I wanted to be encouraging and, like we are in all things, scientific."
At last! LEGO creates a female scientist minifigure
Media outlets in Australia and abroad began having so much fun with the dragon story that scientists at CSIRO realized they needed to do more than write Sophie back. They needed to make her a dragon. And so, on Friday, they created a 3D dragon printed out of titanium for the little girl.
The blue female dragon's name: Toothless. Species: Seadragonus giganticus maximus.
"Titanium is super strong and lightweight, so Toothless will be a very capable flyer," said Chad Henry, CSIRO's additive manufacturing operations manager.
Sophie's mother, Melissah Lester, told the Canberra Times that her daughter is over the moon with excitement about everything that's happened since she sent her letter. In fact, Sophie has been enthusiastically telling people that dragon breath can serve as a new kind of fuel.
"All her friends are now saying they want to be a scientist and Sophie says she now wants to work in the CSIRO," Sophie's mom said. "She's saying Australian scientists can do anything."
Need a Coffey break? Connect with TODAY.com writer Laura T. Coffey on Facebook, follow her on Twitter or read more of her stories at LauraTCoffey.com.