Our dear Savannah Guthrie is departing the TODAY family to go on maternity leave and start her own family. But she's certainly not going it alone, as dozens of high-profile celebrity moms gave her a few bits of advice, from their favorite pumps to how to cherish the moments while they last.
Michelle Obama
"Hey Savannah, congratulations on the upcoming birth of your new child. I know you're gonna be a phenomenal mother. Parenthood is one of the best things you can do in life, and you're gonna be great at it. So enjoy every moment because it goes by so fast. Love you so much and look forward to seeing your pictures."
Hillary Clinton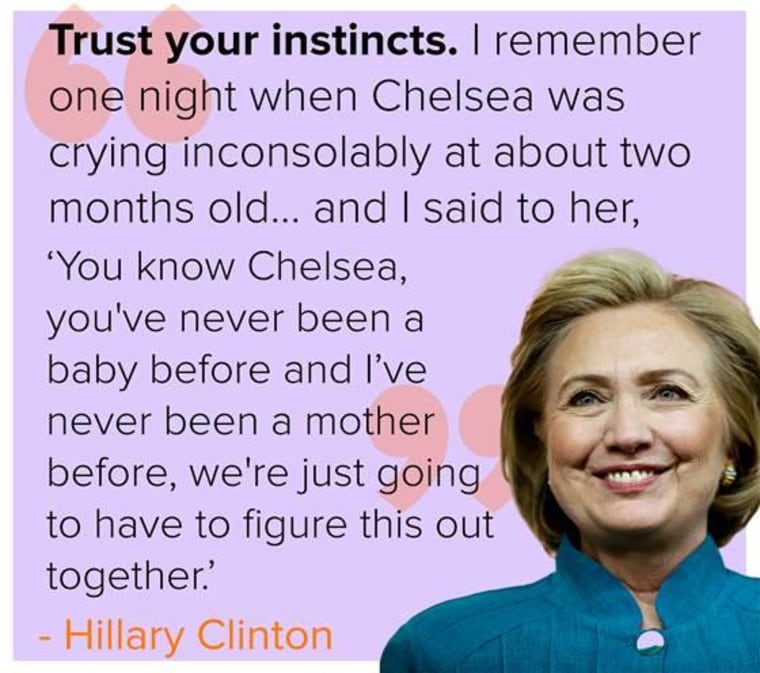 "Well I could write a book, in fact I did write a couple of long chapters in some books about what I had wished I had known before I became a mother, but honestly Savannah, just trust your instincts. I remember one night when Chelsea was crying inconsolably and a month and a half two months old, I was rocking her in the middle of the night and I said to her you know Chelsea you've never been a baby before and Ive never been a mother before we're just going to have to figure this out together. And I wish for you all of the joy and frankly the challenge of becoming a new mom because you will learn so much about yourself, and you are fortunate enough to have such a wonderful partner with Michael. just make sure he does his fair share because he will bring his own special gifts to the nurturing of your new child. I'm thrilled for you and wish you the very best."
Laura Bush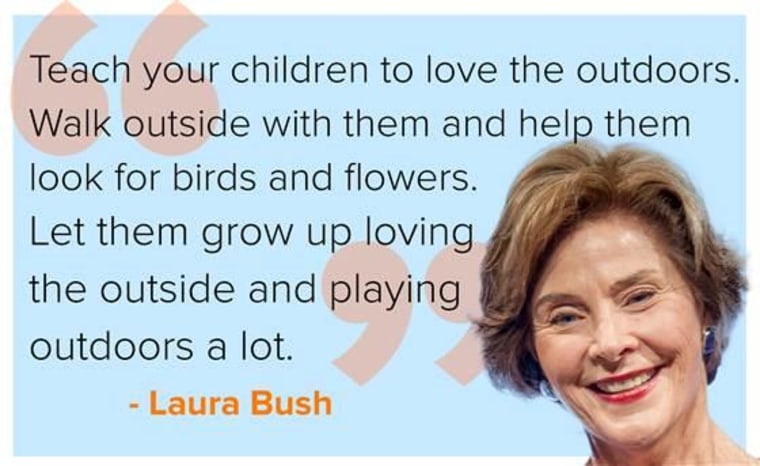 "My advice to Savannah and to every new parent is to teach your children to love the outdoors. Walk outside with them and help them look for birds and flowers. Let them grow up loving the outside and playing outdoors a lot. I have this memory of George coming in one night when the girls were little and Midland had been covered with a deep snow and he said 'let's go for a snow walk. A night snow walk.' And we did, and it's a memory that we'll always have. So look for ways to entertain your child outside. Savannah, I'm so excited for you. I know that you and Mike will be great parents so have a wonderful time with your baby."
Jenna Bush Hager
"I wish somebody would have told me to really enjoy the first couple of months when I was on maternity leave and not worry about work or if I should be cleaning the house. I wish I had just let Mila lay on me all day long and to take in every single moment."
Natalie Morales
"One thing i wish I had known when I became a mom is at some point your little one is really gonna test you patience. At some point they're not gonna like you very much. at some point they're gonna like your husband more than they like you, but one thing to remember is, it's just a phase. No matter what at the end of the day, they're always gonna want their mommy. They're always gonna want your hugs and kisses. So just know just be there, listen to them and just love them. When they want you they'll come to you."
Jenna Wolfe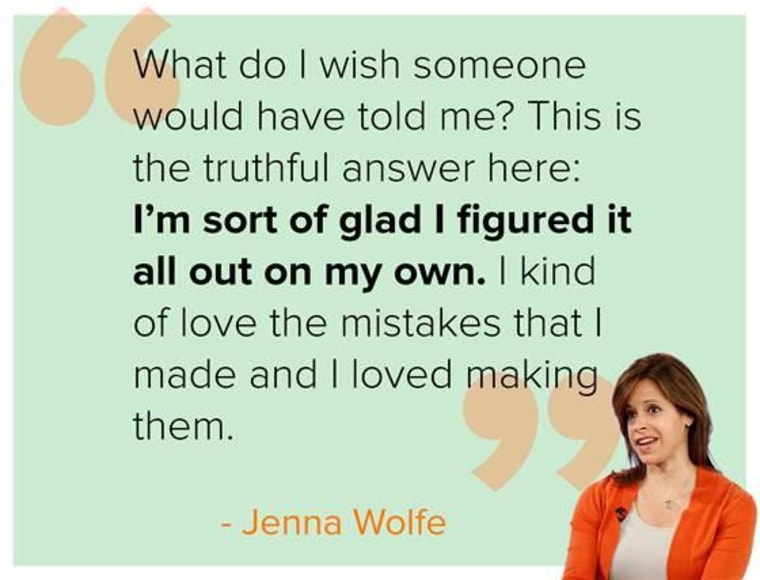 "What do I wish someone would have told me before I had little Harper? This is the truthful answer here. I'm sort of glad I figured it all out on my own. I kind of love the mistakes that I made and I loved making them. What I dont like is when people said, let me tell you if you need to know one things it's this."
Erica Hill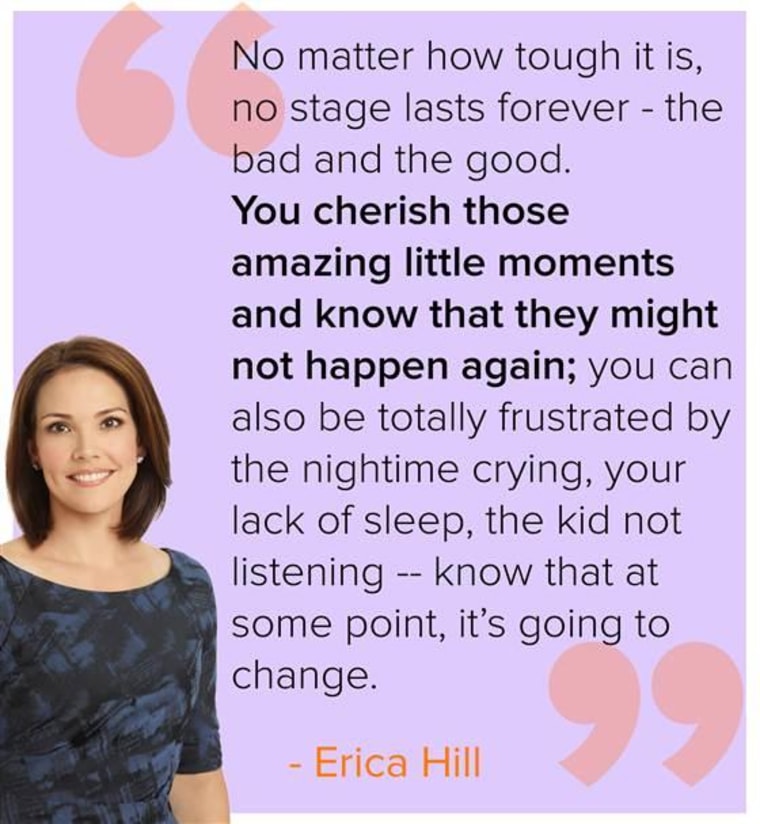 "Even though I'm not very good at taking advice, I do wish someone would have said to me that no matter how tough it is no stage lasts forever - the bad and the good. So while you can choose and cherish those amazing little moments and know that they might not happen again, you can also be totally frustrated by the night time crying, your lack of sleep the kid not listening and know that at some point it's gonna change."
Kathie Lee Gifford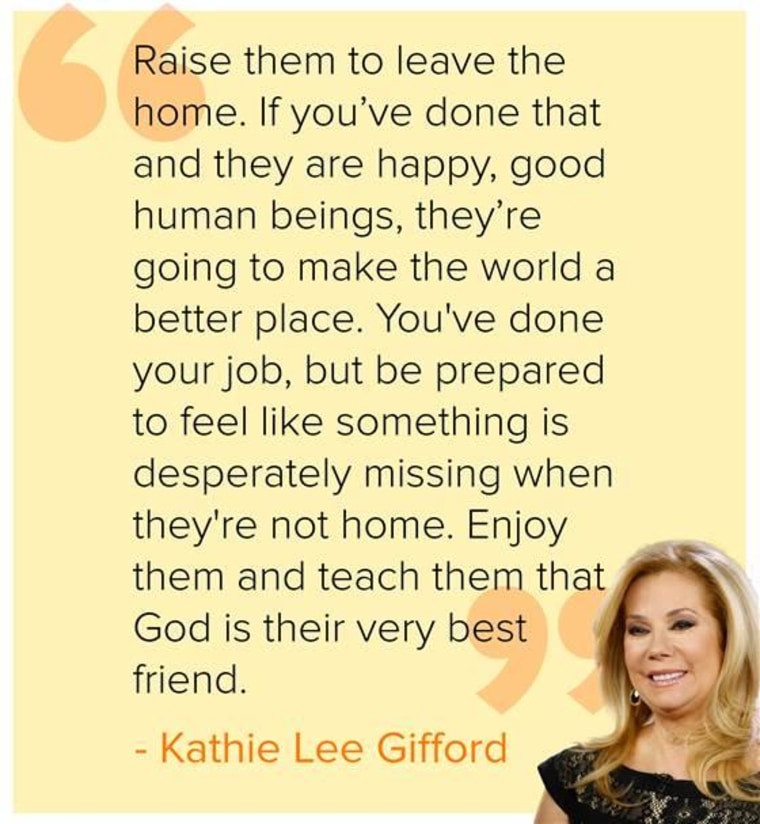 "Now that my children are 24 and 21 I just cant believe it, the old cliche is enjoy them while they're little is more true than ever to me. My favorite times in the whole world are when my kids are home. Raise them to leave the home. If you've done that and they are happy good human beings they're going to make the world a better place. You've done your job but be prepared to feel like something is desperately missing when they're not home. Enjoy them and teach them that God is their very best friend."
Giada De Laurentiis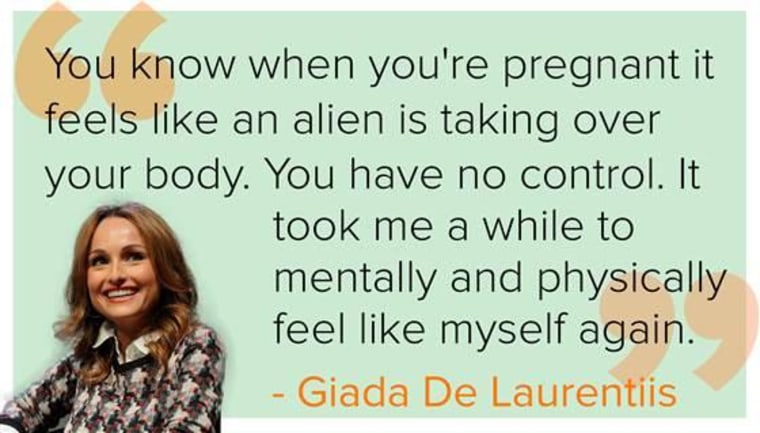 "I guess what I wish I would have known before I had Jade was how long it would take me to feel like myself again. You know when you're pregnant it feels like an alien is taking over your body. You have no control. It took me a while to mentally, physically feel like myself again. So I wish I would have known a little bit more about the tips and tricks to getting back to my normal self."
Meredith Vieira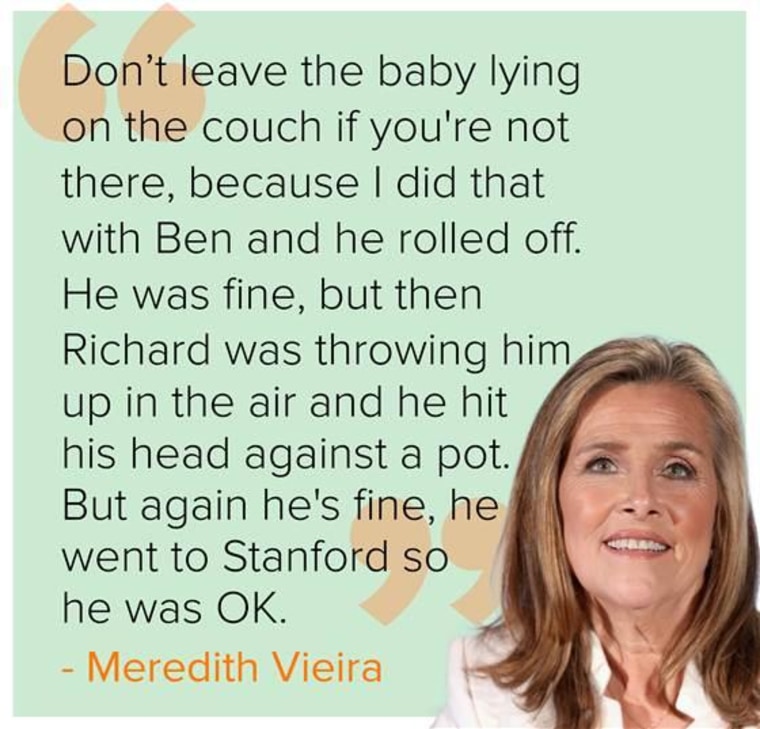 "Just be yourself. It comes naturally, it really does. But, I would say don't leave the baby lying on the couch if you're not there because I did that with Ben and he rolled off. He was fine but then Richard was throwing him up in the air and he hit his head against a pot. But again he's fine, he went to Stanford so he was ok. But I wouldn't recommend that. And change the diapers on a fairly regular basis. Yours or the babies. Good luck. "
Katie Couric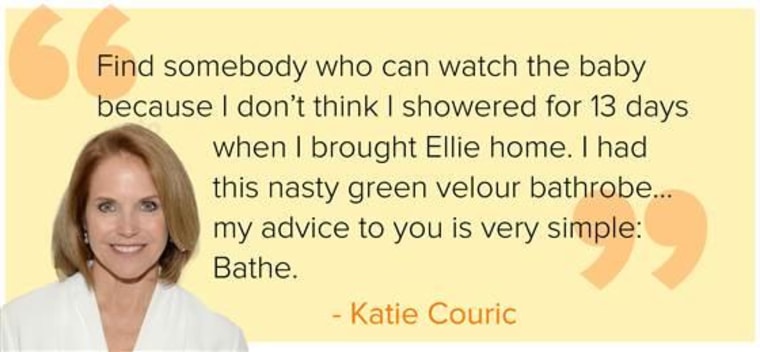 "I guess the biggest piece of advice is enjoy every second, not even every minute, every second because you wont believe how fast time will fly. You're gonna have this teeny tiny baby, this little perfect human being and then suddenly they're gonna be off to college or even worse they're gonna be teenagers giving you a hard time and a lot of grief, so enjoy them while they can't talk back and give you a hard time and just cherish those moments when its just you and your baby and its quiet and peaceful because i think that's what sheer bliss is all about. Just those quiet moments with the two of you."
Maria Shriver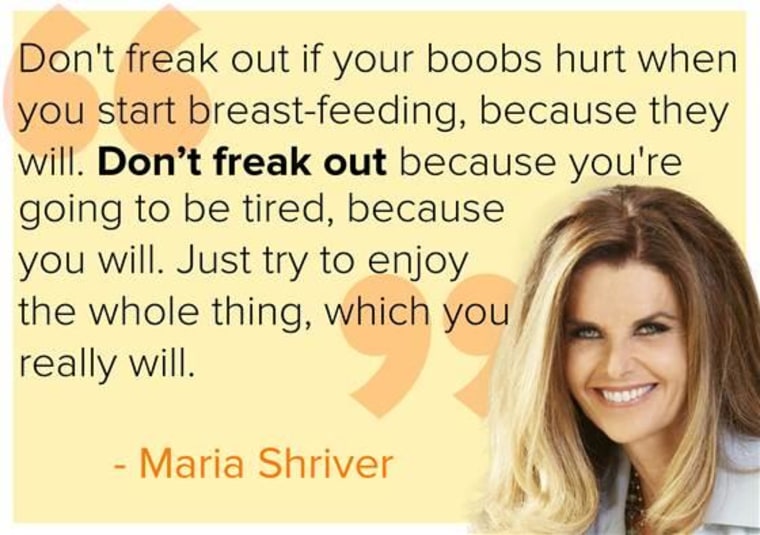 Mel B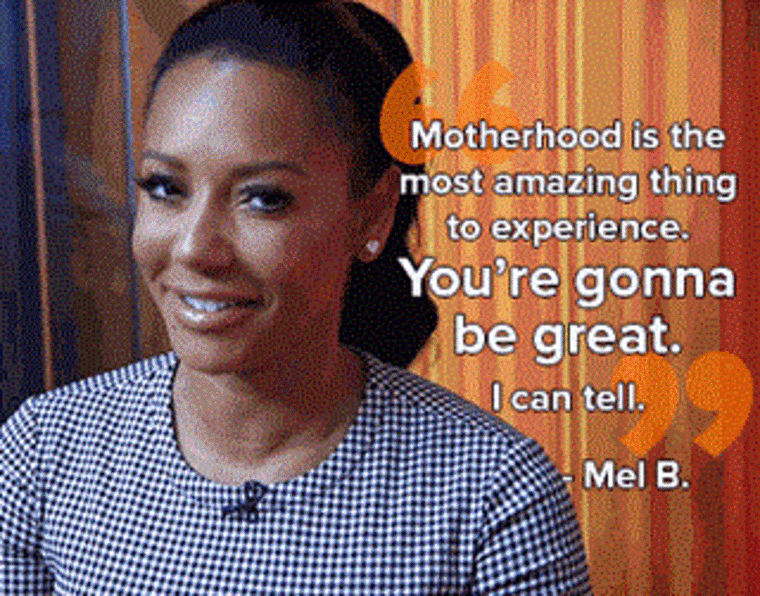 Julia Roberts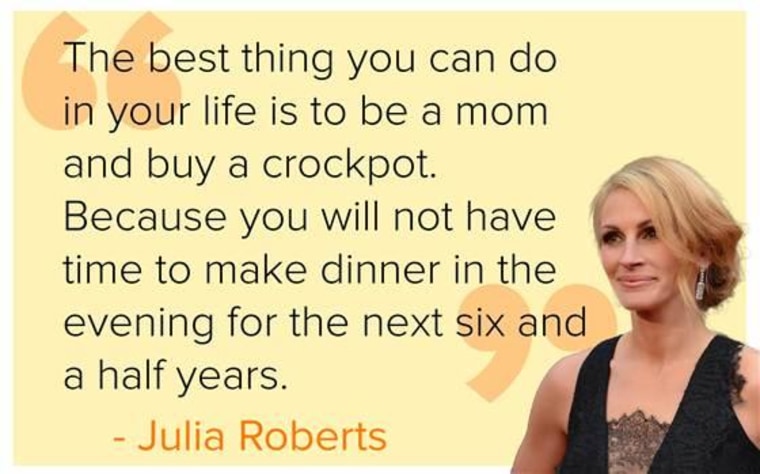 "The best thing you can do in your life is to be a mom and buy a crockpot. Because you will not have time to make dinner in the evening for the next six and a half years."
Kate Hudson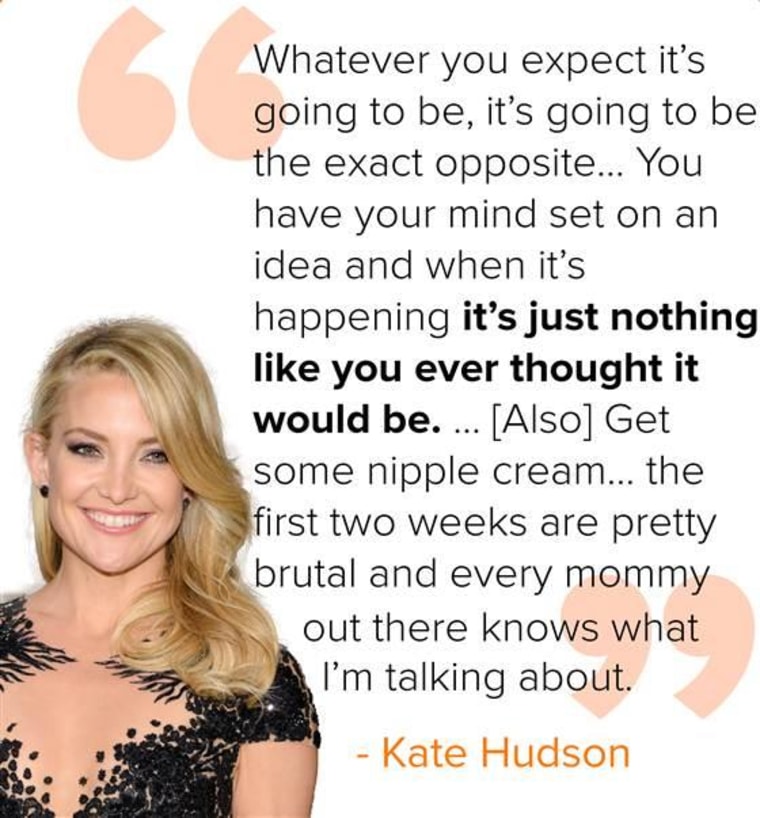 "Whatever you expect its going to be, its going to be the exact opposite. ... You have your mind set on an idea and when it's happening it's just nothing like you ever thought it would be. Exhaustion, I think, would be something no body ever talks about. Because you get tired. [You] need to get some nipple cream. And make sure you apply the nipple cream, because the first two weeks are pretty brutal and every mommy out there knows what I'm talking about."
Kate Winslet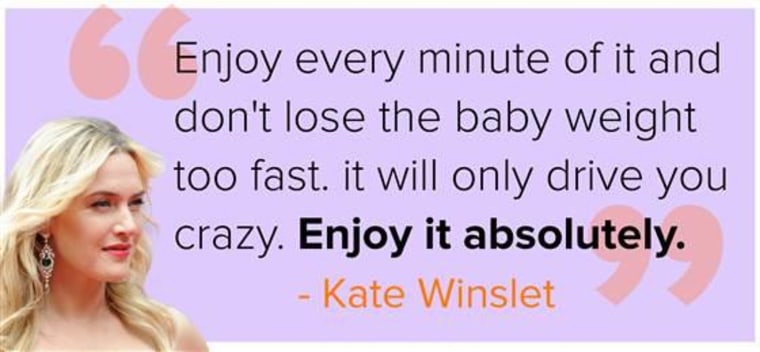 "Enjoy every minute of it and don't lose the baby weight too fast. it will only drive you crazy.To be honest after having the baby you become so busy and preoccupied with the baby and the nursing and doing other jobs as well. There's so much going on that I find the difficult part is remembering you have to eat because when you're nursing you really have to eat because then you don't produce anything that's going to feed your child. So actually, nursing is a good excuse to eat heaps. Enjoy it absolutely. "
Katherine Heigl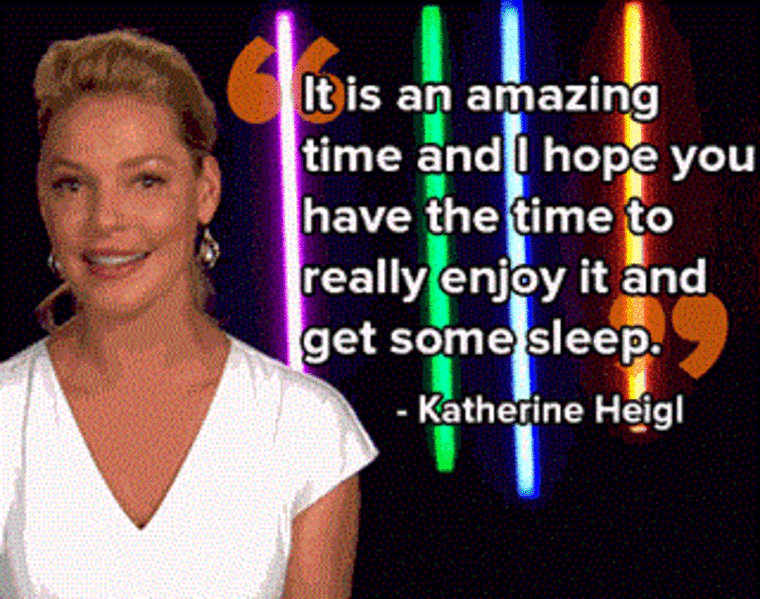 Debra Messing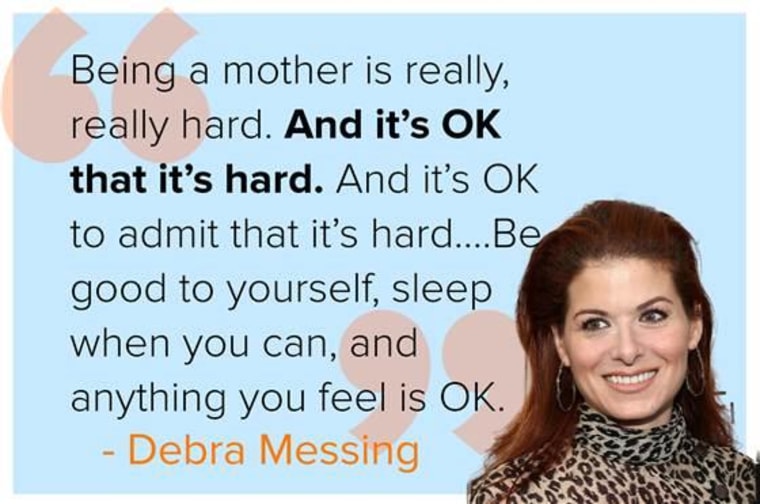 Julie Andrews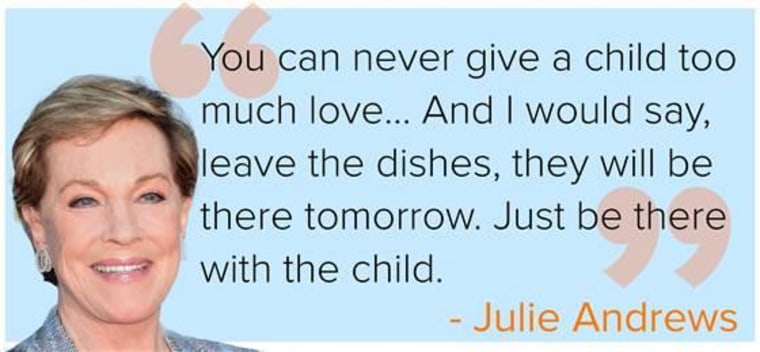 "First of all you can never give a child too much love, and just when you think somethings will never change, it will. It has a beginning a middle and an end. And I would say, leave the dishes they will be there tomorrow. Just be there with the child."
Megan Fox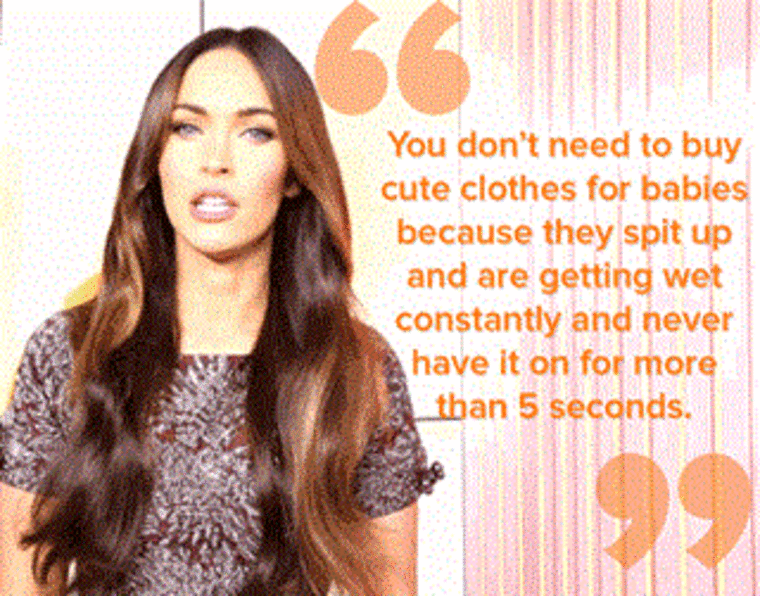 "You don't need to buy cute clothes for babies because they spit up and are getting wet constantly and never have it on for more than 5 seconds. Just buy a bunch of white onesies, like 100 of those, and you're good to go."
Gail Simmons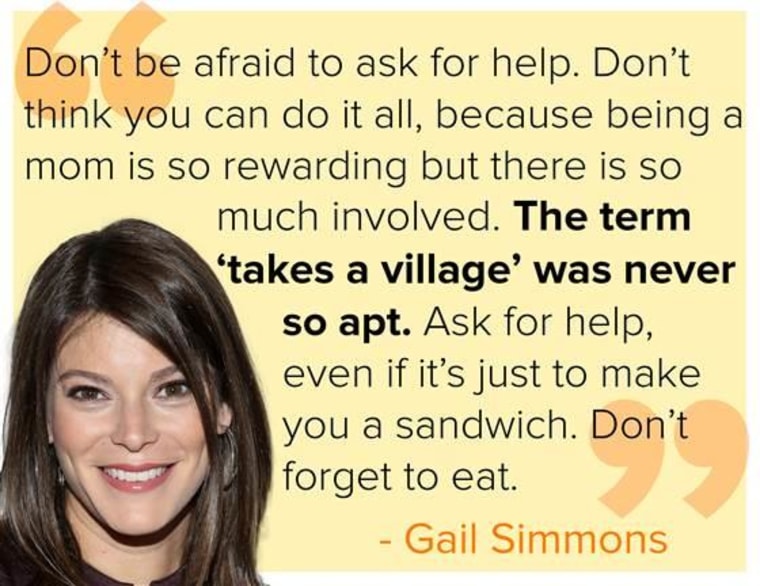 "There are so many things I wish I knew before I became a mom, but I'm actually happy I probably didn't or else I would have been completely paralyzed by the process. A few things that I took away from those first weeks of becoming a mother: Never leave home without your breast pad, number one if you happen to be breast feeding. Also don't be afraid to ask for help. Don't think you can do it all because being a mom is so rewarding but there is so much involved. The term 'takes a village' was never so apt. Ask for help, even if it's just to make you a sandwich. Don't forget to eat."
Heidi Klum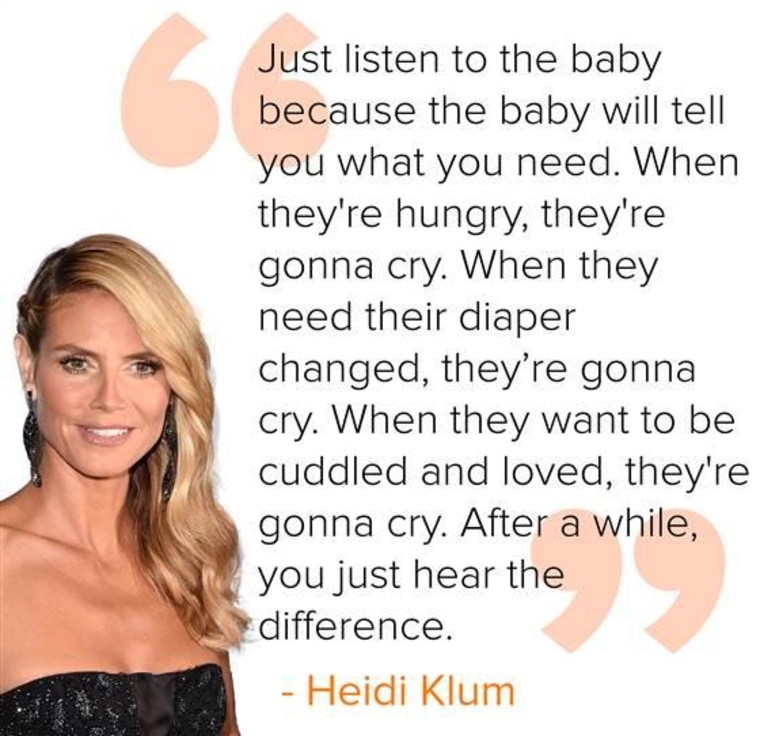 "My best advice would be to just listen to the baby because the baby would tell you what you need. When they're hungry they're gonna cry. When they need their diaper changed they're gonna cry. When they want to be cuddled and loved they're gonna cry. After a while, you just hear the difference. There's nothing you really need to know. The baby will always tell you what it wants. So just roll with it and have fun! You're going to be a great mom."
Alfre Woodard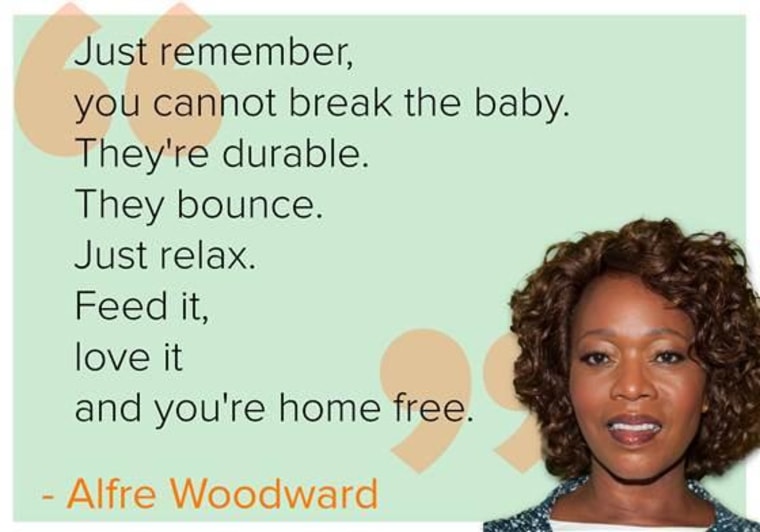 "Savannah, you're almost there. Just remember, you cannot break the baby. They're durable. They bounce. Just relax. Feed it love it and you're home free."
Kerri Walsh Jennings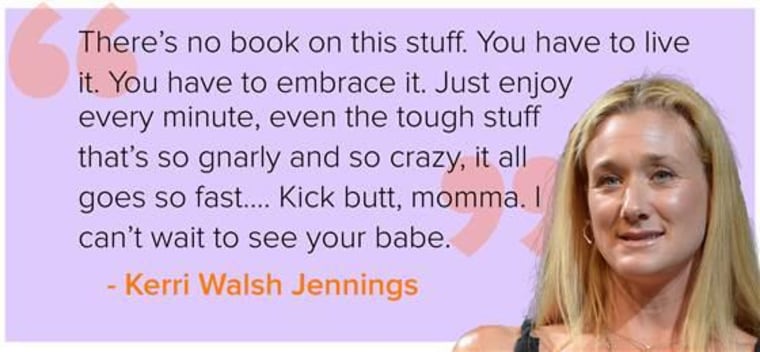 "Oh Miss Savannah. I wish I knew so much before becoming a mommy. Every day is new and there's always different challenges. But what I've learned through it all is that you have to live it. You know there's no book on this stuff. You have to live it. You have to embrace it. Just enjoy every minute. Even the tough stuff that's so gnarly and so crazy it all goes so fast. So I'm so glad that I've had to live it to know it and I'm excited that you're going to go through every day being a new day and a beautiful day with your new baby. ...
Kick butt, momma. I cant wait to see your babe."
Julia Louis Dreyfus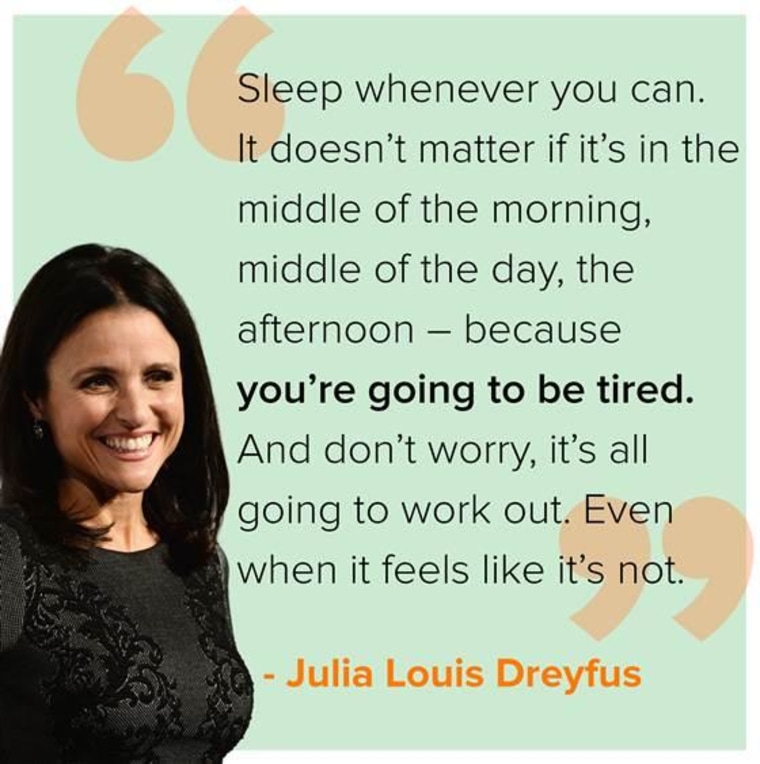 "My advice would be to get sleep whenever you can. It doesn't matter if it's in the middle of the morning, middle of the day, the afternoon, if you can get 20 minute naps because you gonna be tired. And the other thing is dont worry it's all going to work out. Even when it feels like it's not. It's going to be fantastic and your life is gonna change. In a really good way."
Wanda Sykes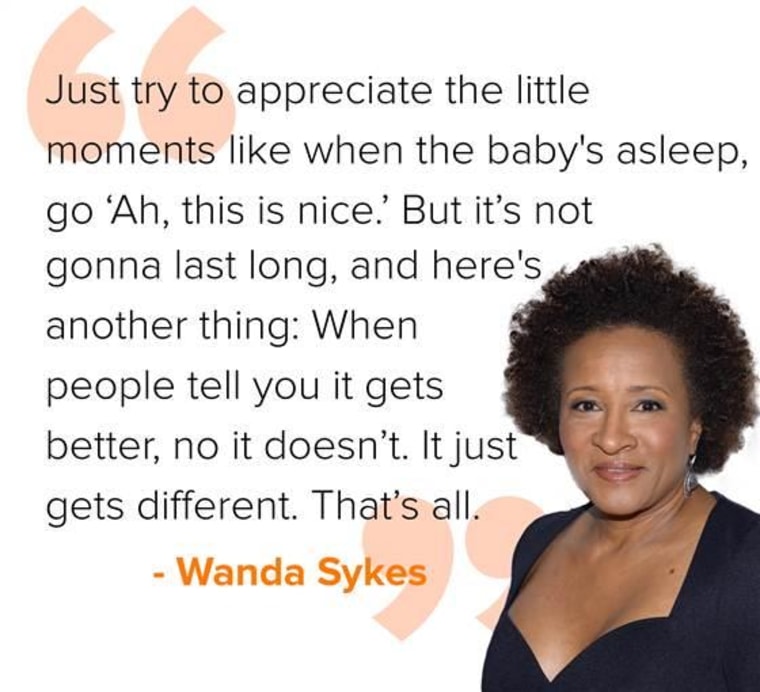 "The best piece of advice I can give to you is, 'Hey, you made your bed.' That's it. That's your bed baby. Alright, that's the one you're gonna sleep in for the rest of your life. That's it. You can't go back. You're in. It's too late. So yeah, just try to make the best of it. Try to air it in and fluff the pillow. Just try to appreciate the little moments like when the baby's asleep go ah this is nice. But it's not gonna last long. and here's another thing. When people tell you, it gets better, no it doesn't. It doesnt get better. It just gets different. Thats all. It just gets different. Not better! No, just different. There you go. Good luck with that."
Tina Fey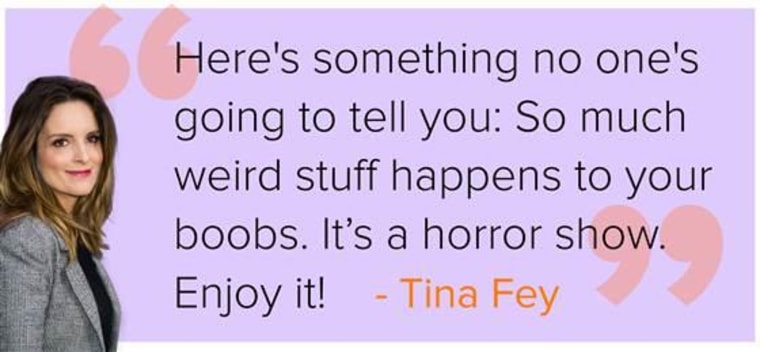 "I just wanted to say best wishes on your upcoming delivery and here's something no one's going to tell you. So much weird stuff happens to your boobs. It's a horror show. Enjoy it! Bye!"
Maya Rudolph
"If you nurse, you don't have to but if you do, the Madella In Style pump and a hands free bra. Whats up. I'm telling you right now, you can email, text, drive a car, have dinner. I did it at a wedding reception, in front of Lorne Michaels. You can pump anywhere and be a working mom and feel awesome, because you are feeding a human life. And if you don't nurse, it's fine no pressure. Don't let people pressure you."
Sarah Blakely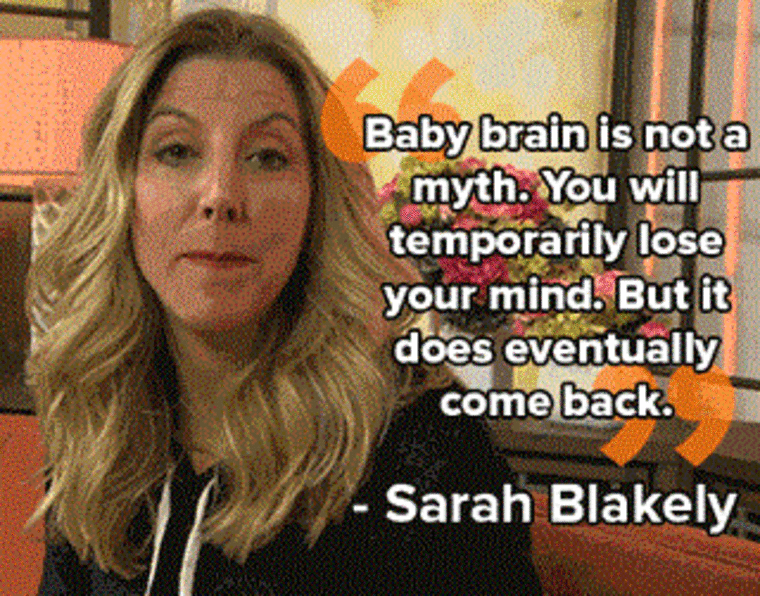 "I wish I knew before I became a mom is that baby brain is not a myth. You will temporarily lose your mind. but it does eventually come back."
Siri Pinter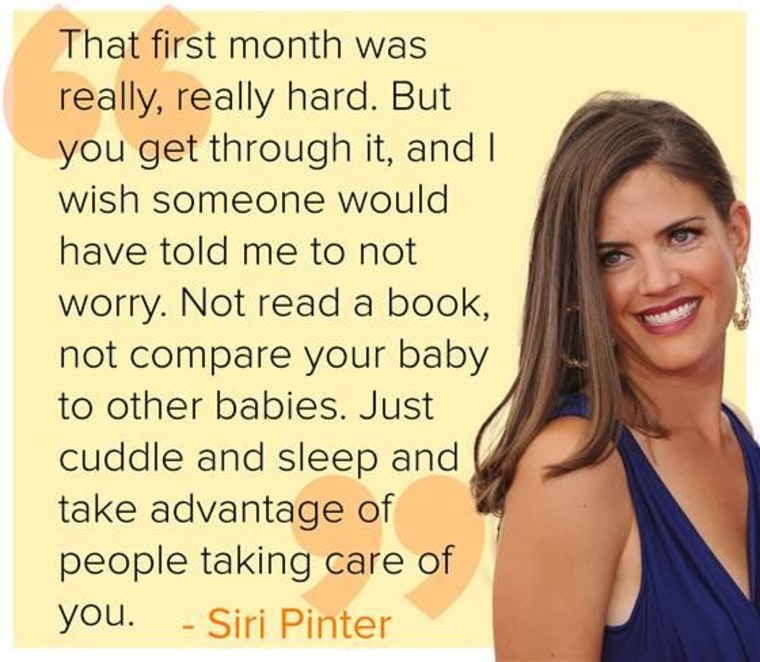 "I wish I would have known that that first month was really, really hard. But you get through it and I also wish someone would have told me to not worry. Not read a book, not compare your baby to other babies. Just you know just cuddle and sleep and you know take advantage of people taking care of you. ... Motherhood is just the coolest thing. You know you'll be even more tired but its worth it. I know you're gonna be a great mom."
Deborah Roberts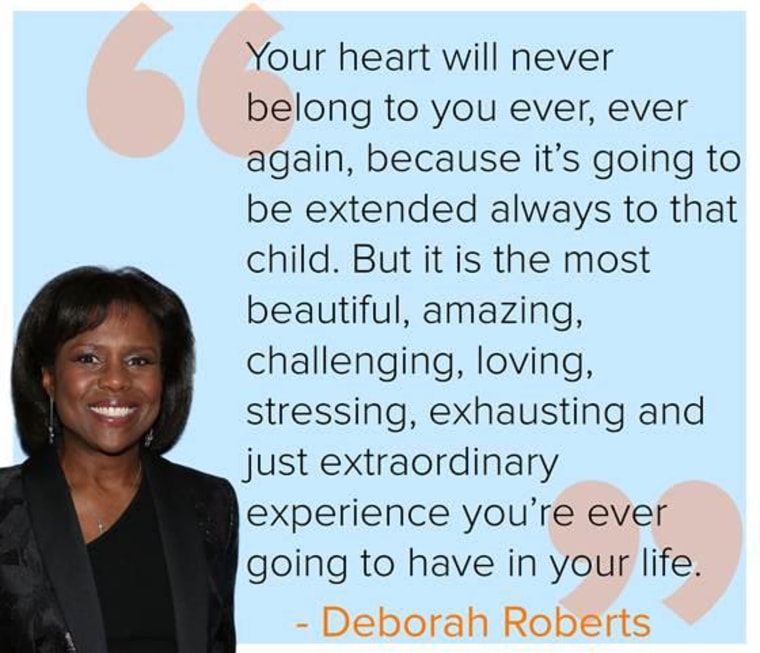 "I just want to tell you if you've ever heard that expression to have a child is to have your heart beating outside your chest. It is so true. Your heart will never belong to you ever, ever again. Because it's going to be extended always to that child. but it is the most beautiful amazing challenging loving stressing exhausting and just extraordinary experience you're ever going to have in your life."
Christina Geist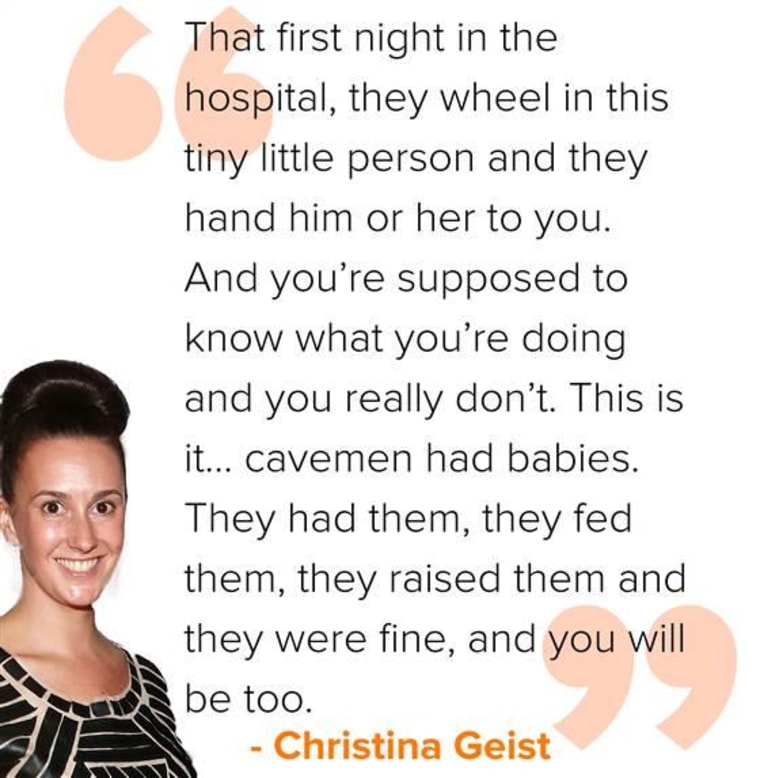 "Savannah, I want you to remember one thing. In the middle of the night that first night in the hospital and they wheel in this tiny little person. And, they hand him or her to you. And you're supposed to know what you're doing and you really don't know what you're doing. This is it... cavemen had babies. They had them, they fed them, they raised them and they were fine and you will be too. I love you. Congratulations.
Nancy Guthrie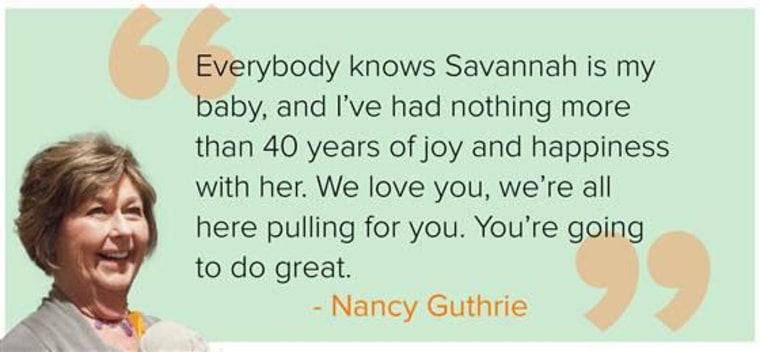 "Everybody knows Savannah is my baby, and I've had nothing more than 40 years of joy and happiness... with her and as this new baby comes into our lives... she or he is gonna bring so much joy and happiness to us."
This article was originally published Aug. 11, 2014 at 5:49 a.m. ET.