Having a baby is usually one of the happiest moments in a woman's life. Looking down at her post-baby body usually isn't.
Let's face it, for most of us, even if we lose the baby weight, our bodies just aren't quite the same afterwards. Bits tend to be wider, saggier, flappier, lower or just plain different than they were pre-pregnancy. While we mere mortals are contending with stretch marks and cellulite, so many celebrity moms seem to be on the beach, skipping in skimpy bikinis soon after giving birth. It's hard not to be disheartened.
Over the years, various women have bared their real mommy bellies for all the world to see. Now, as the Daily Mail reports, a new group of moms is displaying their post-bump bellies. It started when one mom couldn't bring herself to click on a link for "Beyonce's Body After Baby," knowing it would take her to yet another perfect, celeb post-baby bod pic. So the CT Working Moms group decided to have a photo shoot of their own, with photographer Jean Molodetz. Wearing sports bras and pants, fortified with food and wine, these gals cheered each other on and turned the night into a victorious momfest.
Dena Fleno of the CT Working Moms blog writes:
 It was a completely liberating moment. Some of us started out a bit nervous and shy, but encouraging comments and catcalls from the other ladies, and let's face it - the wine - made it easier.  For me, I know I am far from what I may ultimately want my body to look like, but I know I have never felt more beautiful and accepting of my body than I did that night.
...I will admit that when I look at pictures of myself I (like I'm sure most women do) pick apart all of the things I wish were different or more sucked in, or just smaller.  I end up feeling bad about myself and, instead of throwing in a workout DVD, I head to the freezer for a little therapy in an ice cream pint.  When I looked through the photos of our shoot, though I did do a bit of trash talk about my problem areas, the feeling inside was completely different.  I didn't feel depressed, I felt the energy of the night.  I felt the joy, love and sisterhood of that moment and again felt beautiful.
Now, they're encouraging moms everywhere to make our next moms-night-out a Goddess Gathering -- baring our bellies and applauding each other for a job well done. After all, these tummies might not be the prettiest things in the world, but just think of what they've accomplished.
Are you content with your post-baby body or do you struggle to accept that things will likely never be quite the way they were before? Would you ever consider a Goddess Gathering?
Dana Macario is a TODAY Moms contributor and Seattle mom to two young kids. She applauds the CT working moms... with her tank top pulled down firmly over her stretch marks.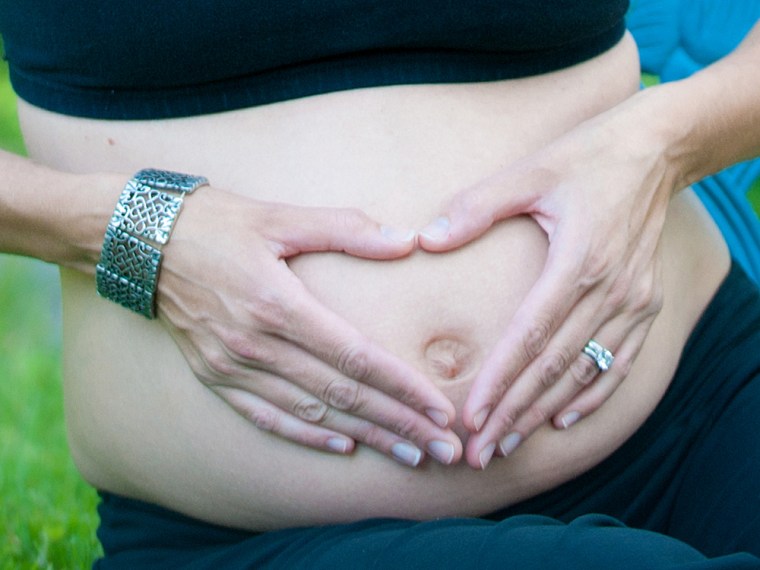 Related stories:
Website celebrates real moms' beauty, stretch marks and all
The body image talk: Explaining Photoshop to kids