/ Source: TODAY Contributor
A call came in reporting that a 9-year-old boy's Pokémon card collection had been swiped, and Cleveland police officer James Grotenrath, who loved Pokémon as a kid, instantly understood the sting of such a loss. When you have a passion for Pokémon, your cards are everything.
"I immediately went into the younger version of myself and imagined what would happen if someone else took my cards when I was young," Grotenrath, 26, told TODAY. "I'd be very distraught if someone took my Pokémon cards. In a 9-year-old, that's almost like the end of the world."
While Grotenrath quickly helped retrieve the binder full of cards from the home of another boy, 9-year-old Bryce was still upset because some valuable cards remained missing. That night, Grotenrath felt "a little bit heartbroken" for Bryce and rummaged through his closet to find his childhood cards. Deciding to "pass the torch forward," he gave Bryce several of his old binders the next day.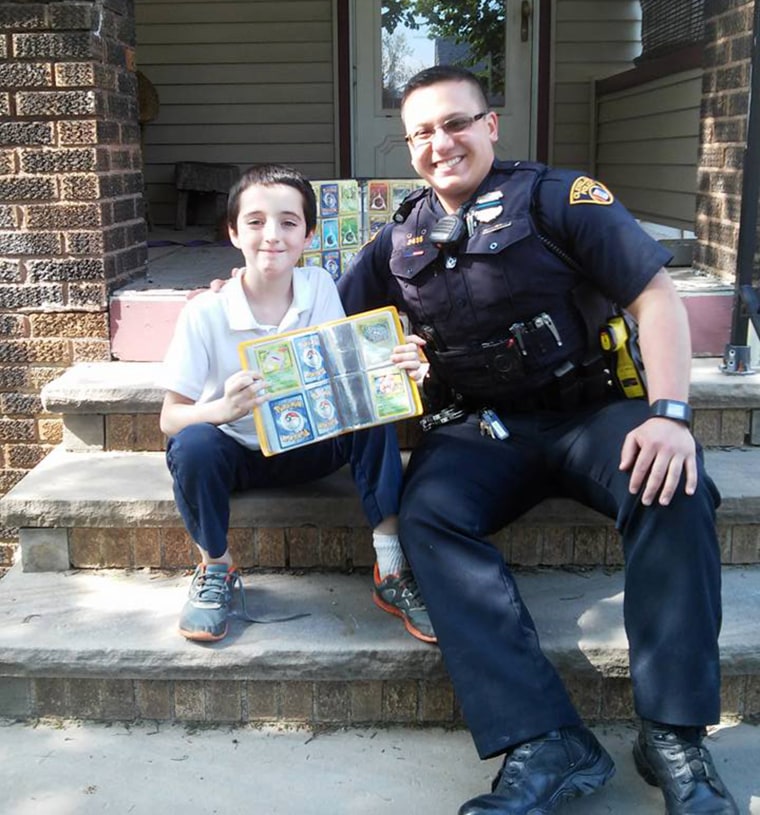 "I put myself in his shoes," said Grotenrath, who also gave Bryce some Yu-Gi-Oh cards. "I figured it's the right thing to do. It's good to see a citizen smile at us instead of always frowning upon us."
As Grotenrath placed the binders in Bryce's hands last month, he said the boy "was grinning from cheek to cheek and so happy to get all these cards."
Bryce was overjoyed, especially when he learned there were some rare and valuable cards from the trading card game in Grotenrath's collection.
"I was shocked and then I said 'Thank you' a lot of times," Bryce said. "And I went through all of them and I was really, really happy."
He realized that Grotenrath may be as rare of one of his colorful, collectible cards.
"He did a really hard thing to do that most people won't do, because most people don't just give away their cards," said Bryce, who knows that valuable collections can be sold. "I was surprised and happy."
Bryce, who began collecting when he was 6, had his hundreds of cards in pages in a thick binder. On the early evening of May 17, he was outside his house and several boys asked if they could see his cards. He set the binder down, he said, and it was swiped, leaving him in shock.
"I was like, 'Oh my God, did he steal my cards or am I hallucinating?'" Bryce said. "So I pinched myself and I noticed that I wasn't daydreaming."
That's when he told his mother, Angela Angelone, who called the police. With help from Bryce's mom and some neighborhood kids, police figured out who had the binder and went to the house of a boy a few years older than Bryce. "We talked to the parents of the other boy, they confronted the son, and the son brought out the cards," Grotenrath said, adding that the family immediately apologized.
Bryce was happy to have his binder back. The cards that took three years to amass, he said, "basically represented my life."
"I really love Pokémon," he said. "It's my favorite thing."
Bryce calls his new Pokémon pal, "a hero and a friend."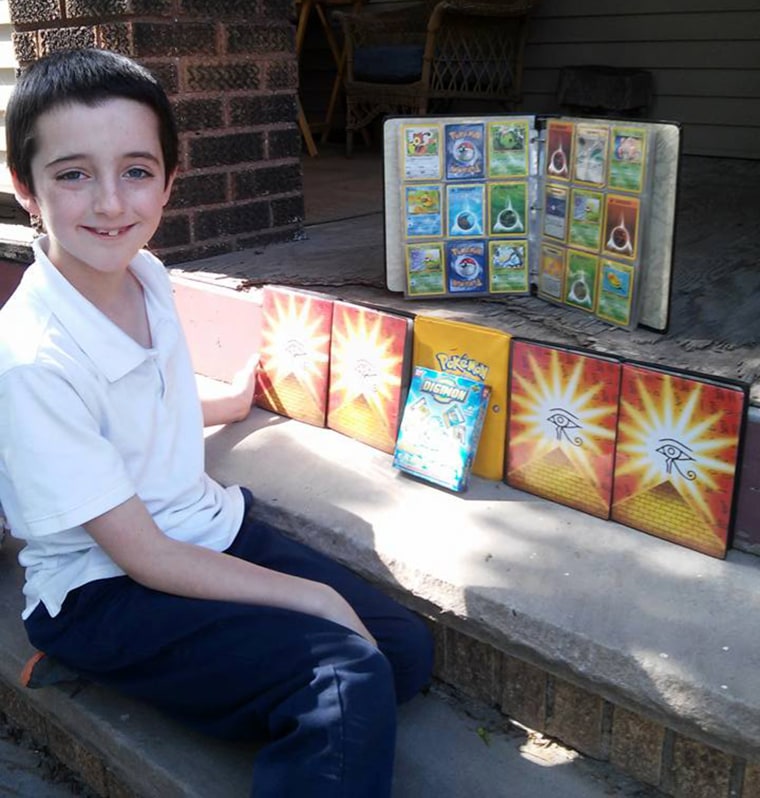 Angelone is grateful for the officer's generosity after seeing her son go from being devastated after the binder was taken to elated upon its return, only to be saddened again at the loss of the important cards all in one day. (Most of the valuable cards were returned later the next day, she said.)
"It was like his whole world was gone," Angelone said. Of Grotenrath helping her son, she said: "He turned a really traumatic day into an amazing day he's never, ever going to forget."
The officer has stopped by to see Bryce a few times and delivered cards that people have given him for Bryce. The two have talked about cards and looked at them together. But there is one thing they have yet to do: Have a Pokémon battle.
"Next time he comes I'm going to ask him to battle," Bryce said, offering this warning to his opponent: "Get ready and prepare to be destroyed."
TODAY.com contributor Lisa A. Flam is a news and lifestyles reporter in New York. Follow her on Twitter and Facebook.