You're here, London Rose Daly! (A little late, but you made it.) Congratulations on a strong start. Your birth made national headlines. You beat baby Vale's weight by an impressive 6 ounces. You snagged the same birthday as Al Roker. Good hustle.
But let's not rest on our laurels here. You've met the rest of your family, so you're aware that you are not the first child on the scene. It's a full house, and your brother and sister are going to keep you on your toes. Just look at those two: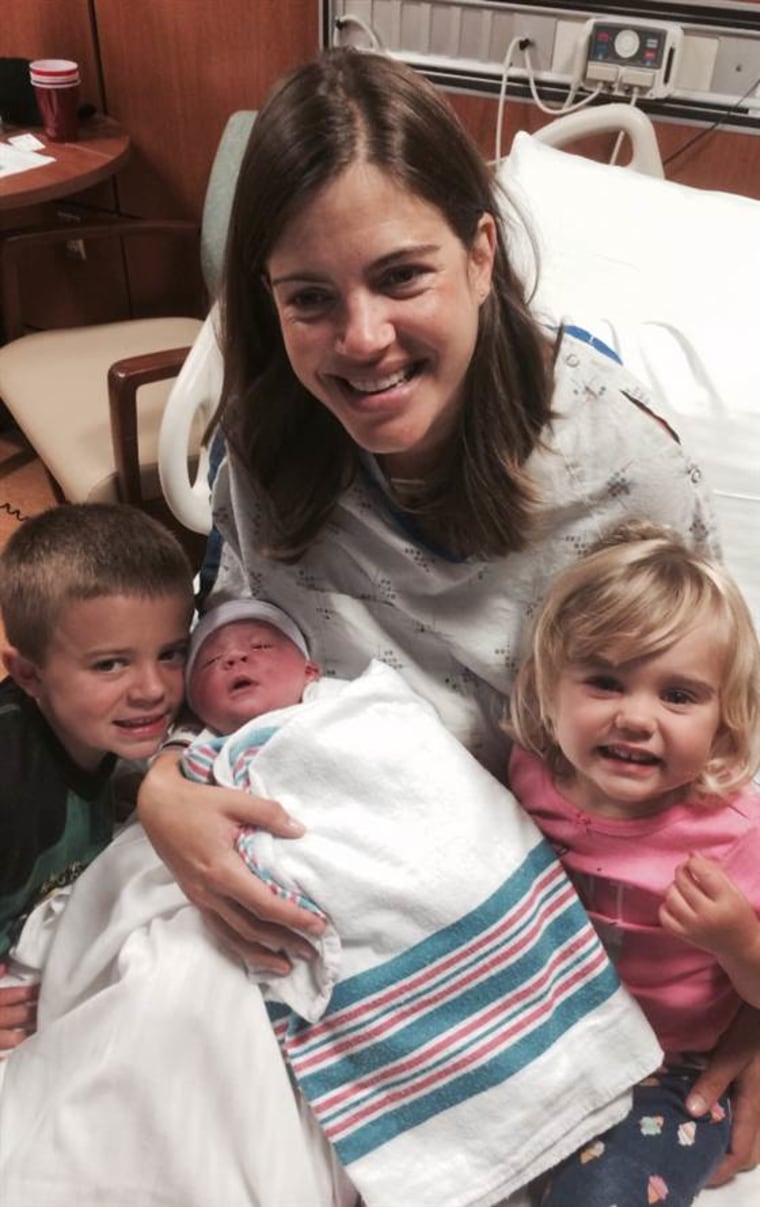 Jack and Etta are adorable. They're smart. They love you to bits and barely even know you. With siblings that stellar, you've gotta be on your A-game 24/7/365. Capiche?

To help you make your mark in this crowded new world, we've created a primer inspired by four famous no. 3 children. Third time's the charm, kiddo — once you know how to work it.
Lesson 1: Pursue side projects
Example: Nick Jonas
We have to warn you, L-Ro: Your dad is a serious music fan of occasionally questionable taste. Like it or not, you will find yourself participating in a family band at some point. When you tire of playing third fiddle, take a break like Nick Jonas and form your own act. His side project, Nick Jonas & the Administration, provided a brotherless breath of fresh air.

Lesson 2: Don't be a twin
Example: Elizabeth Olsen
Check this one off your list. Like the youngest Olsen sister, you'll never look completely indistinguishable from another family member — a standout advantage. Olsen's other smart strategy? Sticking to her guns. As Mary-Kate and Ashley drifted from kiddie fame to fashion, Elizabeth quietly snapped up roles in blockbusters like "Godzilla."

Lesson 3: Surprise them
Example: Willow Smith
As the family's scrappy upstart, you can go forth and be bold. Case in point: Will Smith's third kid found fame whipping her hair back and forth, then proceeded to lop off her locks in an era of experimentation filled with pompadours, bobs and bubblegum colors. Define yourself not by what you've done, but what you'll do next. 

Lesson 4: Bide your time
Example: Patricia Arquette
Real talk: Your siblings are pretty well ahead of you at this point, particularly in the potty-training category. Never mind them; better to practice patience like Patricia Arquette. The younger sister to actors Rosanna and Richmond took 12 years to film her movie "Boyhood," and now she's garnering Oscar buzz. You go, girl — at your own pace.