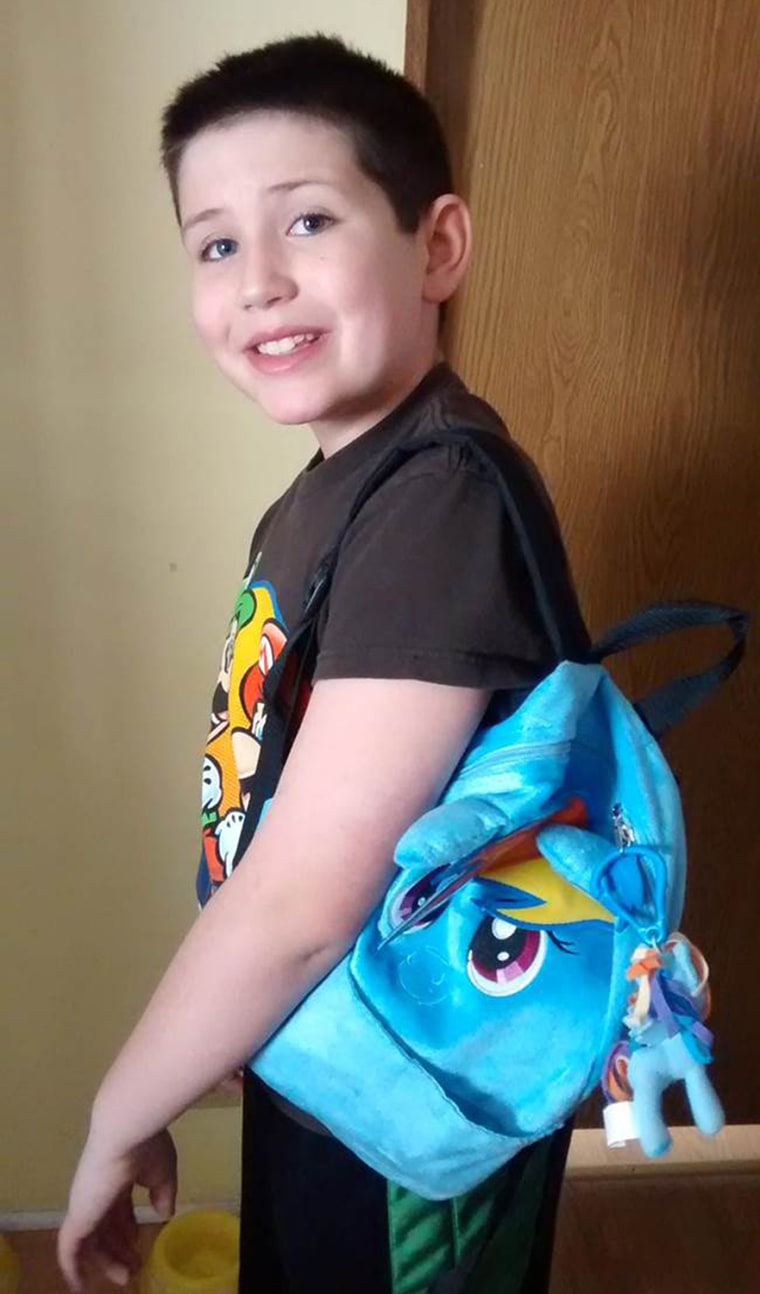 Outraged parents say their son's elementary school told their 9-year-old to leave his "My Little Pony" backpack at home after the boy complained that he was bullied for bringing it to school. 

Noreen Bruce said she became alarmed earlier this month when her son, Grayson, refused to get out of the car to go to school. "Everybody hates me," he said. "I don't feel I belong here." Shaken, she asked him why.
His classmates at Candler Elementary School in Candler, N.C., were bullying him because of the My Little Pony backpack he'd been using for about a week, he told her. 
Bruce complained to school officials, whose response, she said, was to forbid Grayson from bringing the backpack to school.
Noreen and her husband, Josh, both of whom work at a local restaurant, were shocked by the response.

Researchers who study bullying had much the same reaction.
If the school actually did tell the boy to leave his backpack at home to avoid bullying, "That's placing the blame on the kid," said Sandra Graham, a professor of education at University of California, Los Angeles, who studies the long-term effects of bullying. "The principal is basically saying you brought this on yourself, so deal with it — as opposed to putting the responsibility back on the perpetrators." 
A better response, she said, would be to use the incident as a teachable moment. It's not only the bullies who are a concern; it's also the student bystanders and adults who refuse to intervene. The response should involve the whole school community, she said, meeting and planning to "change the climate and culture in the school." 
Jaana Juvonen, a developmental psychologist at University of California, Los Angeles, said Grayson is at an age when children engage in what's called gender policing. "You cultivate the norm for your group by calling out who's violating the norm," she said. It's also a good time to remind students that there are male nurses and female firefighters, she said, and to seek support from other students. "It would be wonderful if other boys came to school with My Little Pony," she said.
Bruce said her son has been watching the My Little Pony TV show for about a year. "I thought it was fine," she said. "It doesn't have any bad words. It doesn't have any violence."

"It's a good show," Grayson told TODAY. "It's not nasty. It promotes friendship. And it's hilarious."
Jason Rhodes, the assistant communications director for the local school district, Buncombe County Schools, released a statement saying he could not comment on individual cases but that "our schools take any allegations of bullying seriously and work diligently in all cases to resolve the issues in the best interest of students."
David Schwartz, a psychology professor at the University of Southern California who studies the long-term effects of bullying, said it can be "a very difficult behavior to interrupt." Talking to children is sometimes not enough, he said. And bullying can have serious consequences.
He and others have found that children bullied in elementary school are at increased risk of being depressed when they are 18. But it's important to note, he said, that there is no such thing as a "victim personality."
Sometimes, removing the problem, such as ordering a child to keep a backpack at home, is the only choice a principal has over the short term, Schwartz said. "The principal is trying to deal with an extremely difficult situation."
Still, he emphasizes that "victimization is a social process in the peer group; it's not the child," he said. "Our focus should be on the environment."
When Grayson's parents reported that the school principal banned Grayson's backpack, friends of the Bruce family set up a Facebook page in support of Grayson. By Wednesday afternoon, the page had attracted more than 55,000 supporters.
The Bruces are scheduled to meet with the superintendent of Buncombe County Schools on Thursday to try to resolve the dispute. 
"I hope that this makes them take notice," Bruce said. "I'd love for this to make a difference."
Paul Raeburn is the author of the forthcoming book, "Do Fathers Matter? What Science Is Telling Us About the Parent We've Overlooked."