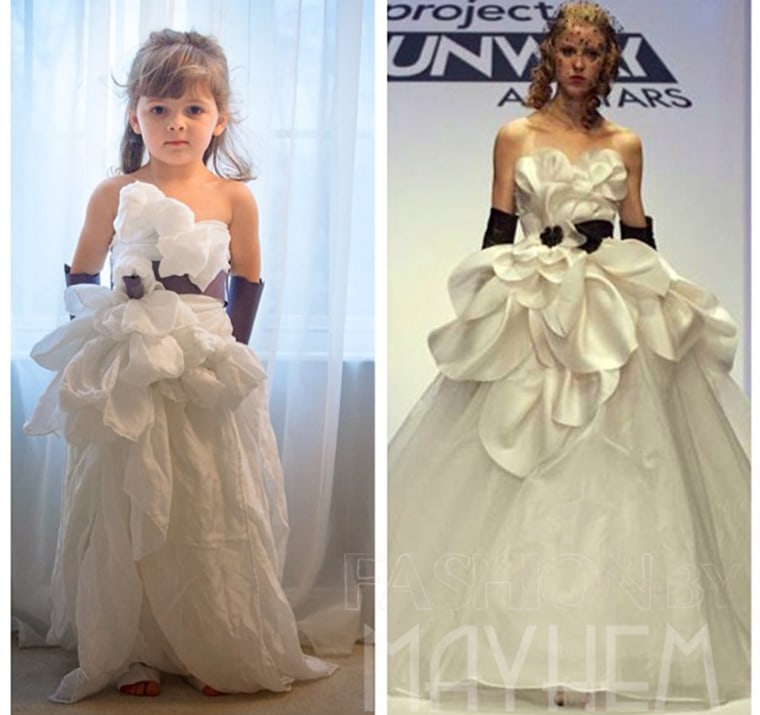 Move over Jason Wu. There's a new fashion designer in town and she's creating major buzz, one magnificent paper dress at a time. Oh, and she's 4.

Mayhem Keiser went through the typical toddler dress up phase but soon got bored of play clothes and started asking her mother Angie to create dresses out of household items such as pillow cases and dish towels. When Angie found some of her own clothes in Mayhem's toy box, she came up with an idea. "One day I told her, 'I bet we can make a dress out of paper.'"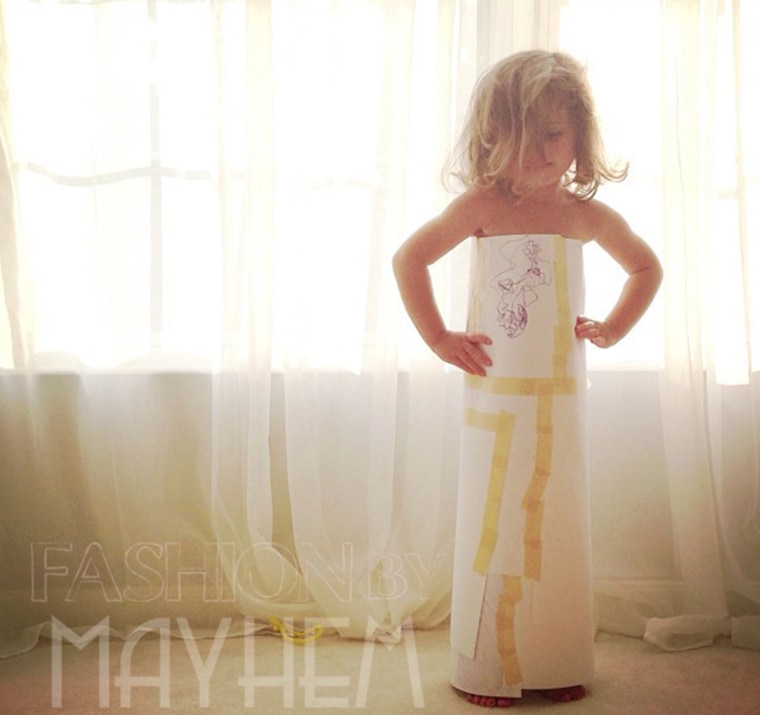 Mayhem loved the plan and the first creation used colored construction paper held together by masking tape. After that, it became a daily project with Mayhem selecting paper color and giving instructions on what each piece should look like

While she's not allowed to use scissors to cut the paper, Mayhem is actively involved in the process and learns more with each dress she makes, says Angie, who along with her husband Keith own a photography studio in Cincinnati, Ohio.
"It has been a lot of fun to watch. She has learned that when you put the pieces flat next to each other, they won't work. [She knows that] to fit around your waist, you have to lay it at an angle," Angie says. "She could layout contruction paper right now and tape it all together into a dress. She knows how many pieces she needs for a top and bottom."
Mayhem, incidentally, is a family nickname (her parents don't want her real name used), illustrative of a very opinionated and headstrong personality, Angie says. "We have other nicknames, too, like 'Full Throttle' and 'The Negotiator.' She will try and reason with everything." And if you think Mayhem is a girly girl because she fancies paper dresses, she's not. "She will scale the furniture and jump from it. She loves to hit a ball off a tee, loves gymnastics. She doesn't walk anywhere…she always running."
While some dresses take 10 minutes to make, others can take hours. In those situations, Angie notes: "A 4-year-old doesn't sit still for that time. So we will split it up over a few days."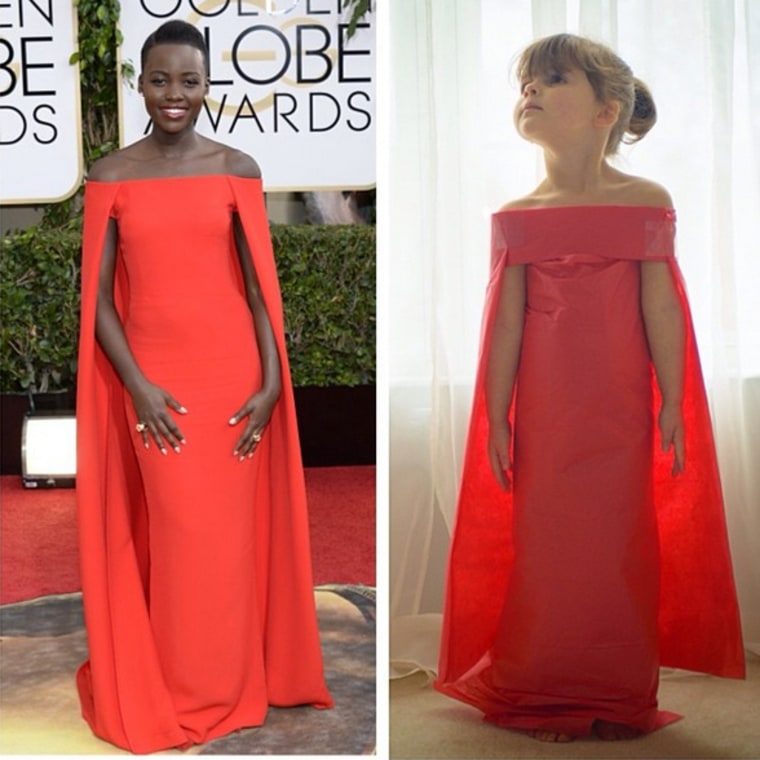 Since creating the first dress nine months ago, Angie started posting pictures of the dresses on her blog and an Instagram account. (She's in the process of changing that account to 'FashionbyMayhem', which because of all the media attention already has 7,500 followers even though there are no posts on it.) When they started to run out of ideas for dresses, Angie and Mayhem turned to the Internet for inspiration.

While watching the Country Music Awards one night, Angie noticed the gold dress of Band by Perry singer Kimberly Perry. "I thought it looked like paper and might be easy to make," she says. The next day, she showed the picture to Mayhem, who loved it. After that, awards shows such as the Golden Globes and the Grammys, plus shows like Project Runway, became fodder for ideas.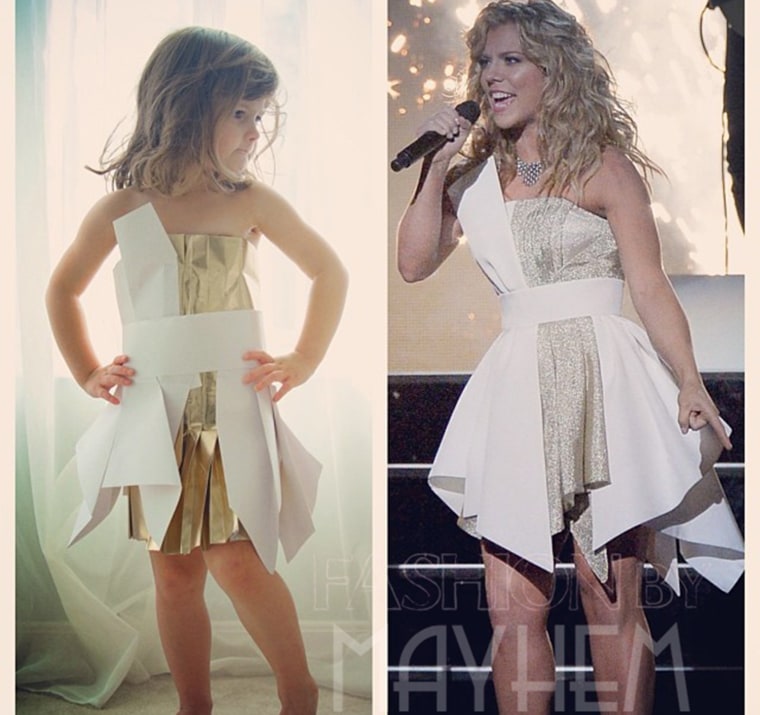 Among Mayhem's favorites is the red dress actress Lupita Nyong'o wore at the Golden Globes, which Angie says took 10 minutes to make. Another fun one to make was Katy Perry's musical notes dress, which the singer wore to the Grammy Awards this year.

Though she is a photographer, Angie says she has no fashion background at all – "I wear the same jeans and t-shirt every day," she jokes. But she can see that Mayhem may just have a calling.  
For now, though, making dresses with her daughter is less about fashion and all about bonding.