Uh oh. I'd seen that face on Matt Lauer before — a smile masking sheer terror. And he had a right to be concerned.
It was 2012 and I was sitting in the Yankees dugout, about to be in the same breathing space as one of my idols, Derek Jeter.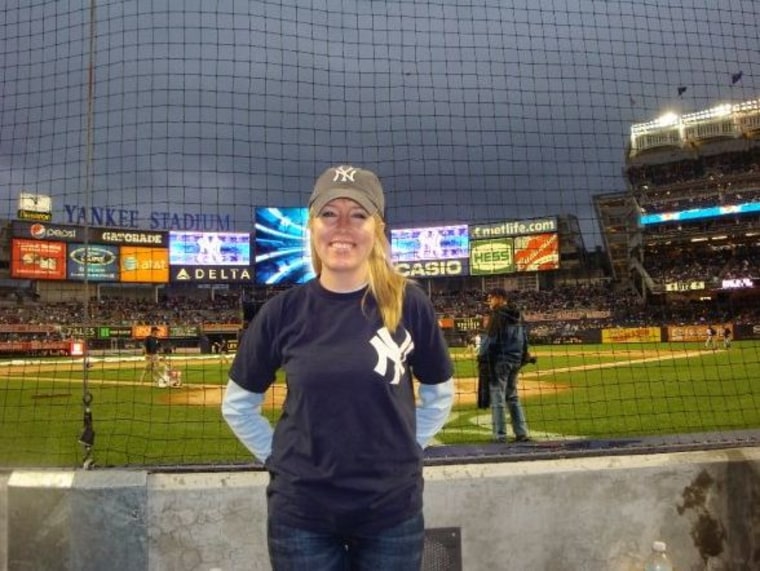 To be clear, Matt wasn't concerned about being embarrassed by me, he was concerned for me, and my ability to maintain self-control and avoid being detained by stadium security and possibly the NYPD.
This wasn't my first time seeing Derek Jeter in person. I'd seen him many, many, many times...from 300 feet away. For two decades I'd watched his Jeter-ian acrobatics in reverse, from the outfield bleachers, his Number 2 glistening in the sun. And believe me, it glistens. 

I'm a bleacher creature. And not just because I can't afford tickets to the swanky Legends section! (I can't). I like to sit with the fans — the real fans. And to be honest, we don't even need bleachers, because true fans don't sit. Especially when Jeter is at bat.
I don't need to tell anyone why I'm a Jeter fan — if it's not obvious after 20 years, then you've been living under a rock. But in case you have been living under a rock, here's why.
I'm a Derek Jeter fan because he has never let me down, not one time. He presents something pure and right, and is proof that good things can happen to good people.
And my favorite part hasn't even been watching him play. It's the subway rides home after a game, when a sea of humanity comes together in those subway cars, and for that 30-minute ride back home, we all have something in common: a mutual respect for Jeter and a bond that together we have just borne witness to something great.
So at that moment, as I knew that "something great" was going to be walking out those clubhouse doors, I started to sweat. The smell of leather and sweat and bubblegum was starting to overwhelm me. I couldn't do this.
And then I saw him: Derek Jeter.
As he walked up the stairs and into the dugout, my first thought was, he is a giant! And here's where I'm going to get all girly, but ladies, I'm here to report that his handsomeness in person is profound.
He walked over with the same stride I've seen a million times from hundreds of feet away, confident and smooth, and shook Matt's hand — firmly and friendly. He shook the crew's hands. He looked everybody in the eye.
And I just stood there, as if frozen by Medusa, behind one of our cameramen. I realized I hadn't been breathing for a good 20 seconds. You know those out-of-body experiences people talk about having? It was happening to me.
The interview began, and Derek — as I had always imagined — was a true professional, friendly and engaging, joking with the crew before and after.
We were with a child suffering from albinism (as part of Yankees Hope Week, a week of charitable giving in which the team brings children in need to the stadium) who was too young to realize the greatness of this moment. When Derek asked him how he was doing, the child replied that he wanted a glass of water. It took Derek about two seconds to get up and retrieve that boy a cup of water.
The interview may have lasted 10 minutes. Maybe it was 20 minutes. Or maybe it was two minutes. It went by in a flash. Derek Jeter shook everyone's hand and again, I stood like a frozen statue behind our crew. I didn't dare ask for a picture.
And then just like that he was gone — and we were being gently encouraged to pack our things and go.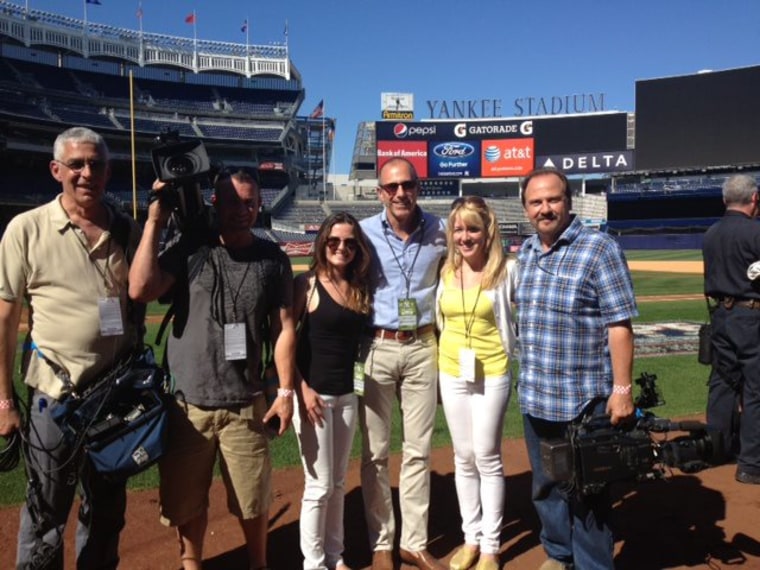 Matt put his arm around me and said something like, "You can breathe now!"
I waited until everyone made their way out of the dugout, and for just a moment, I was alone. I looked up toward my usual seats in the right field bleachers to see what the players see from this spot. We must look so small way out there. How could you really see anyone?
But that's what so special about Derek Jeter. He made me feel like every catch, every throw, every hit was just for me.
Next season, I will sit in those same seats. I will look out to the dugout and remember that I got to be part of something special. Maybe I will tell a total stranger that I got to meet Derek Jeter once. Then again, maybe I won't.
Because maybe that time was really just for me.