Within minutes of Lucas Lowe asking Stella Usiak to be his girlfriend via text, a nurse who happened to be passing by his hospital room heard him yell: "Stella said yes!"
The couple met in March 2011 at Roswell Park Cancer Institute in Buffalo, New York, after both were diagnosed with acute lymphoblastic leukemia.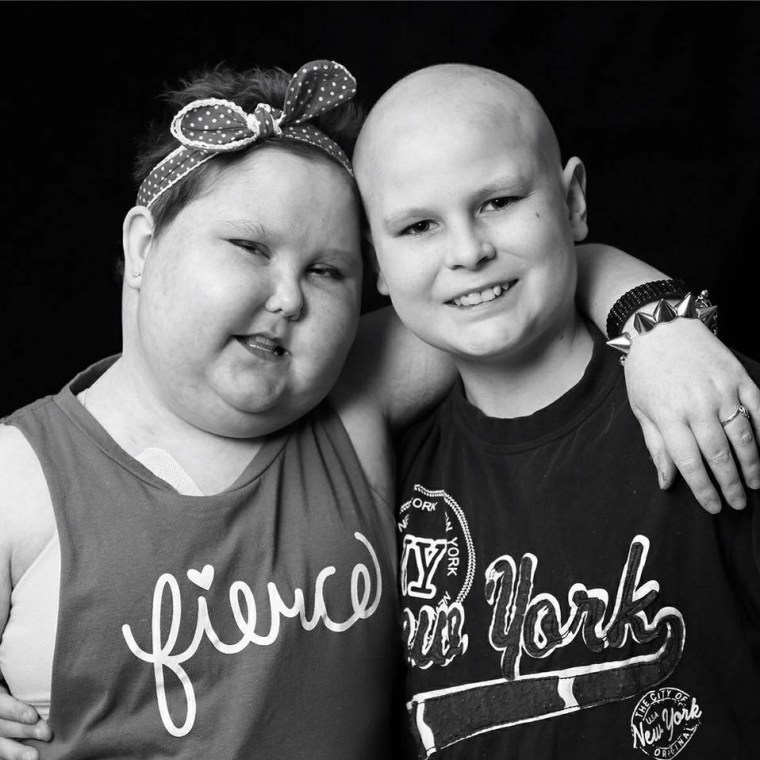 Lucas, 12, and Stella, 13, both say it was love at first sight. But they were too shy at first to act on their emotions — and too busy with chemotherapy and everything that comes with it.
It took Stella asking Lucas to be her valentine last year for their romance to really blossom. The text that led to Lucas' yelp of excitement came the following day.
RELATED: Teen takes mom with terminal brain cancer to prom
"They text each other nonstop," Maureen Warren, Lucas' mom, told TODAY. "I can always tell who he's talking to because of his smile."
Stella and Lucas are going through similar challenges together, two months apart. Being diagnosed with the same disease has brought both highs and lows.
"Lucas understands what I'm going through and cares a lot about me," Stella told TODAY. "He also makes me laugh, which helps when I'm not feeling well."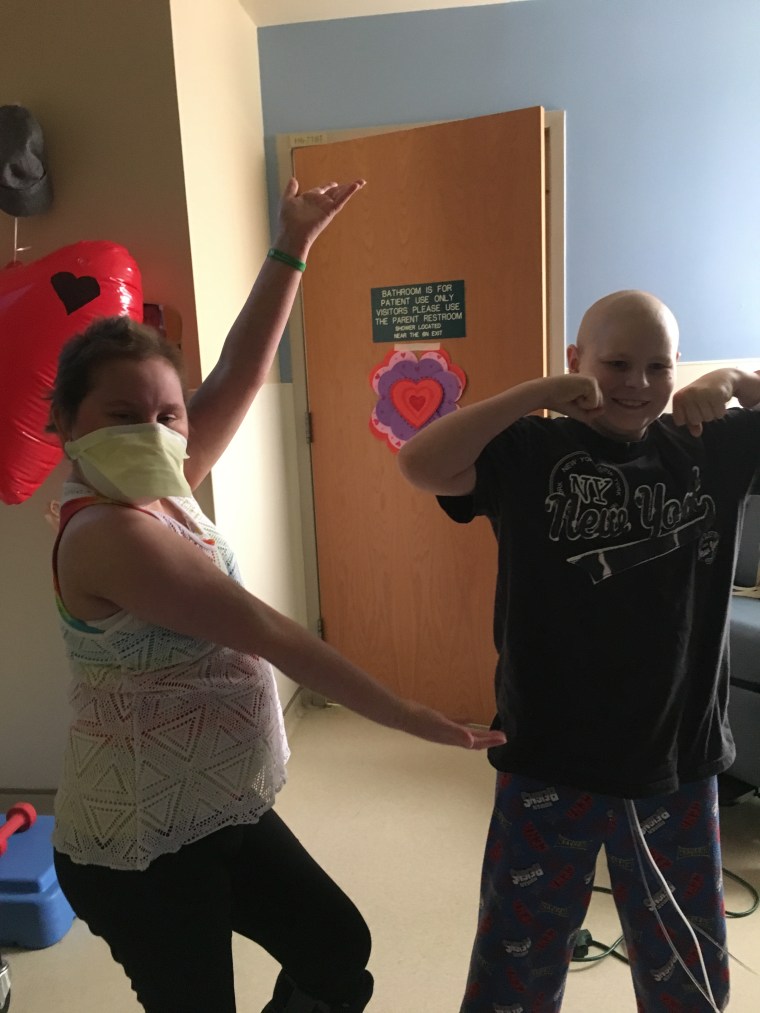 The young couple see each other every Monday during chemotherapy. As part of their regime they are required to take a lap around the hospital after each weekly session, which they do hand in hand.
They've also found a way to kiss without sharing any germs. Lucas has a surgical mask on hand for when they want to show affection.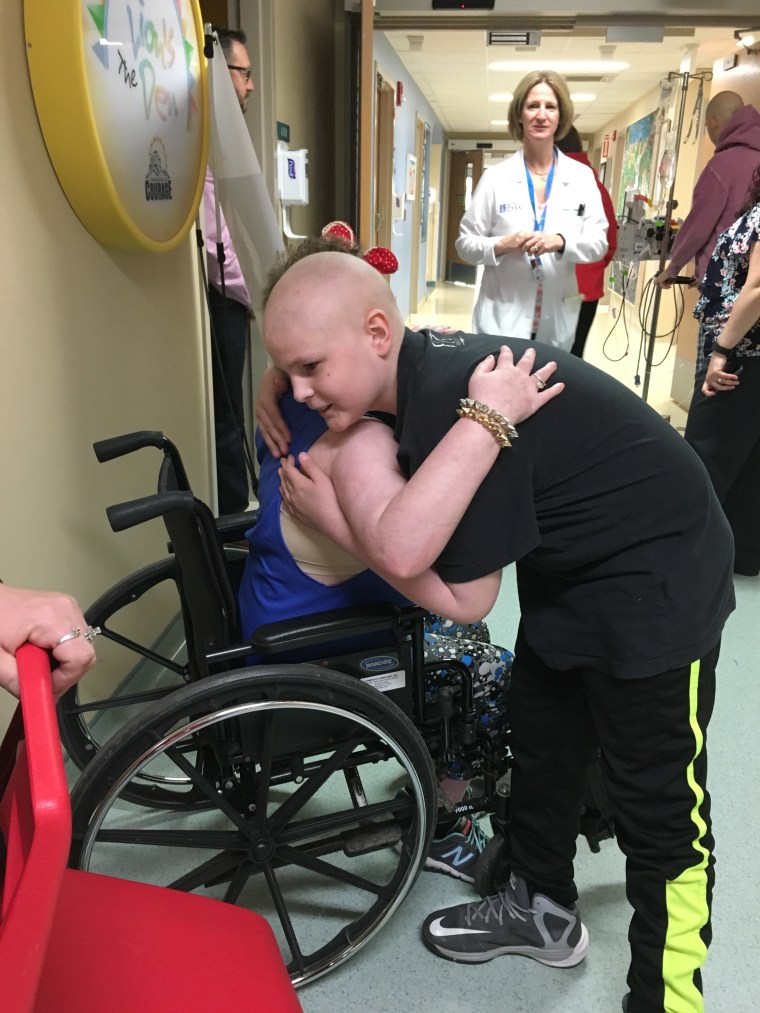 When Stella relapsed in September 2014, Lucas asked why it couldn't have been him instead.
"Lucas is more concerned with how she's feeling and what he can do to make her smile," Warren said.
Lucas made a video for Stella in which he holds up the lyrics to Rachel Platten's "Stand By You" as the song plays in the background.
"She makes my heart smile, so I wanted to do the same for her," Lucas told TODAY.
RELATED: Photographer's #younglove project finds affection, opens hearts everywhere
"I couldn't believe someone did that for me. It made me feel like a princess," Stella said. "There have been some good things to come from getting cancer, and he's definitely one of them."
The couple attended their first dance together Friday night at Roswell Park's prom. Stella got her hair and makeup done. Lucas made sure to get a new tie to match her teal dress.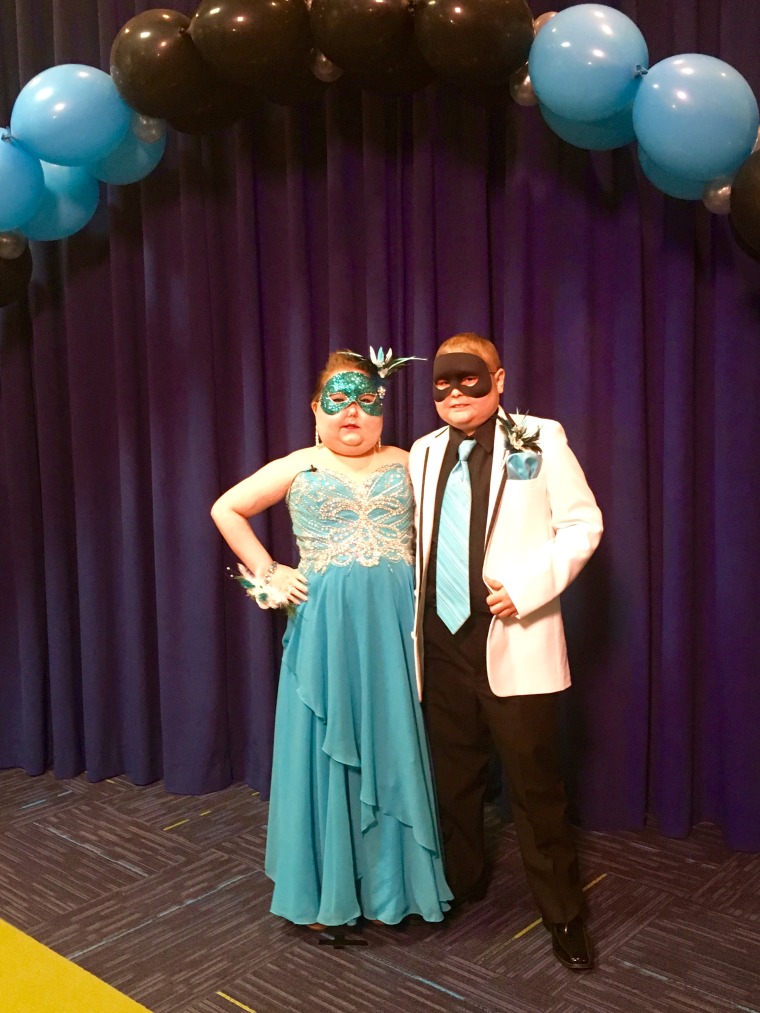 They made each other a boutonniere and corsage using fake flowers (they can't be exposed to real ones).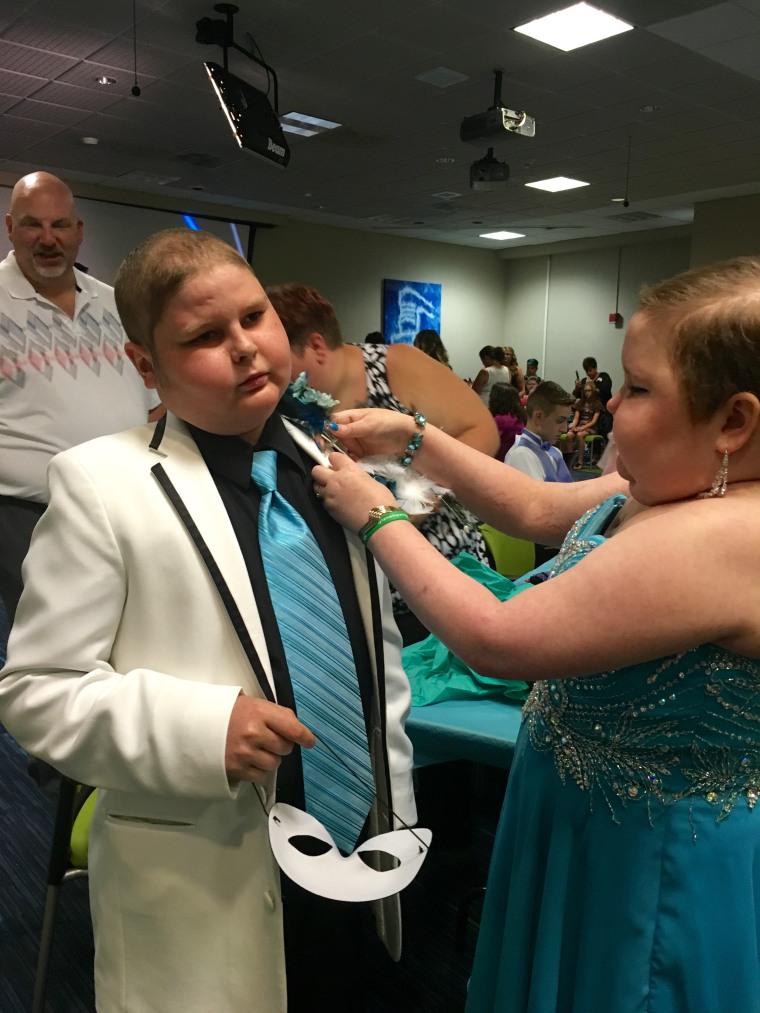 Having fallen the day before, Stella wasn't sure she was going to be able to go. But a call from Lucas made everything better.
"I'm like, no, what's the point of me going to prom if you're not going to go?" Lucas told NBC affiliate WGRZ. "It's about you and me."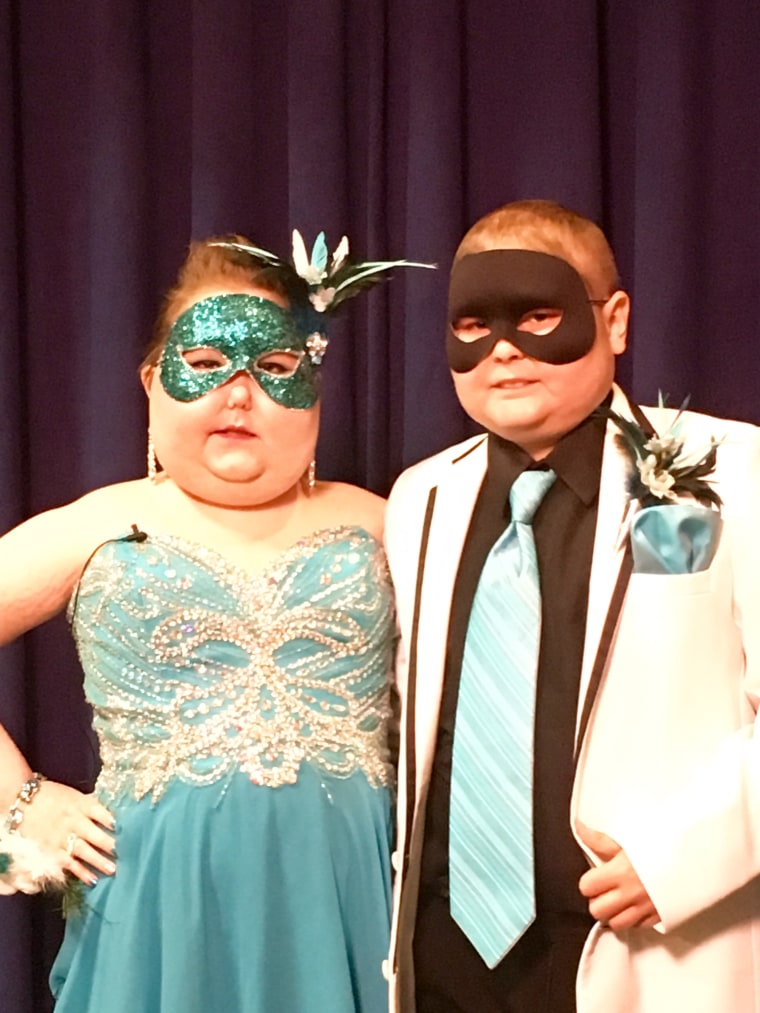 Fortunately, Stella's doctors allowed her to go. She's glad they did, because she and Lucas got to share their first slow dance together.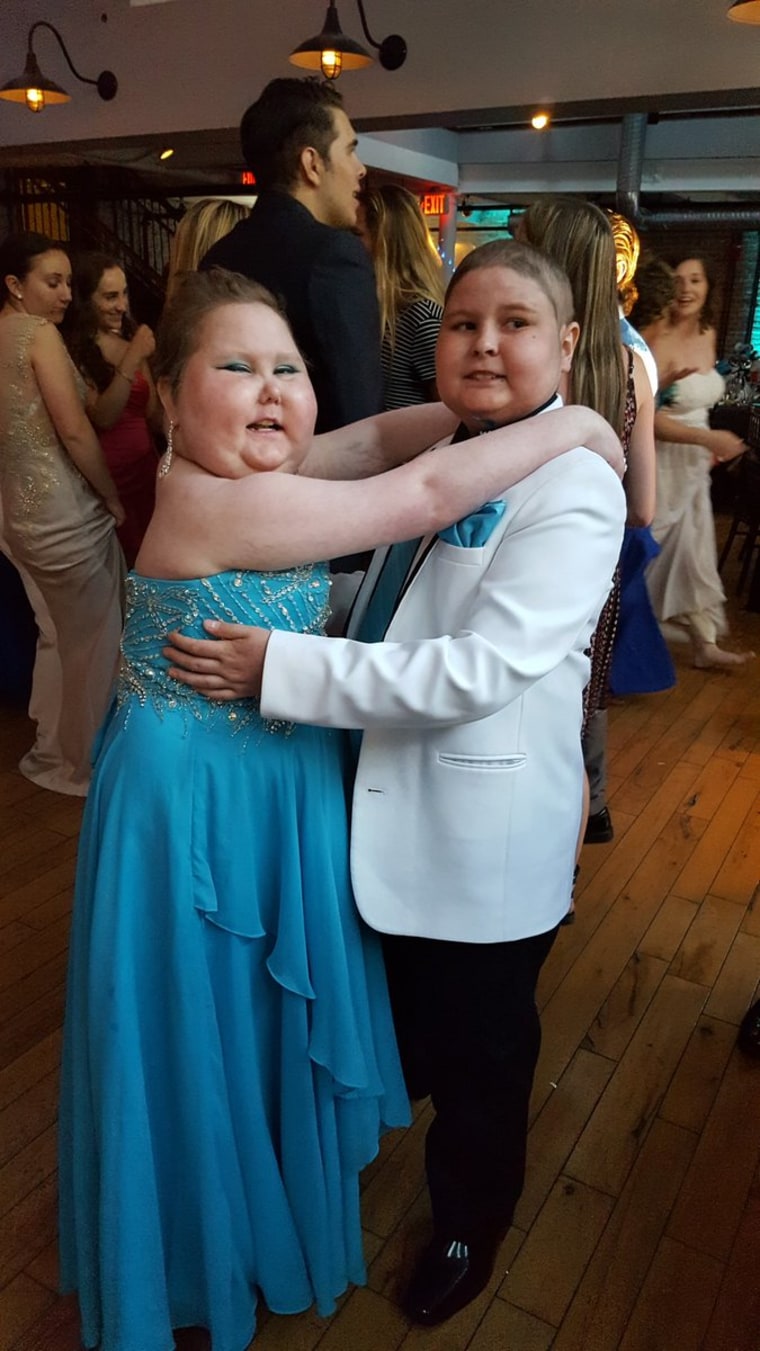 "It was like everything around us stood still," Stella told TODAY. "As Lucas put his arm around me for the first time to dance that night, all I can say is it was enchanting. The whole night was magical."