Golf legend Tiger Woods was seriously injured Tuesday in a one-car accident in Southern California, authorities said.
Woods' vehicle was going north on Hawthorne Boulevard at Blackhorse road, on the border of Rolling Hills Estates and Rancho Palos Verdes, at about 7:12 a.m. PST when it crashed and sustained "major damage," the Los Angeles County Sheriff's Department said in a statement.
Woods was conscious when he was removed from the car and was in stable condition, Los Angeles County Fire Chief Daryl Osby said Tuesday at a press conference.
Deputies did not see any signs of impairment when they arrived at the scene, Los Angeles County Sheriff Alex Villanueva said.
The cause of the crash is under investigation, but Villanueva said that accidents were not uncommon in the area due to the downhill slopes and curves on the road.
"Thankfully the interior was more or less intact, which gave him the cushion to survive," Villanueva said. "Otherwise, it would have been a fatal crash."
He was the driver and only occupant of the vehicle, the sheriff said, and Woods was rushed to a hospital. Authorities initially said that Woods had to be extricated from the car using the Jaws of Life, but Osby clarified Tuesday that different tools were used to help remove him from the wreckage.
Woods had serious injuries to both legs when he was taken to Harbor-UCLA Medical Center. Woods' agent, Mark Steinberg, told NBC News on Tuesday afternoon that Woods was in surgery for multiple leg injuries.
Deputy Carlos Gonzalez, one of the first responders to the scene, told reporters that Woods was not able to stand on his own but was lucid and able to have a conversation with him. The deputy noted that Woods was wearing his seatbelt.
"I will say that it's very fortunate that Mr. Woods was able to come out of this alive, because this is an accident-prone stretch of road," Gonzalez said. "We've seen a number of accidents on this stretch of roadway."
Images of the crash scene showed the sports utility vehicle on its side with the front end almost totally smashed apart.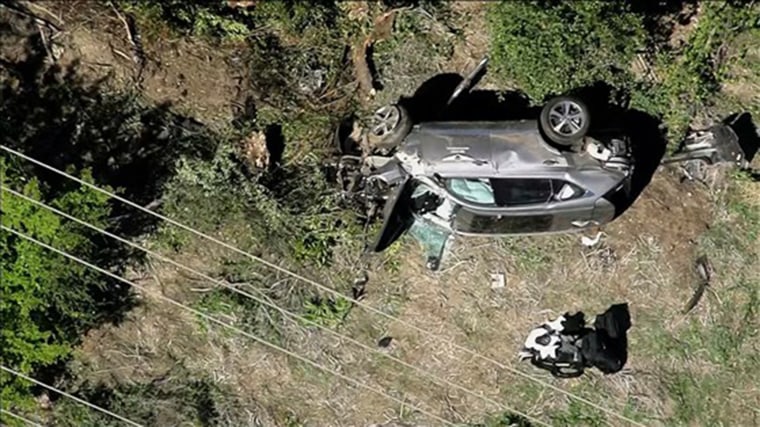 Woods also crashed his car just a few days after Thanksgiving 2009 in Florida. The accident inadvertently revealed a bitter marital dispute with then-wife Elin Nordegren, as a host of women came forward to admit to having extra-marital affairs with the famed golfer.
Woods hasn't played in a tournament this year and is recovering from back surgery in December, his fifth such operation.
The 45-year-old golfer, who is based in Jupiter, Florida, was in Southern California this weekend for the Genesis Invitational, which benefits his foundation.
An HBO documentary last month chronicled Woods' meteoric rise and public shaming in 2009 and 2010.
Woods is considered one of the greatest golfers in the sport's history. His 82 tournament wins is tied for most in a career with Sam Snead, and his 15 majors is second only to Jack Nicklaus.
Woods' last tournament title was at the 2019 Zozo Championship in Japan. His most recent major victory was at the 2019 Masters.
This is a developing story, please refresh here for updates.
This story first appeared on NBC News.com.