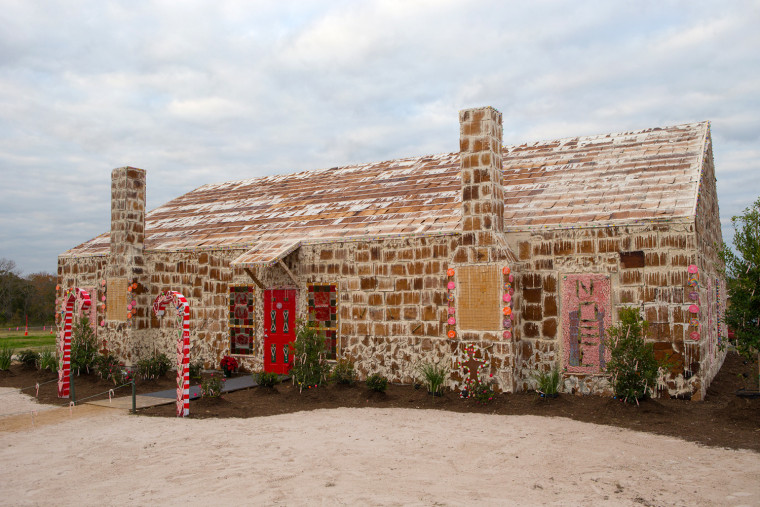 The world's largest gingerbread house is turning tons of sweetness into thousands of dollars in charitable goodness in Texas.

Proving the saying that everything is bigger in Texas, the Texas A&M Traditions Club enlisted the help of the community of Bryan to set a Guinness World Record for the largest gingerbread house on Nov. 30. The tasty construction project is now being used as a tourist attraction to raise money to fund a new facility to for the trauma program at nearby St. Joseph Health System. 
Guinness World Records has verified that the 39,201.8-cubic-foot structure on the grounds of the Traditions Club that was unveiled last week has surpassed the previous record of 36,660 cubic feet set at the Mall of America in Minnesota in 2006.  
"I'm both a Food Network junkie and a Google guy, and twelve to fourteen months ago I saw something about gingerbread houses, and it spurred me to find out what the largest one ever built was,'' Bill Horton, the general manager of the Traditions Club, told TODAY.com. "In June, I was at a luncheon with St. Joseph's Hospital, and I got this crazy idea to build the world's largest gingerbread house and combine it with their drive to build a center for their trauma program, and they bit."
A local home builder and architect created the design, and Horton said almost all of the materials, from lumber to butter, have been donated. The structure also needed to get the proper permits and approval by the fire department from the city of Bryan.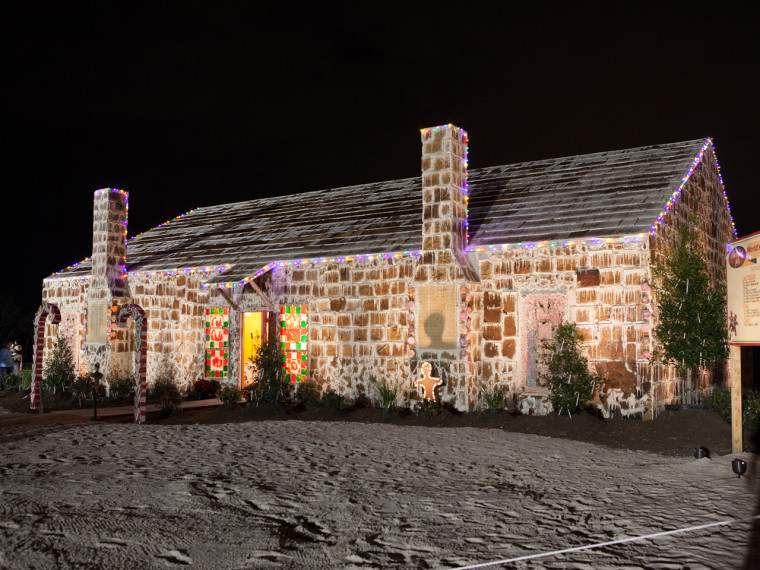 "Basically it has everything but indoor plumbing,'' Horton said. "It was a lot of fun and had a lot of challenges."

The entire exterior is made of gingerbread and icing, which was required in order to set the Guinness World Record. The house is 60 feet by 42 feet and 20.11 feet tall at its highest point, and the gingerbread exterior required 1,800 pounds of butter, 7,200 eggs, 7,200 pounds of flour and close to 3,000 pounds of brown sugar. Also, 22,304 pieces of candy were attached to the outside, making it a 36 million-calorie home.
"Being in Texas, we had some challenges building outdoors,'' Horton said. "We had some high humidity and had to reduce the amount of butter we used to make it harden up. Now we're facing a big winter storm, and I've tossed and turned all night about how to cover it. We acquired a 6,500-square-foot tarp, and putting that on to cover it should be a challenge in itself."
The gingerbread home is open from Tuesdays through Sundays from 6 to 10 p.m. and will remain open until Dec. 14. Admission is $3 for adults and $2 for children.  
In less than a week, the house has raised more than $150,000 for the St. Joseph Level II Trauma Center, Horton said. The house has attracted about 600 visitors a night, with some writing large checks to donate to the trauma center.
The outside of the house is roped off so that no one aiming to make sure that it's made of gingerbread reaches out and takes a bite of the exterior. That's actually what Horton did when the official from Guinness World Records was working on validating the record.
"The Guinness guy said it had to be real gingerbread and real icing, so I ate a chunk,'' Horton said. "He said, 'Either that's real gingerbread, or you're an idiot.'''
Daily maintenance is required for the exterior, where the heat has melted some of the candy and other pieces occasionally fall off.
"The biggest issue has been bees,'' Horton said. "We called in a beekeeper the other night and he said there was a cluster of about 2,000 bees. We've worked all around them through the process. They're not bothering us. They're just getting drunk on sugar."
Once the house is closed in mid-December, the Traditions Club plans to make sure it doesn't go to waste.
"We're trying to work with a few different charitable groups because once you peel off the gingerbread and throw that away, there's still plenty of good lumber and electrical wiring, which could make the start of a good home for somebody,'' he said. 
Enjoy these eye-popping images of the biggest, fastest, longest, weirdest and wackiest record breakers featured in the 2014 edition of "Guinness World Records."