David Henneberry just wanted some fresh air when he and his wife stepped outside their Watertown, Mass., home after an intense day of being locked down. Instead, he got a boatload of shock.
Henneberry noticed the tarp on his 20-foot boat flapping in the wind, an odd sight since the craft had been tightly wrapped up for the winter.
He took a closer look and noticed blood on the tarp and one of its tension straps intentionally cut, said his stepson, Bob Duffy. Then Henneberry made the discovery that broke open the manhunt for the Boston Marathon bombing suspect.
"He saw something hunched down toward the forward of the boat, and his mind instantly did the right thing," Duffy told Lester Holt Saturday on TODAY. "He didn't try to be a hero, he didn't yell."
Instead, he ran inside his home and called the police.
Story: Timeline of a manhunt: From release of suspect photos to shootout to capture
Within minutes, authorities moved Henneberry and his wife to a neighbor's home and seized his boat, where they used thermal imaging and discovered Dzhokhar Tsarnaev.
Over the course of two hours, several bursts of gunfire could be heard. The police exchanged fire with Tsarnaev, threw flash-bang grenades designed to disorient him and brought a negotiator to the scene as night fell, officials said.
After the shootout, they took the injured 19-year-old bombing suspect into custody. "He sustained significant blood loss," a law enforcement official at the scene said. As an ambulance took the suspect to Boston Beth Israel Deaconess Hospital — where he was in serious condition — people lining the streets applauded in joy and relief.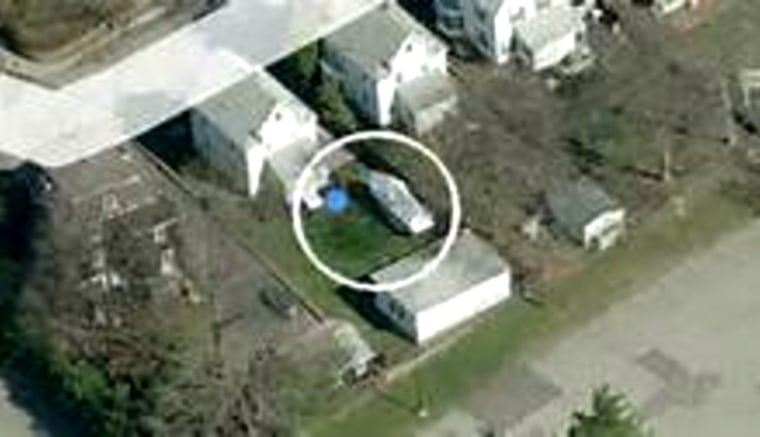 Duffy said he had no idea what was going on at his mother's house until a friend told him.
"I got a phone call from a friend, 'Doesn't your mom live on Franklin Street?' I turned around to the television and literally, there's a satellite image of the house," he said. "I was horrified."
Duffy said when his stepfather had called police, he hadn't realized the gravity of his discovery, mainly because he couldn't get a good view of what was inside his boat.
Slideshow: Terror showdown in Boston suburbs
"One and one hadn't made two at that point," he said.
But tactical teams had been patrolling the streets all day, all without realizing what may have been within their reach.
"They had been through the neighborhood all day long, multiple times. They had no idea," Duffy said.