A 10-year-old boy with a severe lung disease was sworn in as an honorary police officer in a heartwarming ceremony at St. Louis Children's Hospital over the weekend.
It's been Zy'ron Ward's dream since he was 4 years old to become an officer, his mom Phyllis Wade told TODAY.com. But the boy's life was derailed when he got sick last September and was diagnosed with pulmonary fibrosis. He was in and out of consciousness for months and until recently was in isolation at the hospital, Wade said.
On Saturday, he got to leave his hospital room for the first time since July.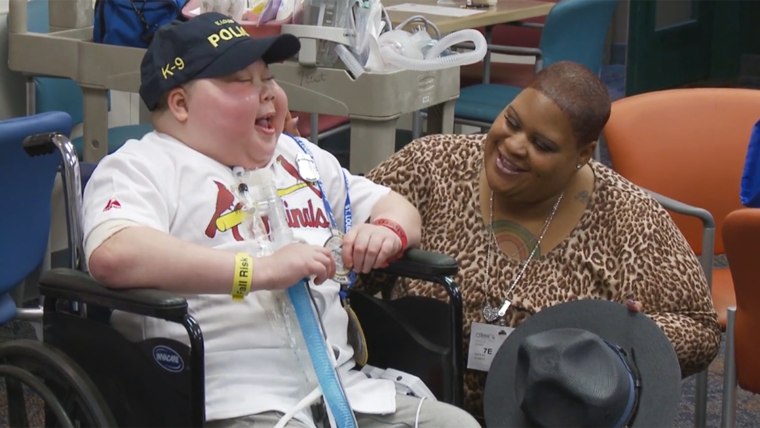 "It was awesome," Wade said. "I am a proud mama right now. I am so happy. My son has been in the hospital for 14 months and let me tell you, it made his day. Just to see the smile on his face was priceless."
RELATED: Cleveland Browns sign 9-year-old boy with rare disorder
Officers from the St. Louis city police department and the Missouri State Highway Patrol — some bearing gifts and doughnuts — came to the hospital to see Ward, who couldn't speak much because of a tracheotomy. He also has Cushingoid facies, extreme facial swelling that's a side effect of systemic steroids. The hospital's own public safety unit swore the boy in as an honorary officer.
"He had to take an oath that he would work with his doctors and nurses and take good care of himself," Stacy Sedlack, a child life specialist at the hospital who helped organize the event, told TODAY.com. "I'm not a big crier but I was holding back tears."
RELATED: Instead of issuing tickets, police officers buy car seats for family in need
"I haven't seen him smile that much in a really long time," she added. "He was just so happy. It was great."
Sedlack said the idea for the event came from a nurse who works closely with Ward and inquired about getting a police officer to come visit.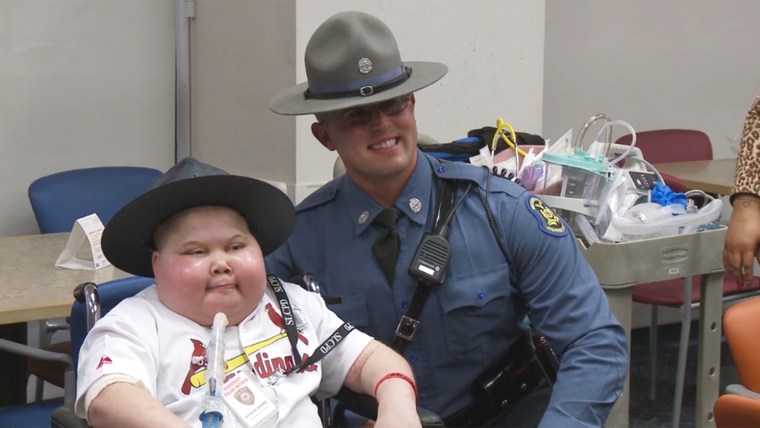 "So I said yes, let's do that, but ten times bigger," Sedlack said. "I got in touch with our public safety unit and they got in touch with our local police officers."
RELATED: Police perform epic 'Thriller' dance to cheer up sick boy
One of those officers, Dwade Isringhausen, a trooper for the Missouri State Highway Patrol, sat with Ward for about 45 minutes talking about his job.
"We just wanted to show him we appreciate him and we want to support his dream and whatever we can to make his life a little easier," Isringhausen, whose father manages the hospital's public security, told TODAY.com. "He's been going through a lot this past year."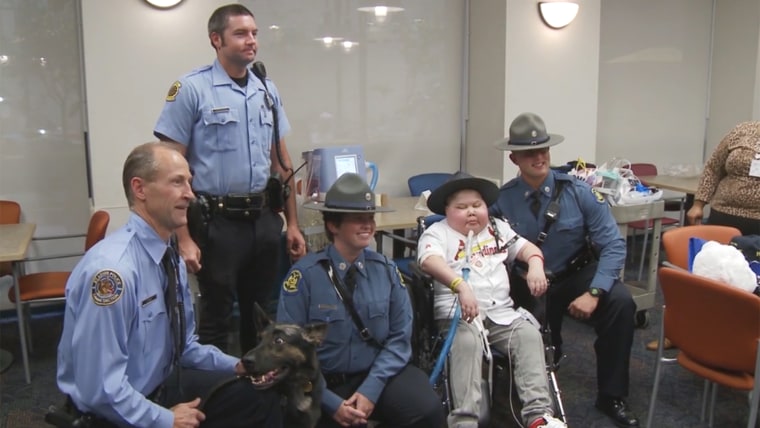 But now there's even more reason to celebrate: Ward also learned on Saturday that he'll be discharged from the hospital and gets to head home Nov. 3. His mother surprised him and the rest of their family with the announcement on Saturday. While Ward's disease is no less serious, it can now be managed with home health services.
Dr. Katherine Rivera-Spoljaric, the boy's physician at St. Louis Children's Hospital, called his disease "severe and significantly limiting."
"At this point, our main goal is to get him home to be with his family and improve his quality of life to the best of our capabilities," she said.
Ward is just happy he gets to go home: "The only thing he could say is, 'I'm going home,'" his mom said. "It was the only thing that excited him even more. To see him keeping saying that, it was priceless. This has been a long road for us. A long road."