"D'oh!"? Perhaps it really should be "Dough!" With original shows in production, several reruns a day in syndication and thousands of items that now feature the faces and voices of its unforgettable characters, "The Simpsons" is an industry unto itself.
It is television's Energizer Bunny. As other programs — even those with tremendous marketing appeal — fade away, the citizens of Springfield keep on going. Each successive season, and its 15th begins Sunday, strengthens its brand and solidifies its hall-of-fame status in American cultural history.
"It will be one of the longest running shows in the history of television," says Bill Carroll, vice president and director of programming at Katz Television Group, which represents local TV stations. "It will be 'Gunsmoke,' it will be 'Law and Order,' and and it will be 'The Simpsons.'"
New "Simpsons" episodes do just fine in the ratings — often in the top 25 for the week, according to Nielsen Media Research — though they rarely break the top 10. But that doesn't really matter: What the show delivers consistently is a spectacular audience mix of kids and adults, often topping its time slot among viewers 18-34. One of Fox's key strategies has always been to program to that younger audience, which remains a coveted prize among advertisers, but "The Simpsons" delivers it in addition to younger children and teens.
Still, the real cash comes from syndicated episodes, which broke a traditional once-a-day mold for syndicated shows and are regularly seen two or even three times a day in major markets. It has quickly ensconsed itself on syndication A-lists with "Friends" and "Seinfeld," though they often can't deliver quite as broad a demographic range; its syndication revenue is estimated to be as large as $1 billion, with Fox capturing perhaps 10-15 percent.
"That's where they make most of their money," says Wayne Friedman, contributing editor for Television Week magazine. "It's like printing money, basically."
'Simpsons,' 'Simpsons' everywhere
That's just the beginning, though. Fox has harnessed a whole realm of "Simpsons" licensing opportunities over the years. Unlike most movies and TV shows, which get an initial rush of interest in branded merchandise before fading into obscurity, "The Simpsons" has provided endless fodder for manufacturers and retailers.
Some 500 companies around the world are licensed to put "Simpsons" faces on everything from action figures to cereal — and 96 percent renew their contracts. Major retail brands like Burger King and Butterfinger, which came back for new deals after a hiatus, can't get enough of "Simpsons" tie-ins. A line of "Simpsons" pet toys just launched at Target; a recent video game, "The Simpsons: Hit and Run," remains a big hit; and Brunswick just signed a deal for a "Simpsons" bowling ball and bowling leagues at its 109 alleys. Like other companies, it hopes to harness the show's ageless appeal and signal a promise of family fun. "It's an excellent match," says Don Jones, Brunswick's director of retail marketing.
Though Fox won't discuss how much it makes from license deals, revenues from "Simpsons" merchandising are estimated to edge up into the hundreds of millions, and possibly higher. "Simpsons" T-shirt sales reportedly will take in $20 million this year in the United States alone.
"It is without doubt the biggest licensing entity that Fox has had, full stop, I would say from either TV or film," says Peter Byrne, Fox's executive vice president of licensing and merchandising.
A global appeal
Part of the trick has been to go well beyond T-shirts and mugs — to capitalize on the show's recognition around the globe with marketing programs that target local audiences in Europe, Brazil, Australia and Japan. While the U.S. market primarily focuses on collectibles, Byrne notes, the British are keen on "Simpsons" food and drinks.
Says Tim Walsh, president of THQ Wireless: "It is one of the few properties that is truly global."
Late last month, THQ unveiled the first round of "Simpsons" programming for mobile devices, offered to customers of European wireless firm Vodafone. (U.S. deals are in the works.) The goal is not just to fill phones with ringtones and wallpaper but also games that highlight specific aspects of the "Simpsons" world, all filtered through a "Virtual Springfield" phone owners can browse. Walsh has little fear he will run out of material: "They've been able to last and reinvent themselves over time."
For THQ, as it does with most other firms, Fox offered up writers to help devise content that would retain the show's feel without just lifting snippets. Such a direct role — with quality assurance in mind — has remained key to recent branding, perhaps because the network's first attempts at merchandise ran into a brick wall shortly after the show debuted in 1989.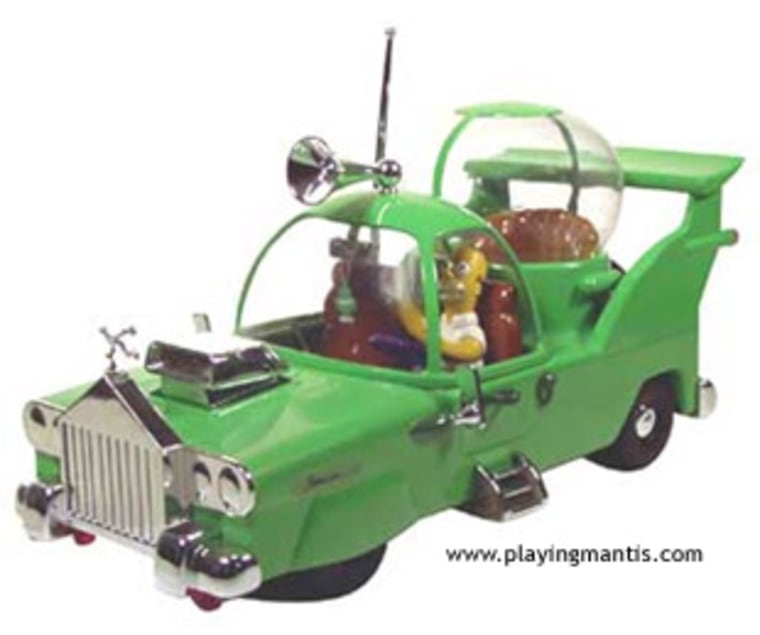 "They had a huge amount of merchandise that died out in a year or two," says William LaRue, author of "Collecting Simpsons!" and creator of collectors' site Bartfan.com. "A lot of that stuff was just generic merchandise where they slapped a logo on it and said 'This is Simpsons.'"
Most of it, LaRue says, was quickly tossed away or forgotten by the serious fans who usually create markets in collectibles. An early Burger King figure, for example, was mocked for its distorted molds of the characters. By the mid-1990s, just a couple years after the show gained traction, the market for "Simpsons" items was seriously lagging.
"They probably oversaturated the market a little bit in terms of the tchotchkes that were out there," says Jennifer Coleman Thieroff, director of marketing and communications for the International Licensing Industry Merchandisers' Association. "They're managing it much better now."
Obscurity sells
When the show debuted, Thieroff notes, the licensing industry was in its nascent days and marketers wrongly thought a cartoon would have its biggest market in kids' merchandise. A revived licensing push since 2000 has implemented some lessons Fox learned — most notably that adult merchandise often has the hottest potential, particularly the collectible action figures made by Playmates Toys. Playmates' strategy was to create, with Fox's help, not just obvious figures but special editions and dozens of secondary characters. The attention to detail hasn't gone unnoticed. And the show has joined in the fun. One episode turned Comic Book Guy (who began as a parody of zealous fans) into a superhero — "The Collector" — who encased an animated Lucy Lawless in an oversized plastic pouch. Playmates then turned The Collector into an action figure. "They ended up making money off of something that was making fun of making money off someone," LaRue notes.
Fox, too, is savvy about the need to exploit those minor characters — and to choose carefully. Ned Flanders has been a marketing whiff while dunderheaded Ralph Wiggum is a runaway hit, and is set to be printed on girls' underwear.
And, hints Byrne, "there's still a few characters we haven't brought out of the shadows just yet." Would he care to give any hints? He laughs, then adds a terse "No."
Slow-burn strategy
If the initial frenzy surrounding "The Simpsons" is long gone, that has ended up being a brand-building boon. Part of the show's endurance rests in its hot-but-not-scalding appeal. It never sizzled like some other properties, which kept consumers from "Simpsons" fatigue. "It was never at the point of a Tickle Me Elmo," says Thieroff.
The economics of that slow-burn strategy also remain a key draw to all those TV executives the show likes to parody. Not only has "The Simpsons" proven itself to be fatigueproof with viewers, but while shows like "Friends" and "ER" have spiraling costs as casts and crew raise their salary demands, most salaries on "The Simpsons" go to writers, who have more modest expectations. That allows Fox to recoup its costs through ad sales from the original runs of the episodes: Syndication and licensing fees are just gravy.
"You're making money on the first run as well as on syndication," says Friedman. "On other shows like 'ER,' you're losing money on the first run."
With that sort of momentum, it seems almost incidental whether Fox continues to produce original episodes. Ending the show's production would unquestionably have an impact. But "Simpsons" DVD sets, rolled out a season at a time, are selling millions of units. And like other properties — think "Star Trek" — that grew beyond the screen, there almost certainly will be movies and books and ... well, endless possibilities. Plus, its syndication run could easily last another 20 years. All that gives Fox plenty of reason to feel as contented as baby Maggie with a brand-new pacifier. "No brand is bulletproof," Byrne says, "but from our perspective there's still a lot of mileage and a lot of opportunities."