TIME has named the Silence Breakers, the individuals who set off a national reckoning over the prevalence of sexual harassment, as its 2017 Person of the Year.
The magazine's editor-in-chief Edward Felsenthal revealed the selection Wednesday on TODAY along with the cover, a composite group photo that includes actress Ashley Judd, singer Taylor Swift, former Uber engineer Susan Fowler and a woman whose face cannot be seen.
"The galvanizing actions of the women on our cover … along with those of hundreds of others, and of many men as well, have unleashed one of the highest-velocity shifts in our culture since the 1960s," Felsenthal said in a statement.
The Silence Breakers emerged amid burgeoning allegations of sexual misconduct and assault by film executive Harvey Weinstein. As his list of accusers swelled, so did the number of people who spoke up to expose dozens of other famous individuals in Hollywood, politics, journalism and other industries as sexual predators.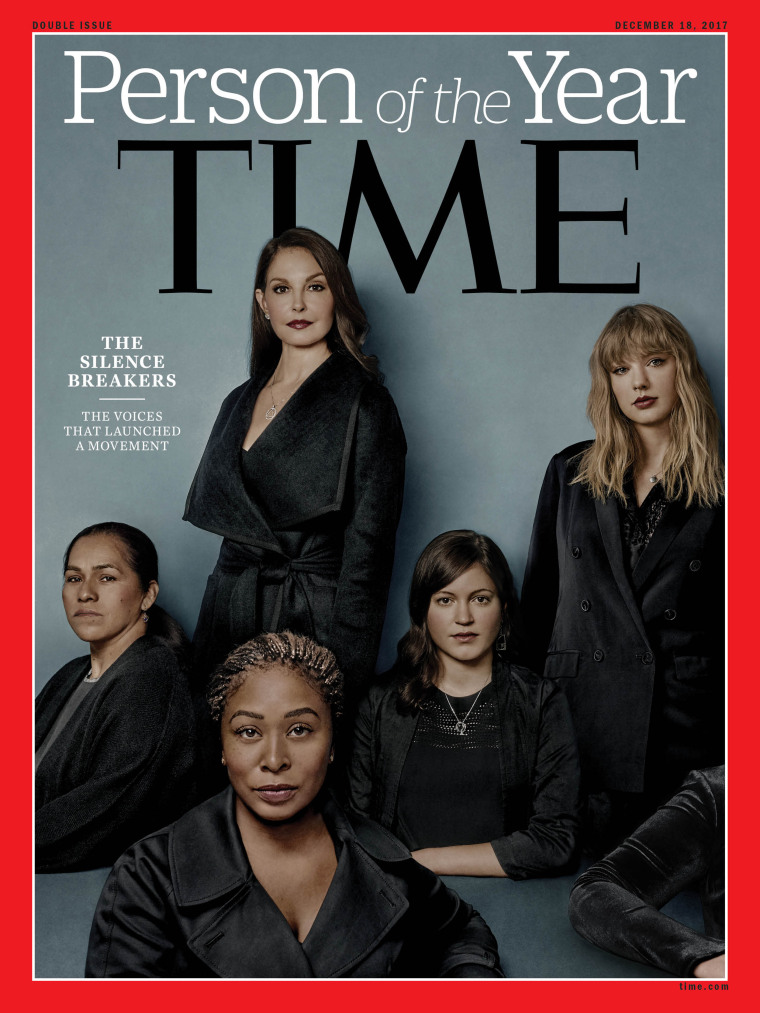 Actor Kevin Spacey, journalist Charlie Rose, comedian Louis CK and U.S. Sen. Al Franken of Minnesota were among the high-profile names snared in an ever-growing web of alleged sexual harassers. Last week, former TODAY anchor Matt Lauer was also accused of sexual misconduct.
The women, and men, who broke their silence to share their stories of victimization gave traction to the #MeToo campaign, which took off on social media and fueled a worldwide discussion on just how endemic sexual harassment has been.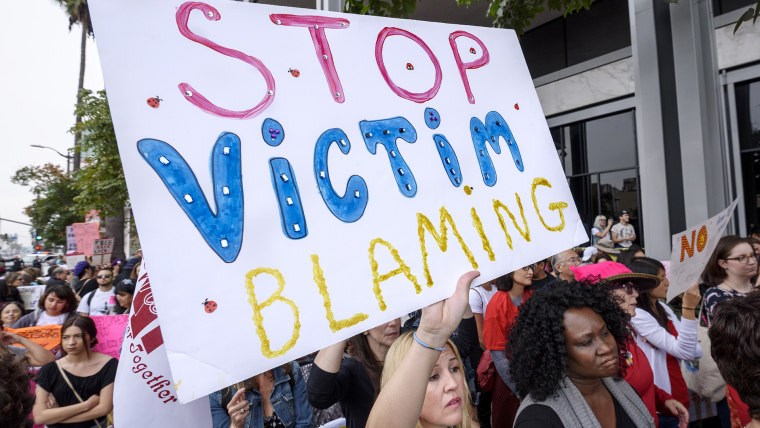 Felsenthal noted the hashtag, which he called "a powerful accelerant," has been used millions of times in at least 85 countries.
Since 1927, TIME has bestowed its Person of the Year title upon an individual or group of people who the magazine's editors believe have most influenced news and events of the past year, "for good or ill."
"The idea that influential, inspirational individuals shape the world could not be more apt this year," Felsenthal said. "For giving voice to open secrets, for moving whisper networks onto social networks, for pushing us all to stop accepting the unacceptable, The Silence Breakers are the 2017 Person of the Year."
TODAY viewers selected the #MeToo Movement as the Person of the Year in an online reader poll.
Last year, TIME bestowed the Person of the Year designation on Donald Trump, who had just become president-elect after stunning the nation — and the world — by winning the White House race.
Trump was runner-up in 2017, as seen on the shortlist TODAY revealed on Monday, "because he has changed the very nature of the presidency and the way the White House functions," Fesenthal said on TODAY.
Last month, Trump sent out a tweet saying he "took a pass" at being named Person of the Year for a second year in a row. The magazine dismissed Trump's claim, and Fesenthal confirmed Trump "wasn't correct." He said the photo shoot for TIME's cover was conducted "five days before the tweet."
In addition to Trump, the other 2017 finalists were Chinese President Xi Jinping and Robert Mueller, the special counsel probing the Trump campaign's possible ties to Russia.
North Korean leader Kim Jong-un, former NFL quarterback Colin Kaepernick and "Wonder Woman" director Patty Jenkins rounded out the top seven, TIME said.
Activist Tarana Burke created the "Me Too" movement in 2006 but the hashtag went viral after actress Alyssa Milano shared it in a tweet a few months ago.
"I could never imagine this," Burke said Wednesday on TODAY. "I could never have envisioned something that would change the world. I was trying to change my community."
She emphasized that what's happening now is "just the start."
"I've been saying from the beginning, it's not just a moment, it's a movement. And movements build over time and they're strategic," she said. "Now the work really begins. The hashtag is a declaration but now we're poised to really stand up and do the work."
TIME interviewed dozens of women and men who experienced sexual harassment at their jobs, including movie stars, hotel maids, retail clerks, Silicon Valley programmers and farm workers. Among those interviewed for the magazine's special issue was Swift, speaking publicly for the first time since winning her groping lawsuit against DJ David Mueller.
"When I testified, I had already had to watch this man's attorney bully, badger and harass my team including my mother," the superstar singer said. "I was angry. In that moment, I decided to forego any courtroom formalities and just answer the questions the way it happened. This man hadn't considered any formalities when he assaulted me. Why should I be polite?"
Also interviewed was TODAY anchor Megyn Kelly, who says she was sexually harassed at Fox News by the network's former CEO Roger Ailes and complained to management about the way its former star, Bill O'Reilly, treated women who were speaking out.
"I always thought maybe things could change for my daughter. I never thought things could change for me. Never," Kelly told TIME. "I'm starting to see it so differently. What if we did complain? What if we didn't whine, but insisted that those around us did better?"
Ailes denied Kelly's claims of harassment before he died earlier this year. O'Reilly said he didn't know of any complaint by Kelly.