/ Source: TODAY contributor
In retrospect, Michael Trapp can make light of spending nearly 18 hours treading water after his private plane crash-landed in Lake Huron — on Friday, he said he kept the will to prevent his wife from spending his life insurance money.
But on Tuesday, his ordeal was no laughing matter. The 42-year-old dad of three was en route from New York to Wisconsin to visit family Tuesday when his 1966 Cessna 150 began to experience engine trouble. Appearing live on TODAY Friday along with wife, Julie, via satellite from a hospital in Saginaw, Mich., the self-effacing Trapp told Matt Lauer how a pleasant jaunt suddenly turned into a marathon struggle with life-and-death stakes.
"I was flying just fine, had been into my flight four hours," he said. "I was going to land in Michigan to fuel up and have some lunch, and the motor started sputtering; that's when panic set in."
'Gone in 20 seconds'
Joking that the impact felt like the Disney attraction Splash Mountain, Trapp described how his plane hit the waters of Lake Huron at a body-slamming 50 miles per hour. "The windshield blew in, the water blew in my face; I unbuckled my seat belt and I swam out of the plane. And the plane was gone in 20 seconds."
The plane sank so fast Trapp had no time to grab a life jacket or signaling device. He told Lauer while he initially started to panic, that he quickly put his mind in survival mode.
"I couldn't swim well, so I kicked off my shoes and I kicked off my pants so I could tread water. And once I relaxed, I just lay on my back and started to float."
And float, and float — nearly 18 hours total. Some boats came within Trapp's vicinity soon after the crash, and he tried to signal them by pulling the shiniest credit card he had out of the wallet he had stuffed into his underwear after ditching his pants. But trying to capture the sun's reflection with the card proved futile — he went unnoticed.
The hours crawled by as Trapp was rocked by 10-foot waves. As darkness set in, he said he gazed at the stars and took stock of his life.
"There are a lot of people that depend on me," Trapp told NBC affiliate WEYI in Saginaw of his thoughts while water-stranded. "I persevered and just kept going and kept going, and there are a lot of things I want to do yet. I'm not ready to give up yet."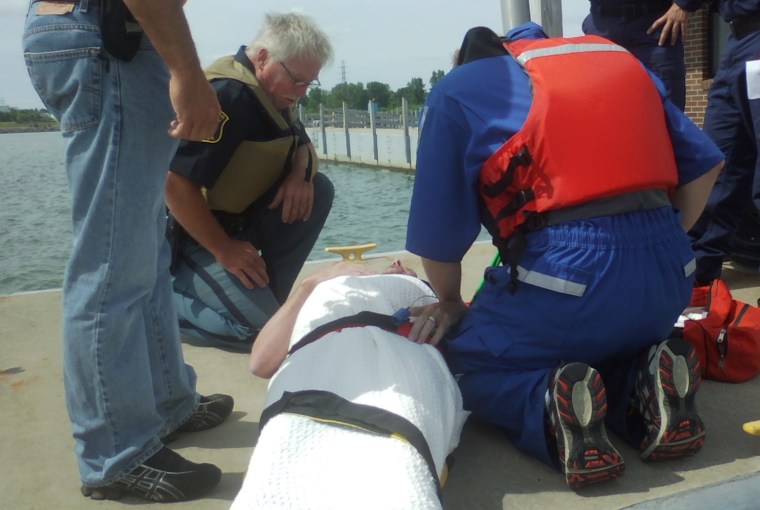 Trapp told Lauer he gathered his thoughts, realizing, "You've got to get things together." He began swimming, working his way toward shore. He made it 15 miles, just a mile from shore, before the waves began pushing him back out into the vastness of a Great Lake.
'My muscles were really sore'
Finally, when Mull's energy was almost gone, a fishing boat approached, and its occupants, Dean and Diane Petitpren, saw a sock waving in the water.
"I [didn't] know how much time I had left," Trapp told Lauer. "My muscles were really sore and I had all the energy, just left enough to wave my arm with a sock on it. It was a lot of energy just to make that sock wave."
Rescuers were amazed the pilot lasted nearly 18 hours adrift before the Petitprens found him around 10:30 a.m. Wednesday. And amazingly, he's little the worse for wear and is expected to make a full recovery.
Coast Guard Petty Officer Kyle Niemi indicated Trapp could thank his lucky stars that he crashed into Lake Huron in late July. "If this would have been May or November, it would have been more unlikely" Trapp would have survived, Niemi told MSNBC. "The water temperature was on his side."
It's fitting that Trapp hung onto his wallet throughout his ordeal, since financial considerations were at the root of it. He told the Associated Press that he priced a ticket to fly commercial to Wisconsin and it came to $922 round-trip. "I said, 'I can fly there and back for 400 bucks,' and I wanted to do it."
But though the nearly deadly flight was around Trapp's 200th in the three years he's had a pilot's license, there's not likely to be another one — not if his wife, Julie, has anything to say about it.
"He won't get another plane," she told Lauer.