Distraught over a degenerative eye disorder that threatened to derail his Olympic bobsledding career and destroy his eyesight, Steven Holcomb sat in a hotel room in 2007 and decided he was going to end his life.

Holcomb counted out 73 sleeping pills and swallowed them all, washing them down with whiskey. He figured that would end his anguish in the futile search to halt the effects of keratoconus, an eye condition that causes structural changes in the cornea that greatly distort and reduce vision.
"I was realizing that this may kind of be it,'' Holcomb told TODAY.com. "Having your eyes degenerate like that, it's an extremely difficult process."
But Holcomb, 33, survived that night, and has since has gone on to become one of the greatest bobsledders in U.S. history. He was the driver on the four-man bobsled team that won gold at the 2010 Olympics in Vancouver, giving the United States its first gold medal in that event since 1948, and he and his team are now among the gold medal favorites in the four-man event heading into the Winter Olympics in Sochi next month.
"I attempted suicide, and when I woke up, it was a moment in my life that I realized that I had a bigger purpose,'' Holcomb said. "It's been a tough journey, but it's been amazing."
While Holcomb's place as one of the all-time greats in U.S. bobsledding is cemented, his legacy goes beyond his achievements on the track. The procedure that helped restore his vision, created by Dr. Brian Boxer Wachler of Beverly Hills, Calif., has now done the same for thousands of others, including numerous athletes who were able to salvage their careers, and is even known as the Holcomb C3-R.
By taking advantage of his second chance at life after that harrowing night in the hotel room, Holcomb's perseverance has helped give many others suffering from keratoconus their own second chance. Athletes like Jason Huelbig, a sophomore guard on the men's basketball team at Drew University in Madison, N.J., have seen their careers saved and their lives altered by undergoing the Holcomb C3-R procedure. It does not completely cure their keratoconus, but it halts the progression and can reverse some of the effects.
"It terrified the hell out of me,'' Huelbig told TODAY.com. "If I couldn't play basketball any more, I don't know what I would do without it. It was a very emotional time. I'm so thankful for (Holcomb) for getting the word out about it, and for Dr. Boxer Wachler for what he has done."
'My first gold medal'
Holcomb grew up in Park City, Utah, the site of one of only two regulation bobsled courses in America. Initially an Alpine skier, he picked up bobsledding when he was 18 years old, starting out as a pusher and then moving to driver after missing the 2002 Olympics with a hamstring injury.
As his career began to ascend, his vision began to deteriorate. Keratoconus changes the shape of the cornea, the clear tissue that covers the front of the eye, from its normal round shape to a more conical shape that distorts vision. Keratoconus usually manifests during a person's teen years, but can appear at any stage of life, and the cause remains uncertain, according to the American Academy of Ophthalmology. As it progresses, it can deteriorate vision to the point where a person is unable to drive or read.
When Holcomb's vision worsened, he had Lasik surgery in 2000, but it had no effect (Lasik is not recommended for patients with keratoconus). He wore hard contacts and also had a pair of thick glasses that he refused to wear in front of anyone. A normally outgoing person, he became quiet and withdrawn as depression enveloped him.
"You don't want to show weakness,'' he said.
He went to one specialist after another with no luck, but he learned to navigate the bobsled by the feel of the tracks, anticipating every little movement and turn on the course to compensate for his poor vision. In 2006, he competed for the U.S. at the Olympics in Turin, finishing sixth in the four-man event. 
At the same time, he was becoming more distraught about his condition and worried that if his teammates truly learned the extent of it, his career would be over. He also feared he could injure a teammate in a crash because of his poor vision. He memorized the eye chart so he could pass the eye test in the yearly physicals required for the U.S. athletes.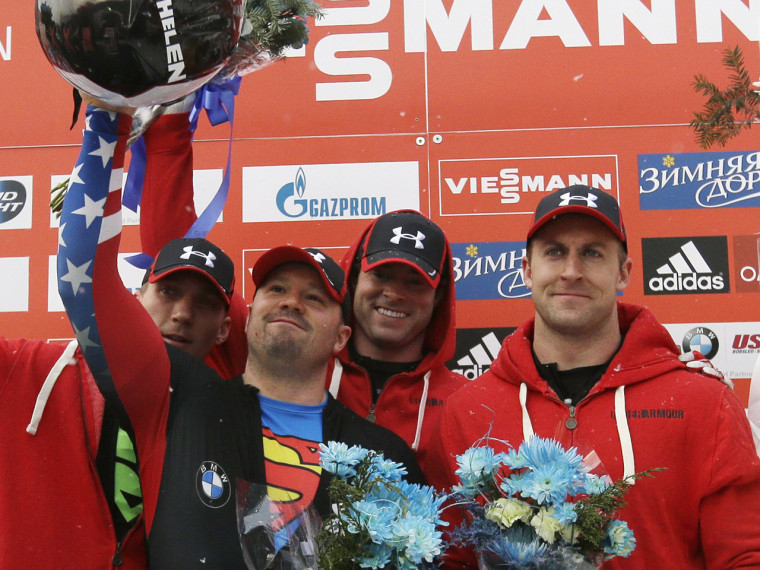 "It's not easy to sympathize with,'' Holcomb said. "People have bad eyes, and they wear contacts or glasses, but when you have this disease, your eyes are terrible and you are literally just going blind every single day. At that point, I wouldn't have gotten into the sled with myself."

After Holcomb survived his suicide attempt in 2007, he woke up anguished over what he had done, and did not speak publicly about the incident until the 2012 release of his book, "But Now I See: My Journey From Blindness to Olympic Glory."  
"It's one thing to be born blind, but when you start out 20/20 for most of your life and all of a sudden in the course of five or six years your whole life becomes about the space right around you, it's pretty scary and depressing,'' he said. "I was never going to see another sunset. I could never see a beautiful woman again. You're to the point where you almost give up."
By the time he came into contact with Boxer Wachler in 2008, he was skeptical. "I looked for 12 years and I got nothing but denied,'' he said. "(Dr. Boxer Wachler) says, 'I got this procedure, you'll be cured,' and I'm like, 'All right, I'll believe it when I see it — literally.' I had nothing to lose."
The Holcomb C3-R Cross Linking System is a non-invasive procedure in which a solution containing riboflavin is used to strengthen the cornea and reduce the cone-like shape caused by keratoconus. Patients sit under an ultraviolet light for 30 minutes to activate the solution. Boxer Wachler typically combines this with another procedure called INTACS, which involves implanting tiny plastic segments into the eye to flatten out the cornea.
Other treatment options for keratoconus patients involve rigid contact lenses, which Huelbig and Holcomb tried but said had become less effective, or a corneal transplant, which typically means the end of any athletic career. The surgery is necessary in about 10 percent to 20 percent of patients with the condition, and involves removing the diseased cornea and replacing it with a healthy donor cornea, according to the American Academy of Ophthalmology. It can take up to a year or more to recover good vision after a corneal transplant. 
"I feel really humbled by having the ability to have cracked the code, so to speak,'' Boxer Wachler told TODAY.com. "Many doctors to this day are still telling patients with keratoconus that you can try hard contact lenses or a cornea transplant. It breaks my heart to hear doctors telling their patients this and not being informed about these other options."

The procedures, which Holcomb underwent in March of 2008, improved his vision from 20/1,000 to 20/20, and he no longer wears contacts or glasses. The dramatic change actually threw off his driving skills in the bobsled at first because he had driven by feel for so long that all the extra visuals were disorienting. But once he became accustomed to his new vision his career took off, culminating in a gold medal in Vancouver in 2010.

"Getting my eyes fixed was literally like my first gold medal,'' Holcomb said. "It changed my life. It just gave me hope again."

Helping Others
Huelbig knows all about the despair that can come with keratoconus. He was diagnosed before his sophomore year of high school in 2010, and by the time he was a senior, his parents would not allow him to drive at night because of his deteriorating vision and he had to sit just a few feet from the television while wearing glasses or contacts just to see it.
He went through a succession of contact lenses, sometimes even wearing both a soft lens and a hard lens on each eye while playing basketball for Middletown High School (N.J.) North. The lenses would shift around in his eyes or even fly out on the court while he was playing. "Nothing would work," he said. "During the season, I would be so careful because it's not like if one fell out, I would have a backup because I only had one pair of hard lenses, and they were so expensive."
Once Huelbig and his family learned about the procedures performed by Boxer Wachler, the next hurdle was financial because the Holcomb C3-R procedure was not covered by his insurance. Coverage for the procedure is not standard, as riboflavin as a single agent is not an approved drug product for human use by the Food and Drug Administration. While riboflavin is an ingredient in drug products approved by the FDA for nutrition in adults and children, it is not approved for human use on its own. Additionally, insurance companies may consider the procedure cosmetic. 
"We have been doing it all these years off-label,'' Dr. Boxer Wachler said. "Off-label practice is done all the time in medicine, like using aspirin to prevent heart attacks. To a large degree, many big breakthroughs happen because of off-label uses and devices. With Holcomb C3-R, we have not had any complications — no infections, no scarring, no loss of vision."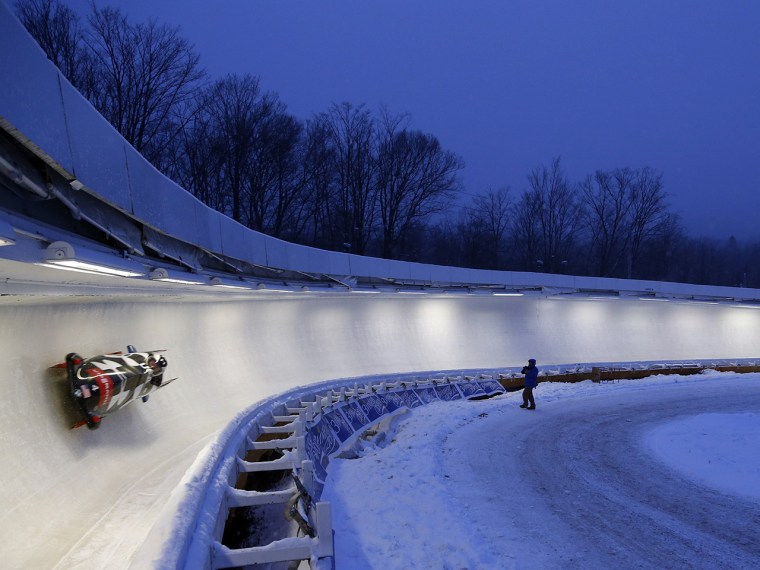 To have the Holcomb C3-R procedure done by Boxer Wachler and his team in Beverly Hills, families often have to pay about $20,000 out of pocket once travel costs are added because the only surgery usually covered by insurance is a cornea transplant. Even if the use of riboflavin as a single agent in humans gained approval by the FDA, there is no guarantee that the Holcomb C3-R procedure would be automatically covered by insurance companies, according to Boxer Wachler. For instance, there are other FDA-approved products, such as Botox, that are generally not covered by insurance when used for cosmetic purposes. 
The U.S. Olympic Committee and USA Bobsled & Skeleton Federation paid for Holcomb's procedures in 2008. During his senior year in 2012, Huelbig's high school had a fundraiser that produced the money for him to have it done.

"If we had to sell our house, we would've sold our house,'' Jennifer Huelbig, Jason's mother, told TODAY.com. "You do what you have to do for your kids. But people just came out of the woodwork wanting to help in any way they could, and we are so thankful."
"It stinks, and hopefully someday insurance will cover it,'' Holcomb said. "You have a cure for an incurable disease that nobody can afford. That's just ridiculous. I get a lot of people all the time asking me if I can help pay for it, and I would love to be able to support everybody, but that's just not feasible."
Another hurdle to treatment for the disorder has simply been getting the word out that it is available. The parents of Garrett Ivanicki, a senior infielder on the baseball team at Christian Brothers Academy in Lincroft, N.J., learned more about the procedure from the Huelbigs after Garrett was diagnosed. He went to Boxer Wachler in 2012, and it saved his baseball career, improving his vision from 20/400 to 20/25.
"It's like a miracle,'' Joanne Ivanicki, Garrett's mother, told TODAY.com. "We're so thrilled. His life has been forever changed."
The American Academy of Ophthalmology does not have official figures on how many suffer from keratoconus, but Boxer Wachler said diagnoses have skyrocketed in the last decade, going from one in 2,000 Americans to one in 500. The cause for the increase is unknown. At a recent media event, Holcomb ran into three people on television crews who said they had keratoconus within the first few minutes he was there. 
"I didn't realize the extent of it until I won the gold medal and started receiving hundreds and hundreds of emails,'' Holcomb said. "I had never heard of it, so I figured, 'Who else would've ever heard of it?' They still don't know that there's a cure out there. No matter how hard we work to get it more known, people are still going to the (cornea) transplants."
Holcomb's profile, which stands only to be raised with another gold-medal performance in Sochi, has helped publicize the treatment. He still keeps in regular contact with Boxer Wachler, who plans to be in Sochi to cheer him on.
Holcomb believes there was a reason he woke up in that hotel bed after trying to take his own life. His journey has not only brought him to lofty heights, but has affected the lives of so many others battling depression or keratoconus. Huelbig is currently the second-leading scorer on the Drew University basketball team, just one of thousands who have benefited from the procedure that bears Holcomb's name.
"(Huelbig's keratoconus) may have been the end of his sport, and to know that my story helped even just one person is overwhelming,'' Holcomb said. "I've gone from the lowest of lows to the highest of highs. Now my vision is 20/20, and I'm living the dream."