Hours after the White House released a report on climate change Tuesday, President Obama stressed to TODAY's Al Roker that the issue is one his administration has long deemed important.
"We've been sounding this urgency for the last five years," the president told Roker, when asked why it had taken so long for the White House to stress the need to address climate change. "You've seen some resistance from Congress. Part of the reason for putting forward this assessment — which involved hundreds of people, experts, businesses, not-for-profits and local communities sharing their experience — is we want to emphasize to the public, this is not some distant problem of the future."
The president also hammered home the effects that the average person is already seeing from climate change in today's world.
"This is a problem that is affecting Americans right now," Obama said. "Whether it means increased flooding, greater vulnerability to drought, more severe wildfires — all these things are having an impact on Americans as we speak."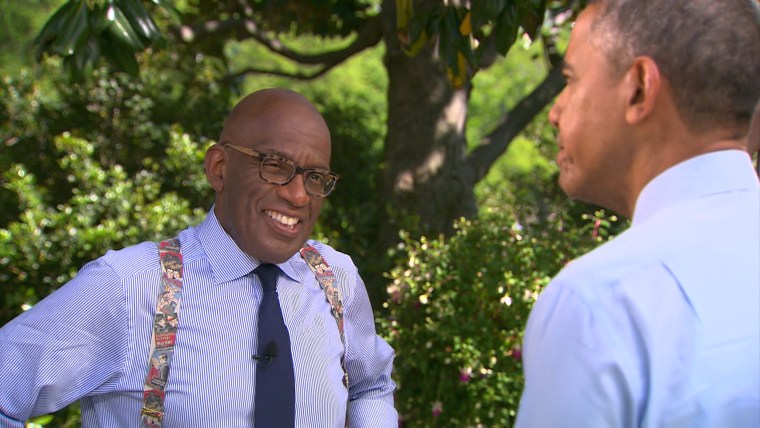 Roker was one of a select group of meteorologists meeting with the president and top environmental officials to discuss the new National Climate Assessment report, a comprehensive review of climate change and its impact on the country. 
"We're going to be doing some things administratively to make sure we've got more efficient power plants," Obama said. "But the truth of the matter is is that if we don't do more, we're going to have bigger problems, more risk of ... extreme weather events that can result in people losing their lives or losing their properties or businesses. And we've got to have the public understand this is an issue that is going to impact our kids and our grandkids — unless we do something about it."
Related: President Obama tells Al Roker U.S. will aid Nigerian officials in effort to find kidnapped schoolgirls: 'We're going to do everything we can to provide assistance to them'
Robert Bonnie, undersecretary for natural resources and environment with the Agriculture Department, told Roker that droughts have become more severe and wildfires have grown worse because of severe weather changes.
"The forest service used to spend about 15 percent of its budget (fighting fires). Today it spends 40 percent. That's about $2 billion," he told Roker ahead of his meeting with Obama. 
This winter in California alone, there were 600 wildfires in January and February, "a time when we wouldn't expect to see that," Bonnie said. He pointed out that the more money spent to contain wildfires, the less money remains for forest management and restoration efforts that could help prevent future blazes.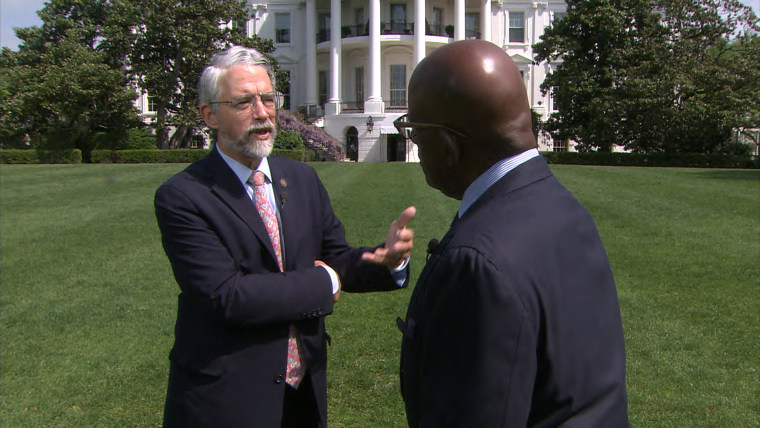 Climate change also has had an impact on farmlands battling extended periods of drought, Bonnie noted. This "woke a lot of folks up in agriculture," he said.
"I think there are a lot of farmers that think that the climate is changing," Bonnie said. "It's a more difficult conversation when you talk about why is it changing." 
He said federal officials are working with farmers to help make their lands more resilient to drought and also help better prepare them for future weather events.
"I think we're finding we're having good conversations with farmers even though there still may be some skepticism about the science," Bonnie said. 
John Holdren, Obama's senior science and technology adviser, agreed with Bonnie and noted that the National Climate Assessment details the economic impacts of climate change.
"It talks about the different sectors of the economy that are already being impacted — the energy sector, the fishery sector, the agriculture sector — and how that impact is projected to grow going forward," Holdren told Roker. "The clear point economically is that it is going to be much cheaper to fix this problem than to cope with unlimited climate change going forward."
Holdren also pointed out that pollution-control efforts and clean-energy technologies can create jobs.
"Pollution control is a big business in this country ... and controlling the pollution that's driving climate change can also be a big business," he said. "The world is going to be buying these clean-energy technologies from somebody. It would be better if they were buying it from us."