Grace Bush, 16, doesn't hesitate when asked to name her ultimate career goal: Chief Justice of the U.S. Supreme Court.
Don't chuckle. She's already well on her way.
Last Friday, one week before her high school graduation, Grace donned a cap and gown for another auspicious ceremony: Her college graduation. While completing her high school coursework on an accelerated schedule — and playing flute in two orchestras — she simultaneously earned a bachelor's degree in criminal justice with a minor in Spanish from a south Florida university.

The rare feat of celebrating both graduations within one week of each other is impressive, but Grace maintains that it didn't take extraordinary ability — just extraordinary dedication.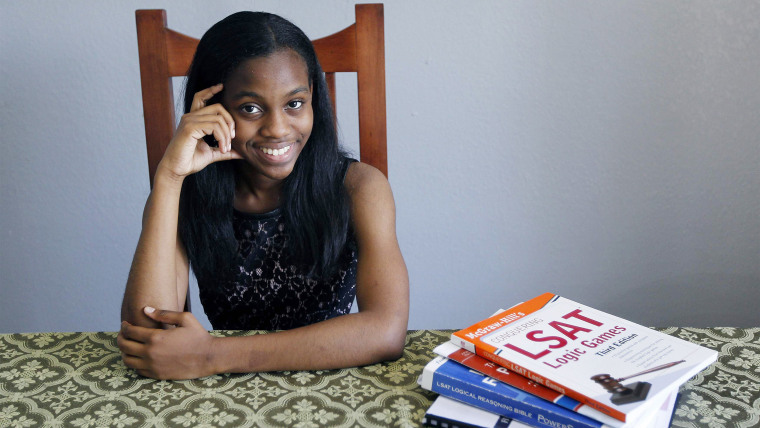 "I think anyone my age can do what I did," she told TODAY.com. "It's not hard — it's just hard work."
That's a sentiment she's learned from her parents, and it's one they've struggled to instill in all nine of their children. Their oldest three — Gisla Bush, 19, Gabrielle Bush, 17, and Grace — are all on track to start working on their master's degrees this fall, and to date, the family hasn't spent a dime on tuition.

"We have children that are normal," said mom Gisla Bush, 49, of Hollywood, Florida. "They're not Einsteins. We helped set them on this path, but they're the ones who worked hard — and they feel so proud of that.
"Children sometimes don't know what's in their best interests, but later they'll say thank you to their parents. I'm already getting that, and they're not even 20 yet!"
She said she she was taught to value education by her father, a roofer with a fifth-grade education, and her mother, a custodian with a seventh-grade education. "They wanted more for us," mom Gisla Bush said.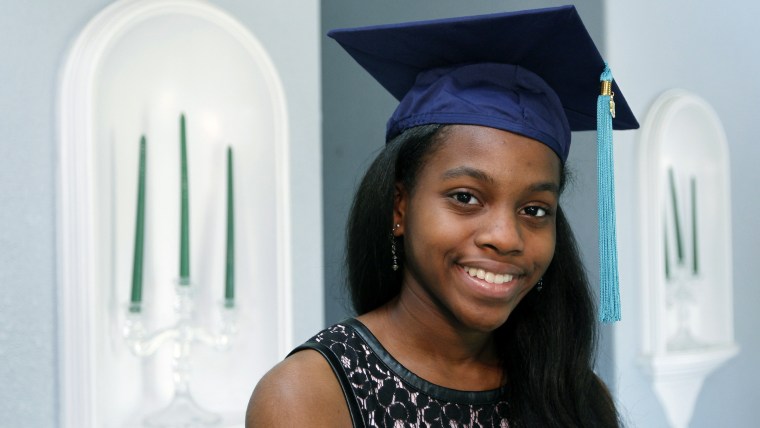 The former architect and attorney never imagined she'd have nine kids, including a now-11-month-old baby — but, as she said with a laugh, sometimes "plans change" in life. She kept adapting as her family grew, working part time as an attorney until three years ago and homeschooling each child, even though the idea of being their teacher intimidated her greatly.
When her oldest daughter turned 12, she found herself fretting over looming college tuition bills. She talked it over with her husband, Bobby Bush, a human resources analyst for the city of Pompano Beach.
"I said, 'What happens if they don't get scholarships? What are we going to do?'" she recalled. "He said, 'God blessed us with these children, and he will provide.'"
Right around that time, the parents began investigating dual-enrollment programs that allow students to earn high school and college credits at the same time. The family had more than one option in their area, and they gravitated toward Florida Atlantic University High School in Boca Raton because it allows — but doesn't require — students to earn bachelor's degrees in concert with their high school diplomas.
Their oldest daughters, Gisla and Gabrielle, both enrolled at FAU High in 2011. Grace eventually joined them there after earning her initial college credits at Broward College at age 13. The sisters have supported and inspired one another for as long as they can remember.
"It's been like that all my life!" Grace said.
Her mother said Grace's fast-tracked academic career began when she was a 2-year-old watching her big sisters doing school work at home. Grace wanted in on the action.
"She just insisted on doing school work also," Grace's mom recalled. "And to satiate her, I just decided, 'Well, I'll do a few minutes with her and she'll be happy because she's done school work.' And then in maybe six or seven months she was reading — I couldn't believe it! I never literally taught her to read, but when she was 2, she did it. From that point on, I just included her in all the lessons that her siblings were doing."
Grace said she's happy that her mother homeschooled her until age 13.
"I wasn't exposed to things most kids are exposed to — drugs in school, fights," Grace said. "Being homeschooled helped keep me on the straight and narrow."
On Wednesday morning, Grace got some more happy news: She landed a fellowship that will cover all the costs of her master's degree at Florida Atlantic University. She hopes to earn a graduate degree in public administration before going on to law school — and then working her way toward that Supreme Court appointment.
"I believe that my purpose in life is to create peace," Grace said. "Being a judge on the Supreme Court is something that can help me do that."
Need a Coffey break? Connect with TODAY.com writer Laura T. Coffey on Facebook, follow her on Twitter and Google+ or read more of her stories at LauraTCoffey.com.