/ Source: TODAY contributor
It took less than one week for a savvy — and funny — entrepreneur from Canada to turn the balloon boy saga into what just may be the most perfectly timed Halloween costume for 2009.
The costume dreamed up by Bud Kays, managing director of Plantraco Microflight in Saskatoon, Saskatchewan, features a miniature version of the runaway balloon that captivated the nation last week and a "Hello, my name is Falcon" sticker. (Falcon Heene is the 6-year-old boy the world feared was trapped in a saucer-shaped balloon as it floated across the Colorado plains last Thursday. It later came to light that he was safe and hiding in a cardboard box in the attic of his family's home in Fort Collins, about 60 miles north of Denver.)
To complete the costume, all you have to provide is the helium for the balloon, a string, a cardboard box and, ideally, a 6-year-old boy. (Although, as demonstrated on the company's Web site, adults can don a cardboard box and go as Falcon, too.)
"Just ring the doorbell and say, 'I'm supposed to be flying in there, but my dad said to stay in the box for the show!'" the Web site advises.
A scary saga, followed by relief, laughter
Kays said he, like millions of others, was genuinely gripped with shock and worry last week as the news of the runaway balloon began to unfold.
"My heart strings were really going and I was thinking this would be terrible if a little boy is trapped in there," Kays said.
But as soon as the balloon landed, Kays was overwhelmed by relief — and ultimately a fit of the giggles — because he saw ample evidence that the balloon couldn't have carried a little boy anywhere.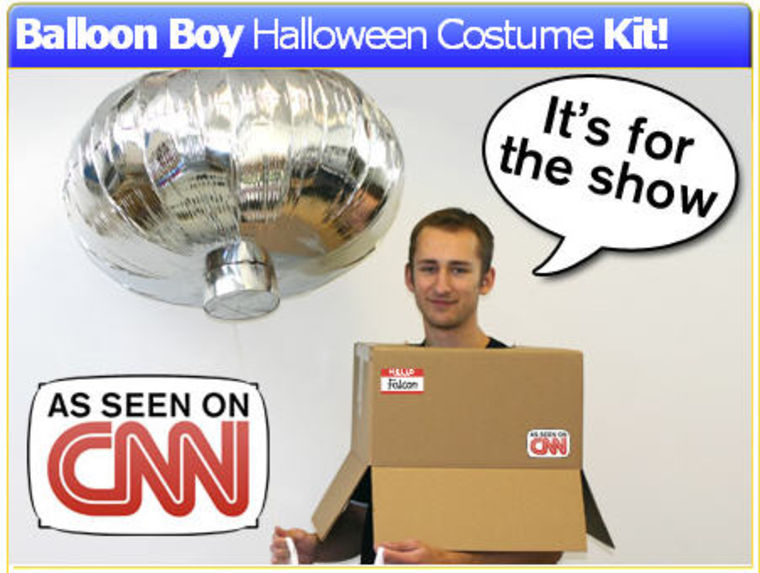 For one thing, he said, 1 cubic foot of helium gas is able to lift about 1 ounce of weight. "Just kind of looking at the diameter and the thickness of that flying saucer, and looking at the material it was made out of ... that balloon was too small to lift the boy, especially in Colorado where you're close to the Rockies and the atmosphere is less dense," Kays said. "It could have carried only about 20 pounds tops."
And then Kays noticed something else.
"The (balloon gondola's) hatch was still closed, so if the boy had fallen out he would have had to close the hatch on the way out," he said, exploding into peals of laughter during a phone interview from Saskatoon.
Costume 'fell right in our lap'Kays and his colleagues at Plantraco Microflight know all about this sort of thing. For the past 15 years or so, the company has been making high-end, lightweight, technically advanced toys. Toys like flying saucers, blimps and airplanes, many of which are so light that they make a paper airplane feel heavy.
"One of our products, the carbon butterfly, weighs less than a sheet of paper and can do figure-eights over the coffee table," Kays said. "That one got us a lot of respect in the hobby and model-making world."
So, perhaps understandably, Kays and his co-workers fell apart laughing as more and more details of the alleged balloon hoax emerged. And then the idea came to Kays in a flash.
"Helium gas and Mylar are right up our alley," he said. "It occurred to me, we've got in our warehouse thousands of Mylar balloons. We could use a laser cutter to cut out the shape of the round gondola box and put it on, and you've got a balloon you could tote around. And then, hey! It's a Halloween costume! ...
"This costume kind of fell right in our lap."
The company posted the costume idea on its Web site along with a joke-laden YouTube video demonstrating the mini-balloon being used in a "hoax." Within days, more than 500 of the $19.99 costumes had been sold. Kays is now scrambling to find people to fill extra shifts putting the balloons together as quickly as possible.
"Kind of a good problem to have, right?" he joked.
"I think our costume is taking off because the balloon story had a happy ending. And now we're having a happy ending, too, because we're selling so many of these things."