Tracie Felker and Joe Marion share a deep passion for Scouting. Each has a son who attained the top rank of Eagle, and each has spent numerous years and thousands of hours volunteering as Scout leaders, promoting Scout values.

And that's where they diverge. When the Boy Scouts of America votes next week on whether to admit gay youth as members, Felker and Marion hope for opposite outcomes.
Marion says his issues have to do with logistics. He said admission of gay Scouts would put Troop 413, the pack he started five years ago, at risk of losing its charter. The troop would then have to find a new place to meet if First Baptist Church of Henderson, Tenn., pulls its sponsorship.
Then there are the other considerations, he says, like the ones related to the monthly camping trips his troop organizes.
"The problem is, do I let my kids who are straight share bathrooms and shower houses with kids who are not? How do I divide these kids up for camps? I mean, do I put the gay kids together and then the straight kids together?" he said.
Marion worries about the potential interaction during those sleepaways.

"What happens when a kid comes back from a trip where he was approached, or something did go on – what is the parent going to do? Who are they going to be mad at? Who are they going to lash out at? Me, because I'm the volunteer that took responsibility for their kid," he said. "You understand why I'm concerned?"
Felker finds those arguments alarmist. A former merit badge coordinator, troop committee chair and two-time den leader, Felker calls the gay ban a form of discrimination that negates everything the Scouts stand for.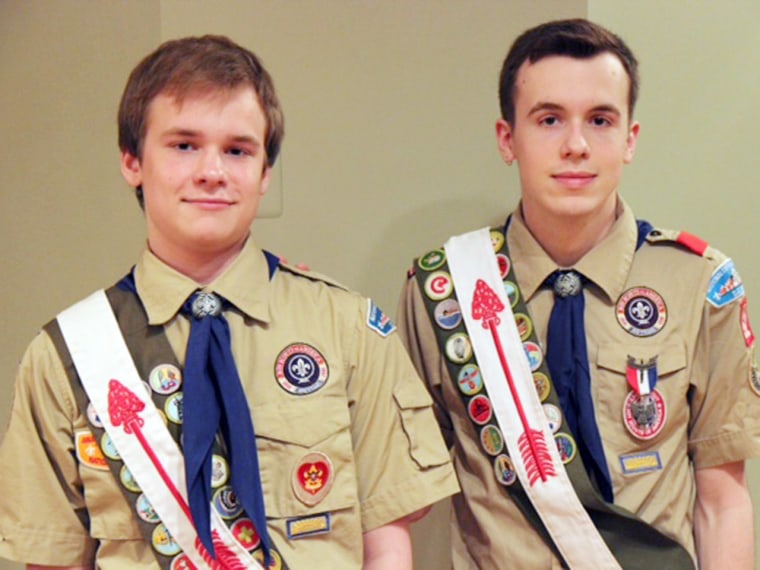 But she also has a personal stake in the matter. Both of her sons are openly gay Scouts. Her older son, 20, is an Eagle Scout who has aged out of the system. Her younger son, however, is a 16-year-old high school junior who fears he will lose his chance to make Eagle if the Scouts kick him out for being gay.
Both boys joined the Scouts at age 7 as Tiger Cubs.
"Nobody was even thinking about whether they were going to be gay or not," said Felker, who lives in a Maryland suburb of Washington, D.C. "They were perfectly acceptable, wonderful Scouts. But as soon as these boys mature and discover their sexual orientation is maybe different than what everyone assumed, suddenly they're no longer considered good enough for Scouts? It doesn't make any sense," she said. "They haven't done anything wrong. Their character has not changed. They still adhere to everything that Scouting is about, so why kick them out?"
The proposal being considered by the national council of the Boy Scouts of America would allow openly gay boys into the program but continue to ban gay adults as leaders. The council's 1,400-members will vote on the measure May 23 while in Texas for the organization's national meeting.
Zach Wahls thinks the proposal is a good start but doesn't go far enough because, among other things, it would exclude parents like his. The 21-year-old Iowa native was raised on Scouting from the time he was 6 by a lesbian couple.
"My mom, Jackie, was a den mother and my mom, Kerry, was an interim Cub Master," said Wahls, founder of Scouts for Equality, a group with more than 6,500 Eagle Scouts like himself and other Scout alumni advocating for the admission of gay youth and adults.
Lucien Tessier, the older son of Felker, said he hopes the proposal passes for the sake of his younger brother, who has invested countless hours into preparing for his Eagle Scout. Tessier doesn't have any immediate plans to return to Scouts but he's saddened that under current policy it wouldn't be an option if he changed his mind in the future.
"I feel very honored to be an Eagle Scout, even still knowing about this policy," he said.

Like Troop 413, more than 70 percent of all Scout troops are sponsored by a faith-based organization.
Marion said while he's concerned that overturning the gay ban would jeopardize his troop's future, he supports the strong values promoted by his group's charter and hopes his group, along with the ban, stay intact. He said many of the parents in his troop feel the same way and have pledged to leave Scouts if gays are allowed in.
"The nation lacks moral standards and we would like the Boy Scouts to be the one organization parents can count on. Can't there just be one where morals are important?" he said.
Marion said he doesn't expect the proposal will be approved this time around, but he can see the ban getting lifted somewhere down the road.
"Look, I'm very a peaceful, non-confrontational guy. I hate the fact that I'm going to be seen – all the Scout leaders, really – are going to be seen as haters or bashers, because I don't feel that way at all," he said. "No matter what happens, I don't think this is going to have a good outcome either way."