Meghan McCain and her boyfriend knew they wanted to get married — they even discussed the possibility of eloping. Then came her father's devastating diagnosis of brain cancer.
"We pushed everything up," the daughter of Arizona Sen. John McCain told People magazine in its upcoming issue.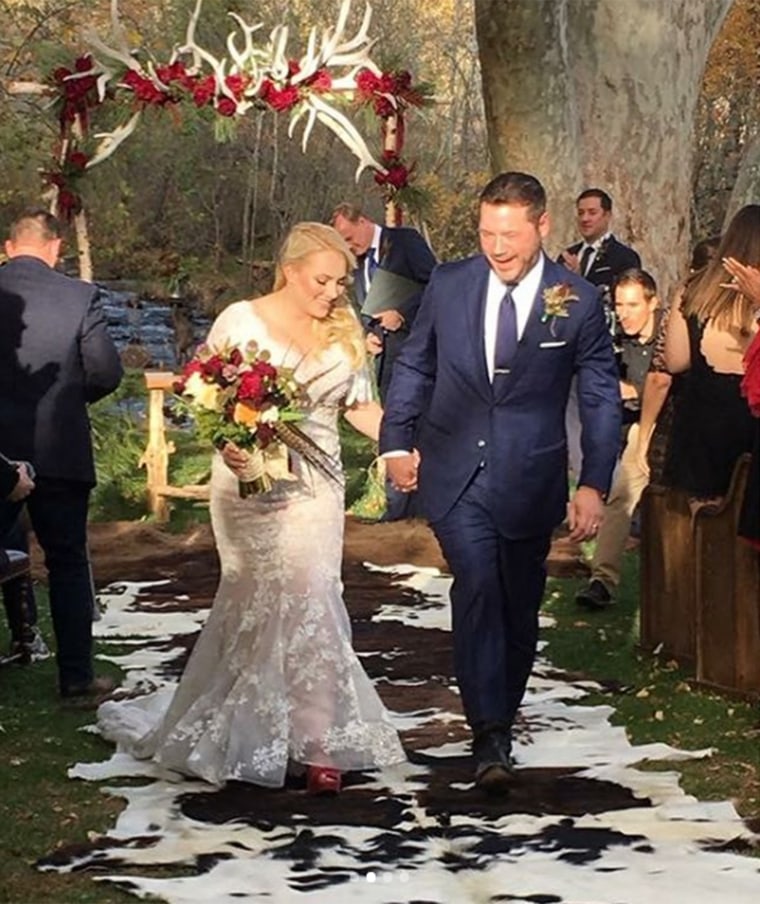 Meghan tied the knot last week with her boyfriend of two years, Ben Domenech, at the McCain family ranch outside Sedona, Arizona. The couple celebrated with country western-themed festivities with 117 family members and close friends.
John McCain, 81, was diagnosed in July with glioblastoma, a rare and highly aggressive form of brain cancer.
"My dad is doing really well right now, but it's a deeply unpredictable cancer," said Meghan McCain, 33, who is a co-host of "The View." "You're really just living scan to scan. I wanted to make sure that he was — that we were all — there. Why wait?"
Domenech, 35, said his bride knew immediately what she wanted to do after learning about her father's cancer.
"This brought into focus how important it was for Meghan to have her dad see her get married, and to have that happen while he was still fully there and fully able to participate," Domenech, the co-founder of the website The Federalist, told People magazine. "This was something that she needed."
The bride said she did not sweat the little things leading up to wedding.
"I was not really caught up in the details," she said. "I just wanted everybody to have a good time."
The biggest wrinkle came her father tore his Achilles tendon just days before the ceremony, sidetracking plans to have him walk his daughter down the aisle. Luckily, Meghan's brother, Jimmy, came to the rescue.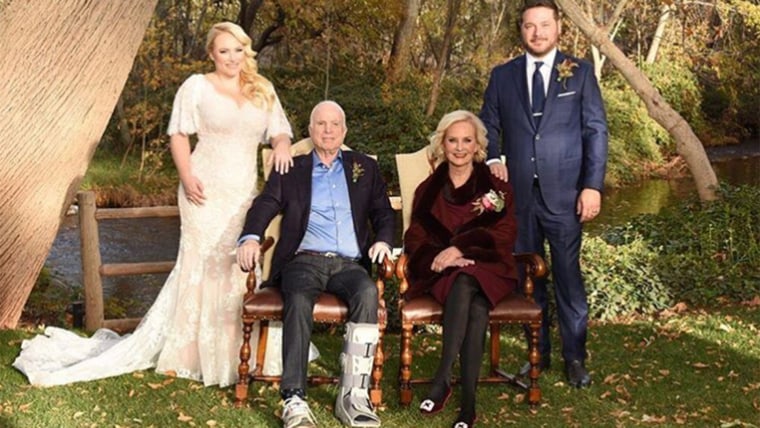 "He stepped in to walk me down the actual aisle and then my dad gave me away at the very end," she said.
Her father described the wedding as "a wonderful day."
"The thing in life you want more than anything else is for your kids to be happy. And I'm confident that she will be," the former Republican presidential nominee told People.
He expressed delight that the festivities took place at the McCain family ranch.
"This beautiful valley has some special meaning because that's where we spent all our time with our kids growing up," he said. "The wedding was a celebration of life and also a chance for us to revisit and celebrate the past."
Because of his ankle, the senator had to forgo a planned father-daughter dance. But his wife, Cindy McCain, joked that might have been for the best.
"When John had a good leg, he still couldn't dance. So it was a good thing!" she said.
But Meghan said she wouldn't have changed a thing about her big day.
"I'm not disappointed, and I genuinely mean that," she said. "I felt really blessed and loved, and I don't feel like I missed out on anything."