Tim Cunningham's colon cancer has taken over his body and his life, but the staff at Memorial Hermann The Woodlands Hospital in Texas wasn't going to let it stop him from marrying his true love.
Cunningham, 53, was admitted the Houston-area hospital for breathing trouble on October 4, the day before was to marry his fiancee, Ruth Georgia, at their local courthouse.
"We had been dating for 10 and a half years and weren't rushing to get married," Cunningham, who was diagnosed in 2013, told TODAY.com.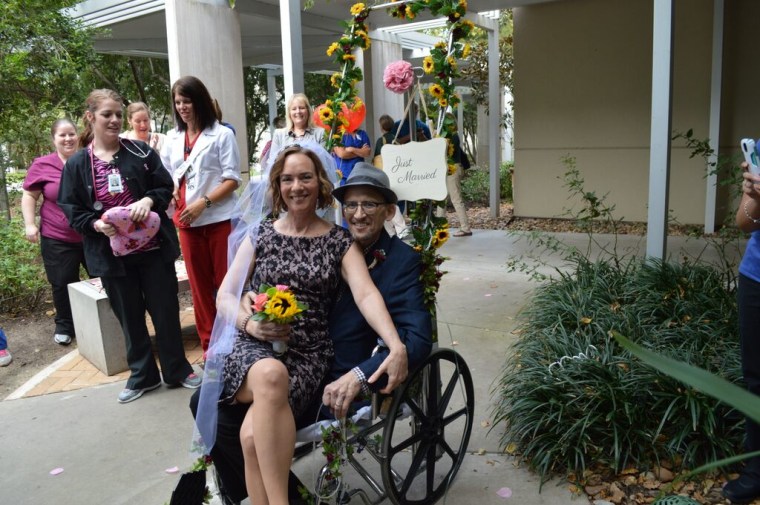 Both work as flight attendants, he said, so they were constantly traveling and never seemed to find the time.
"But cancer makes you think about a lot of things, and we decided to do it while we still could," Cunningham said.
RELATED: Paramedic bride rushes to help family in car crash on wedding day
His hospital visit, though, likely meant they'd have to postpone.
On that day, Cunningham was Hermann nurse Rachel Jarrell's last patient.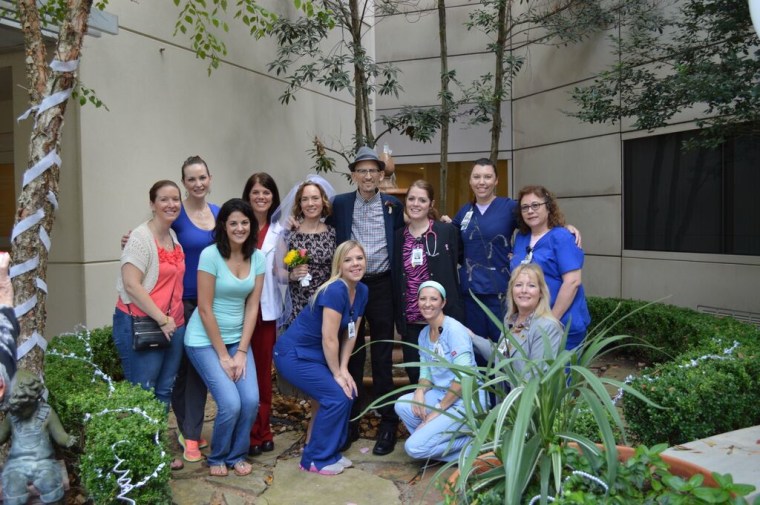 RELATED: Meet the couple who said 'I do' while running the Chicago Marathon
After the two chatted a while, she went to the other nurses to say she wanted to do something special for him.
"He mentioned that he was supposed to get married the next day and that broke my heart," Jarrell told TODAY.
At first, Jarrell and the others were just going to decorate his room. But they decided if they were going to do that, they might as well throw the couple a real wedding.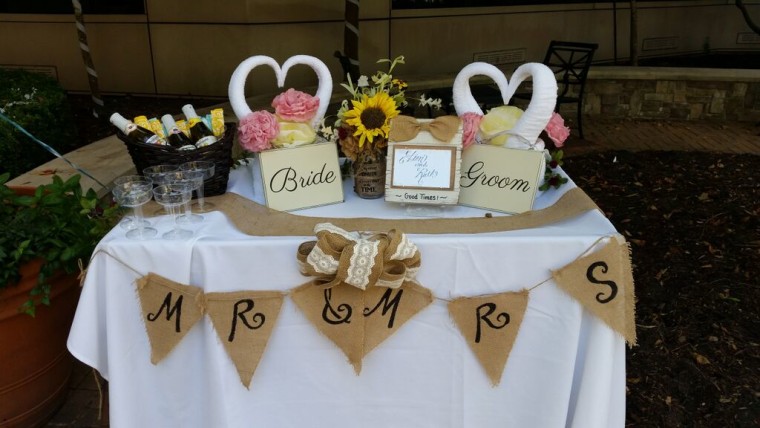 Ruth was on board, and the ceremony was set for the next morning.
Alisa McCusker, Memorial Hermann's Patient Care Technician, brought a bag of favors left over from her daughter's wedding last year, like bride and groom signs, balloons and streamers.
She also brought her camera to captures a few memories for the couple.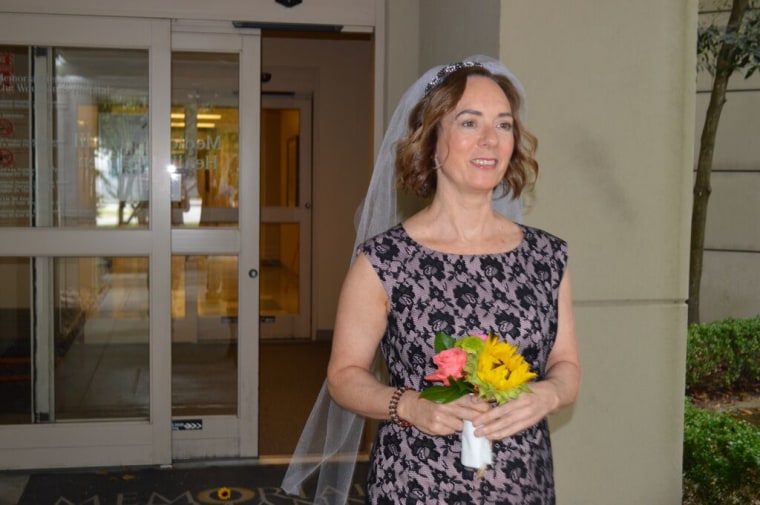 "A conversation I had with Ruth when I first met her compelled me to do something for her," McCusker told TODAY.com.
"She was talking about how awful she looked and how tired she was, and you could just tell that she was struggling with caregiver fatigue. So I didn't want her to have to lift a finger."
McCusker asked her stepdad to officiate the wedding, while the kitchen staff made a beautiful cake and a nurse sewed Ruth a veil.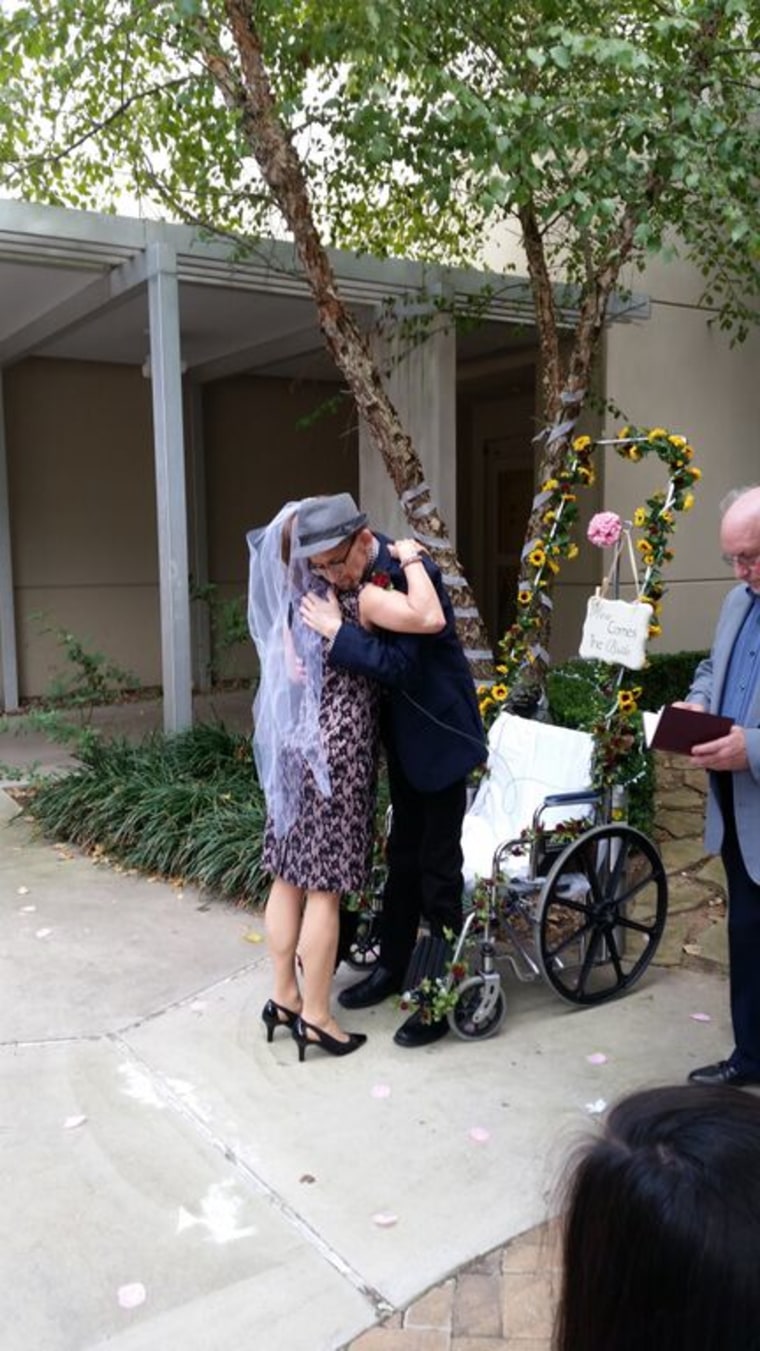 The group decorated the hospital's courtyard Healing Garden and gave Tim's wheelchair a festive little makeover.
"It felt like a real wedding," Jarrell said. "We had music playing and brought sparkling cider to toast them, which made it feel very genuine."
The couple was shocked by how beautiful everything looked when they walked out into the garden.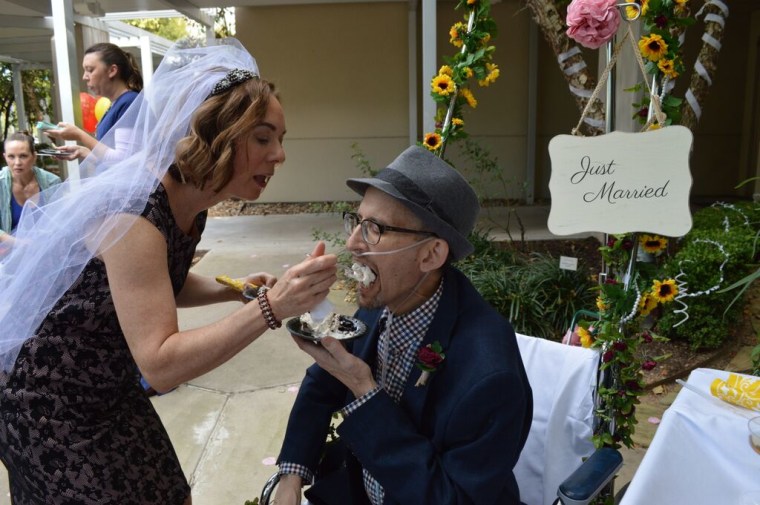 "We never asked them to put anything together, we just mentioned it in passing," Cunningham said.
"It just goes to show the beauty of humanity and how wonderful and generous people can be to absolute strangers."