A vacation in the nation's capital already gone awry from the government shutdown took a frightening turn for one Kentucky family who got stuck in the middle of a fatal car chase.

Jennifer and Tim Arnold and their two daughters had just gotten off a pedicab while visiting the Capitol on Thursday when they heard the chaos nearby of police officers trying to apprehend the driver of the vehicle.
"That's when we saw the black car speeding down Pennsylvania Ave. and the chase," Jennifer Arnold recalled Friday on TODAY. "Shortly thereafter, we heard the gunfire and could smell the smoke from it."
Her husband said he immediately told his two daughters, ages 13 and 8, to take cover.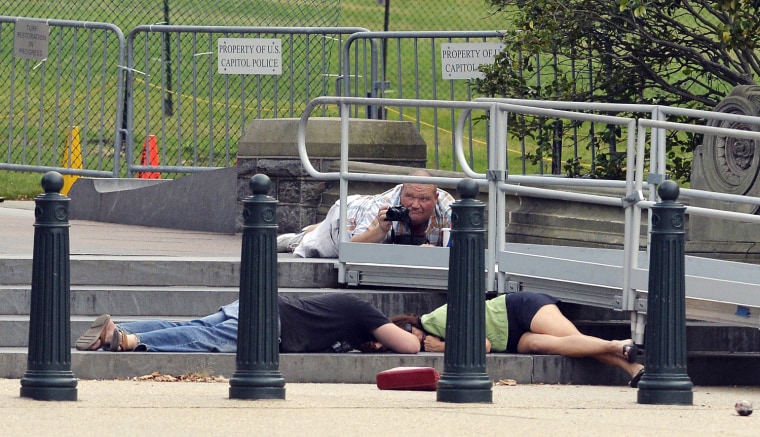 "I said, 'Get on the ground, get on the ground.' And they jumped over a little barrier that was there and got in the bushes. I just got down on the stairs," he said.

Related: Woman in DC chase may have thought Obama was stalking her, sources say
The family, on vacation from Louisville, Ky., were on the Capitol grounds when Connecticut dental hygienist Miriam Carey led authorities on a harrowing chase through the area. The chase ended after Carey was fatally shot by police.
The ordeal further shook a city already rattled by the recent Navy Yard shooting and a government shutdown that hobbled many of the city's major tourist attractions.

The experience also shook the Arnolds, especially their two daughters. 
"They were crying and shaking," Jennifer Arnold said, recalling how they initially didn't know whether the gunshots were coming from a crazed shooter or from police.

"We did get separated from the children for a while," she said. "They were about two blocks ahead of us and I was calling my daughter on her cell phone to make sure she had her little sister, and we finally did get reunited."
A photographer captured Tim Arnold while he was taking cover on the ground, holding a camera. Arnold told Guthrie he only "caught the aftermath" because he didn't have his camera out at the time.
"I put it away seconds before all this happened," he said.
The couple planned to head to New York Friday, for a more calming experience.