Frank Henderson may have only a short time to live, but that's not stopping his family and his community from helping him check items off his Bucket List, including celebrating Christmas in September.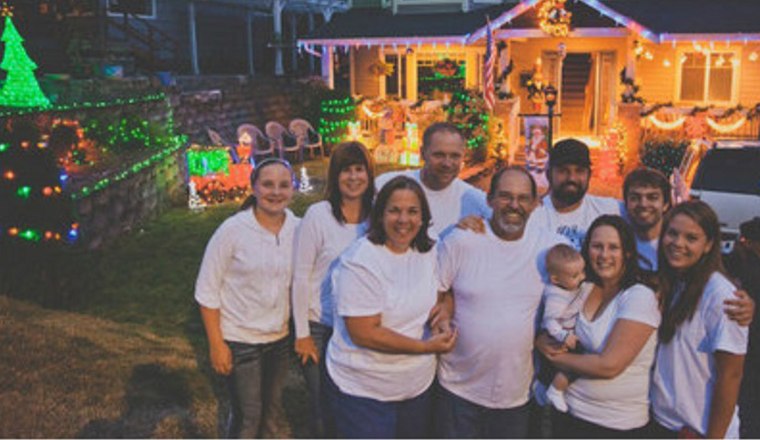 His 21-year-old daughter, Thea, told TODAY.com that her father's terminal cancer diagnosis is inspiring him and his family to make the most of their time together.
"Even though his time has been cut short, he has realized that you need to make moments all the time," Thea said. "We don't have years with him; we have days and weeks. And we're packing a lifetime into days and weeks."
On Sept. 13, the day he was scheduled to undergo unrelated surgery, Henderson, 60, underwent a CAT scan after complaining of stomach pains.
"There wasn't even supposed to be a CAT scan done," Thea said. "He'd been healthy. He was working."
The prognosis left the family stunned: He had cancer "everywhere," leaving him "a few weeks to a month" to live, according to his daughter. This week, an oncologist determined it may be only a matter of days, she said.
"When they said that, it kind of hit my dad and it hit my mom that this was going to be really serious, and Dad realized that he may not be around," Thea added. "He started crying and saying, 'There's things I gotta do. There's things I gotta do.'"
A father of five and grandfather of three, Frank started making a Bucket List, which began with home-improvement projects, so that his family won't have to worry about such tasks after his death, Thea said. His wife Jan, children (Neil, Nate, Nic, Thea and Cory), and ex-wife Debbie Willis have all contributed these past two weeks, strengthening family bonds in the process.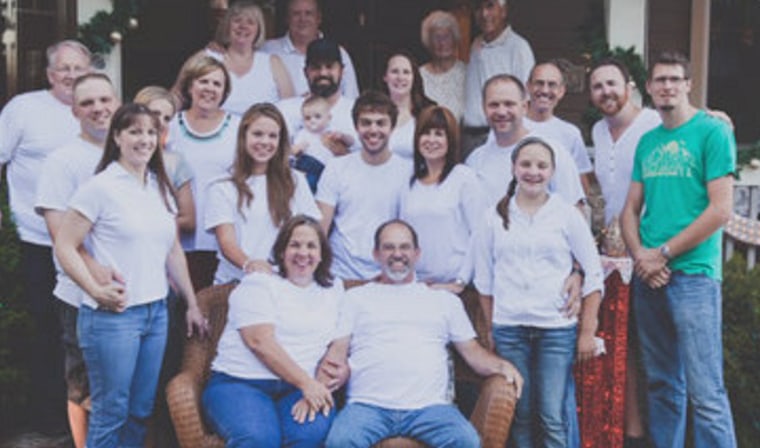 "Everyone has come together," Thea said. "It kind of always was like that — every family has their troubles — but especially in the past few years, we've just gotten closer."
But not all of the family's goals involve home-repair chores.
"We were all talking about this Bucket List, and someone mentioned in passing, 'Don't worry, we'll make sure we'll put up the Christmas lights, too, at Christmas,'" Thea said. "And then it kind of hit us that that's Dad's thing."
Once neighbors in Shoreline, Washington, learned about Henderson's condition and his love for the holiday, they started getting into the holiday spirit — three months early. They've decorated their own houses with lights and other holiday accouterments in September to show solidarity.
"It wasn't necessarily meant as 'We're going to celebrate Dad's last Christmas' — as funny as that is, that's what it's turned into, which is wonderful — but it's really more about the Christmas lights, because my dad's kind of a nut-job when it comes to that," Thea said. "Loves them to pieces. … It's insane. That [first] night, there was a string of lights, and then, the next day, neighbors just kept putting them up."
It's even provided the Henderson family with some much-needed laughter. "My neighbor was like, 'I think this is the first time we've gotten sunburned while putting up lights,'" Thea said. "It's been pretty amazing. They all love my dad."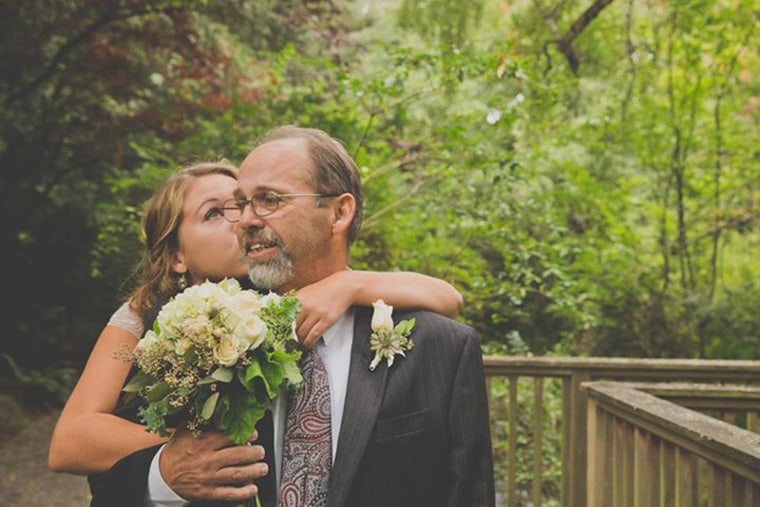 The holiday decorations made Henderson smile, but he knows he may miss other special occasions. In addition to coming to terms with the chance he'll miss his 25th wedding anniversary Aug. 25, 2015, he realizes he may not have the opportunity to dance with his daughter at her wedding.
To prepare for the latter, he and Thea also collaborated on a wedding photo shoot with her cousin, photographer Evan Burgher. With Thea wearing a donated wedding dress and Frank sporting a suit, the two posed for photos Tuesday as they laughed, cried, and danced to multiple songs, including Stevie Ray Vaughan's "Pride and Joy."
Said Thea of that dance, "For my little dad — who's been in a recliner for 10 or 11 days now — that was his time to sort of bust loose and let it all out. He just started dancing, and that's been our thing, ever since I was tiny."
The family has been moved by public reaction to Frank and his story, which has made headlines and become a social-media phenomenon.
"We never really expected it to reach people how it has," Thea said. "I mean, we know how amazing our dad is, but for the world to kind of grab onto it — and when I say 'world,' I know that sounds ridiculous, but it seems like it — our little world is being changed. People are emailing my family, saying, 'Your story has touched my life in a way that I never thought anything could.' And we're like, 'I don't even know you, but that's amazing.' That means the world to us that my dad's spirit has reached everyone."
Between Bucket List moments, the family is trying to focus on making Frank comfortable and happy, Thea said.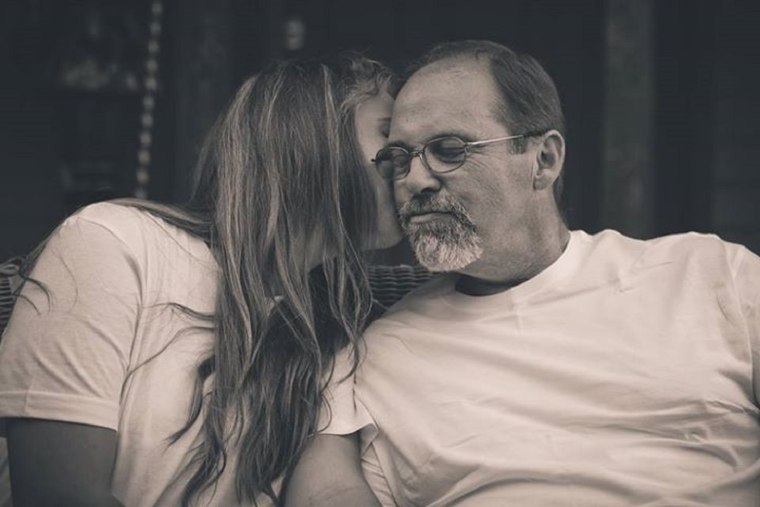 "The one thing he wants people to know is that you need to spend time with your family, and to do the things you want to do," she added. "Because, just like, in our situation, we had our lives ripped apart in an instant. And we don't know how to put the pieces back together, but we're doing the best we can to make moments with him, every single step of the way."
Follow TODAY.com writer Chris Serico on Twitter.