Author Monique El-Faizy moved, with her two young sons, referenced as X and T for privacy, and husband, Oliver, to Cairo on August 14, just as tensions reached a fever pitch. She's there for a two-year stint while working on a book about Egypt. The delay of the kids' school year rattled her nerves enough to take the boys and head to Rome but now, they've returned to their new home. Read the latest on her family's progress. 
We're back in Cairo.
Arriving this time was different than any other I can remember. I didn't feel any of the anxiety I usually do. We were coming home.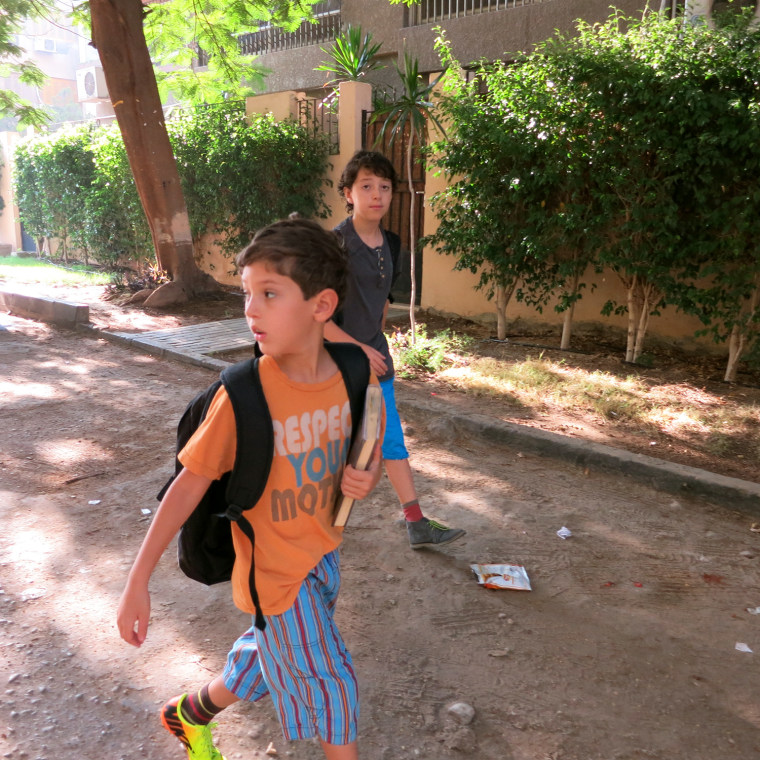 That's not to say I hadn't worried we might not be able to return to Egypt. While we were in Italy, having fled with the kids when the kids' American school announced it was delaying the start of classes, Mubarak was released from prison and the self-described anti-coup alliance announced a "Day of Martyrs," calling for multiple demonstrations. The stage was set for some serious bloodshed.
Many commentators suggested that Mubarak's release would raise the ire of not only the demonstrators who had demanded his overthrow, but also the already aggrieved Muslim Brotherhood. 
To my great relief, the protests were nowhere near as big as threatened or as violent as feared. On Saturday the school announced that they would go ahead with their planned Monday start, and I was thrilled — I didn't have a Plan B for the eventuality that Egypt was too dangerous for us. We flew back on Sunday, relaxed and full of anticipation.
On Monday, only about 2/3 of the student body was in town. But the administration has done an incredible job of keeping things humming and the community informed. The school is a stellar source of security information.

We live just a couple of blocks from the school, a short but adventure-filled walk. The streets in our neighborhood are quieter than in the rest of Cairo, but no more pedestrian-friendly. There's a two-lane road between us and school, and while the lane closest to the school is marked with what may well be one of Cairo's only crosswalks and manned by a crossing guard, we fend for ourselves when crossing the other lane. Every inch of pavement is fair game for parking — so seeing approaching cars is next to impossible unless you're 6'8", which none of us is.
Sidewalks are also a rarity, and when there is one it is rendered impassible every five feet or so by a jutting tree, a pile of garbage or sand or broken pavers. Added to this urban obstacle course is a bevy of wild cats and dogs, which leaves pedestrians walking down the middle of the road, where dodging passing cars seems easy by comparison.
At school, there was the same sense of anticipation, the same flurry of parents and students greeting one another after a summer apart as there was in New York. Oliver and I had the same trepidation about our kids liking their teachers and the same excitement at a new beginning as we always do — although the stakes were much higher.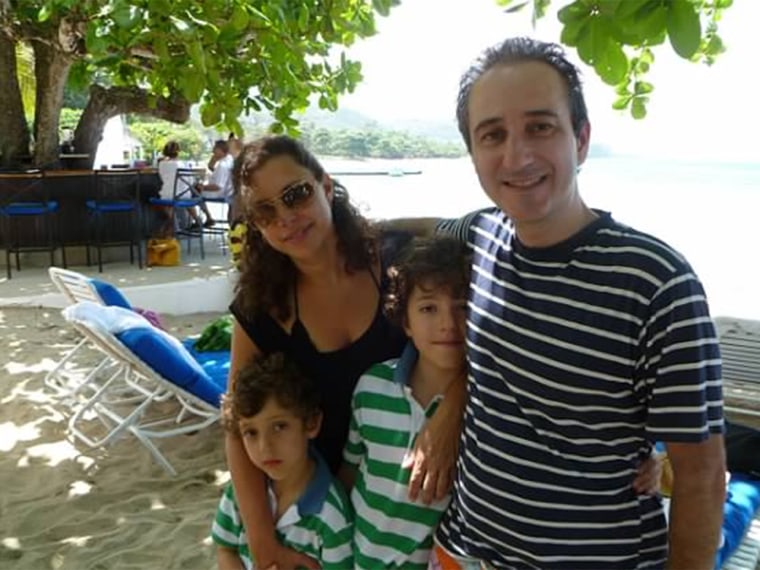 Of course, there were also signs that it wasn't business as usual. When we were in the elementary school office dropping off an EpiPen for X, the father behind us was checking in because his wife and kids were still under mandatory evacuation. He had no idea when they'd be allowed back, he said, but he hoped it would be this semester. Later, I heard parents talking about their daughters being upset that their best friends hadn't returned.
When families will come back is an open guess, and differs according to one's employer. The U.S. Embassy families are waiting for the all clear from the U.S. government, and there's no telling when that might be. Other companies have ordered families out of the country but people seem to think they'll be allowed back in September or early October. Other companies gave families discretion. But people here seem to think many kids won't be back until January, if at all.   
After drop off, Oliver and I headed to the Community Services Association, a resource for expats and popular hangout. The same conversations were being replayed there: People musing about when families would be allowed back, discussing those who decided to throw in the towel and leave for good, and debating whether the next set of demonstrations would be big and bloody or if the army has gained the upper hand — at least for the time being.  
Amazingly, none of it made me feel apprehensive. There is a sense of acceptance here. The families who were uncomfortable have all left; the people who are still in Cairo are here because they choose to be, for the most part.
And for the most part it's life as normal. The shortening of the curfew — it starts at 9 p.m. now every evening but Friday — has made it possible to go out to dinner and have a regular workday, which goes a long way to alleviating the feeling of living under siege. While people aren't dismissing the instability and potential for danger, they don't seem as tense as they did in recent weeks.
We picked up the boys that afternoon expecting to give them a pep talk about adjusting to a new school. What we found were two delighted kids; T loved his classes, was excited about his electives and was thrilled about the long break between every period. X liked his teachers and had already found a best friend, a sweet boy from South Sudan.
They both love the outdoor space, the lunch food is the best anywhere, X told us, and the teachers are nice. What more could a kid want?
There will be emotional ups and downs, and it's far from clear that the current, tenuous, stability is permanent. Fridays will be another test, as marchers gather at mosques after the noontime prayer, making it the easiest day to assemble large crowds for demonstrations. And if the U.S. launches air strikes against Syria — an unpopular move here — already sky-high anti-American sentiment will likely only intensify.

In our tiny little patch, my boys both had their easiest first-week-of-school transition ever, so all is well. 
More:Mom on move to Egypt: 'We picked one hell of a day to arrive in Cairo'
Flight from Egypt: As tensions rise, American mom and kids depart Cairo

Monique chronicles her family's progress as they adjust to life in Cairo. Follow her on Twitter @moniqueelfaizy and at her blog, www.childrenofthepharaohs.com.
Comments on this post have been disabled.