For Chelsea Werner, gymnastics started as a way to develop more muscle tone, a symptom from her diagnosis of Down syndrome. But now the sport is a way for her to show others just how much is possible for other athletes with the disorder.

Werner, 22, has transformed from being unable to execute simple muscle maneuvers to a four-time national championship at the Special Olympics (she also has an international championship under her belt). The Californian's inspiring journey is the latest installment TODAY's "I Am Unbroken" series, which examines stories of perseverance like that of Louis Zamperini, the World War II hero profiled in the best-selling book "Unbroken," which now has been made into a feature film directed by Angelina Jolie. 
"She has put in this many years and hours of gymnastics training and all those times when she didn't get a ribbon, and she kept going,'' Dawn Pombo, Chelsea's gymnastics coach, told TODAY. "She fits it to every aspect of what 'Unbroken' means.'' 
Chelsea's parents, Lisa and Ray, first enrolled her in a gymnastics class when she was four years old, after she was diagnosed with the disorder. Four years later, then-8-year-old Chelsea was training for the Special Olympics. Her parents persisted in finding a top-level coach. They found that coach in Pombo, who said that she had to teach Chelsea from the ground up, but found a more-than-willing student.
"Chelsea's ability in the beginning was not very good,'' Pombo said. "She was very excited, but physically, she could barely walk on the balance beam one direction and back without falling. The obstacle in the beginning was strength. She just lacked muscle tone." 
Pombo also pushed Chelsea to challenge her limitations.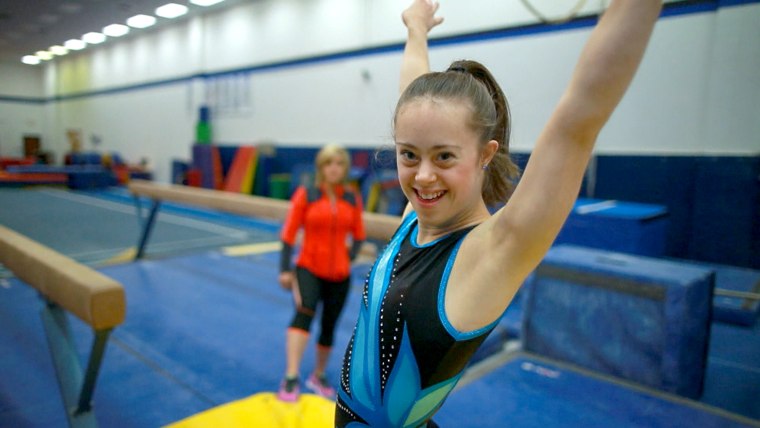 "I would say to her parents, 'I'm going to try to teach her, you know, a back handspring,''' Pombo said. "They're like, 'Oh, there's no way. Are you kidding? No, I think she can do it.'" 
While Chelsea continued to improve in events like the floor and balance beam, she soon faced another obstacle. In 2006, the Special Olympics committee of Northern California dropped its gymnastics program, leaving Chelsea to train on her own and forcing her family to foot the bill for her travel and training. To help compensate for the costs, Ray formed a nonprofit organization called Chelsea's Quest to help raise money, and she began competing as a one-person team at Special Olympics events. 
"She probably competed in that for three years and probably came in last place every time, and she didn't care,'' Pombo said. "Then there came a time when she did understand what the lower score meant. That began a whole new journey of training her to understand if this is what you want to do, then you have to work harder if you want to get a medal. 
Pombo was as hard on her as any of her other gymnasts, and Chelsea began practicing 16 hours a week to improve. It paid off with multiple national titles and the International Down Syndrome Foundation World Championships title. She also participated as a special guest in this year's NCAA women's gymnastics championships. The girl who once could barely stay upright on the balance beam has advanced to a level many thought was never possible. 
"What a princess and...just the incredible personality, self-esteem, and just the pure joy, and the joy of my life,'' her father said. 
"She's a gymnast, and loves life,'' her mother said. "Very happy, very social, very outgoing."