At just 12 years old and with the help of a little red wagon, Makenna Breading-Goodrich has already started a movement to help the homeless in her community.
Three years ago, the Arizona 7th-grader went to her parents with the idea to collect coats for the homeless.
It occurred to her after she watched a show about the harsh realities of not having a roof over your head during the cold winter months, her mom recalled.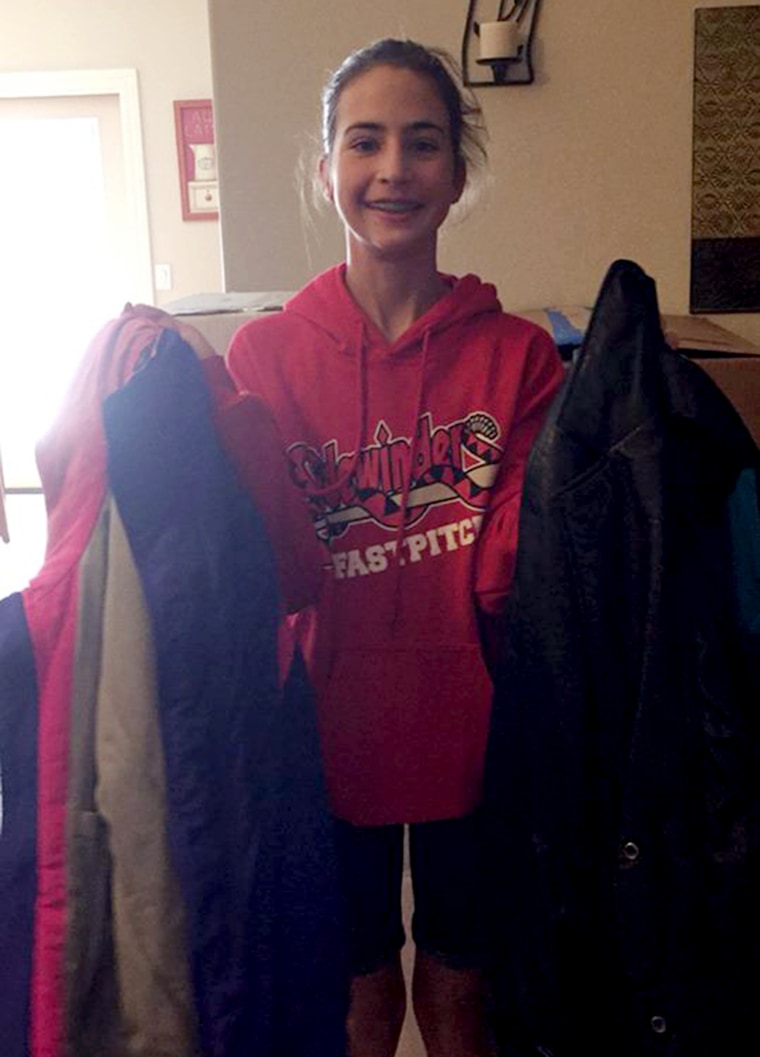 RELATED: 8-year-old boy warms hearts by providing coats to the needy
"She said 'I think I can really do something to help,'" Jennifer Breading-Goodrich told TODAY.com.
"Any parent would look at their 9-year-old daughter with pride and tell her they'd be thrilled to help her in any way."
So in Oct. 2013, Makenna emailed her parents asking them to print out 50 fliers she created, which she then put up around her hometown of Surprise, Ariz., near Phoenix.
She also went door-to-door, letting neighbors know she'd be back in a couple weeks to pick up any spare jackets.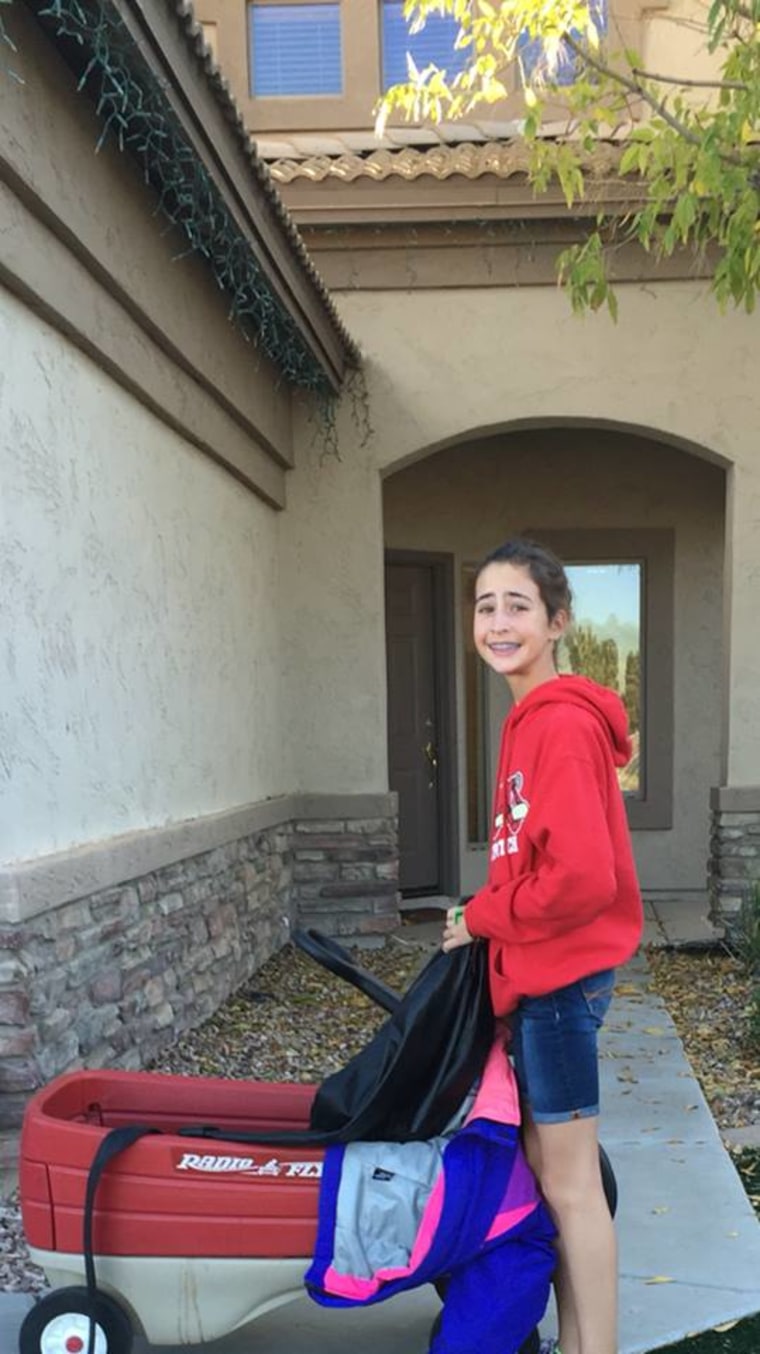 She called the one-woman organization Makenna's Coats for a Cause.
"At first, neighbors were surprised by her age and actions, but there was an outpouring of support," Jennifer said.
RELATED: 'Grandma in the window' shares special bond with students that goes beyond a wave
"Who doesn't have a coat in their closet they're willing to give up? It was a simple solution that allowed everyone to get involved without leaving their home."
Sure enough, around two weeks later, Makenna wheeled her little red Radio Flyer wagon around town and collected about 200 coats to give to the Phoenix Rescue Mission.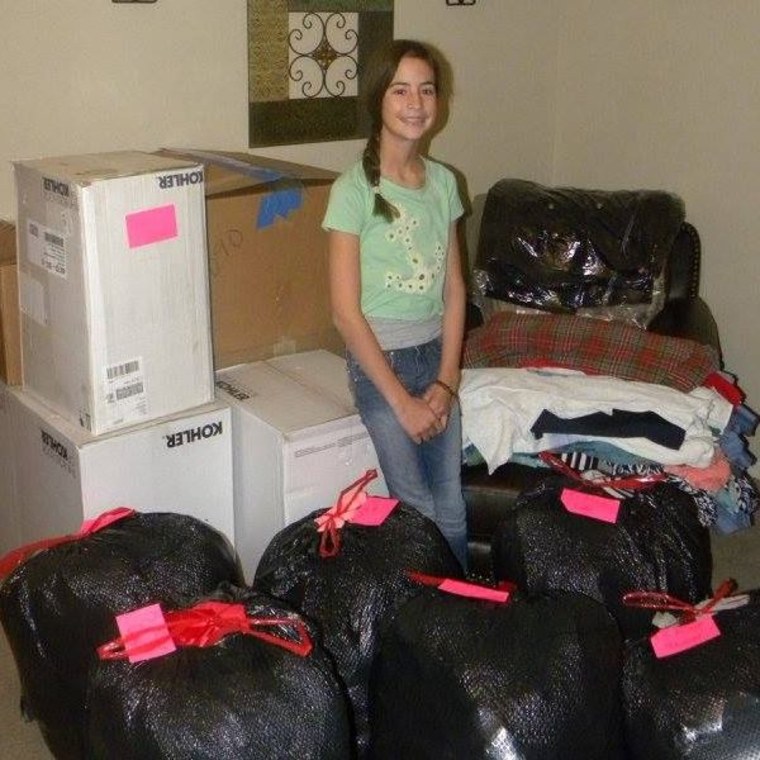 Since then, the effort has taken off. Last year, she collected around 500 coats, and this year, she's received 872, plus 300 other donated items, including hats, gloves, blankets, sweatshirts and undergarments.
Raising their kids, Jennifer, 41, and her husband, Sheldon Breading-Goodrich, 40, have emphasized the importance of giving.
In the spring, Makenna holds a water drive for the homeless through organization St. Vincent De Paul.
She's also been volunteering at local nonprofit called The Clothing Shop, which collects clothes for the homeless, and she's a member of the youth city council, where she helps kids and teens get more acquainted with the community.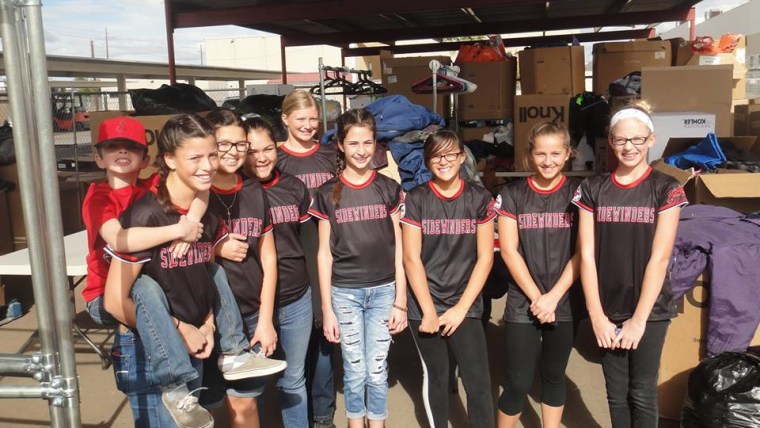 "Not only is she making a difference for the homeless herself, but she's showing all these young girls that they can put a positive footprint on the world too," Jennifer said.
Her 6-year-old brother, Jackson, plans to follow in his big sister's footsteps and hold a backpack drive this summer.
When Makenna isn't volunteering, she's playing softball with the Surprise Sidewinders. Late last year, many of her teammates helped collect coats and went with her to drop them off on Dec. 12.
One girl was so inspired that she's starting to collect bibles for the Phoenix Rescue Mission after finding out there was a shortage.
"I plan on helping her just like she helped me," Makenna told TODAY.com. "I'm happy to have inspired kids to start giving back."