The topic of overweight passengers on planes has been a hot-button issue recently as there are many sides to the complicated debate. Many heavier passengers believe airlines should adapt to accommodate them, while airlines have implemented a variety of controversial policies to address the issue. And some thinner passengers have lashed out for being forced to share space with larger individuals.
A man on an Etihad Airways flight even sued the airline, accusing the airline of forcing him to contort his body for long periods because of the "grossly overweight" person in the seat next to him.
But few have explored the emotional journey associated with the subject — at least publicly — until an anonymous woman took to online forum Medium to explain what travel is like for an overweight individual.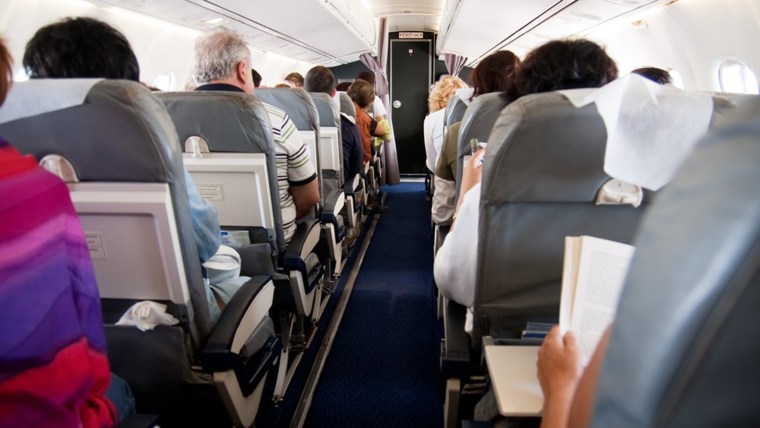 In an essay titled "What it's like to be that fat person sitting next to you on the plane," a user called "Your Fat Friend" shared a moving post over the weekend that has collected nearly 3,000 likes and more than 350 comments.
RELATED: As airlines tackle a weighty issue, could your size really keep you off a flight?
"There is a common trope about this very situation, shown frequently on TV, in illustrations, in casually irritated conversation," she wrote. "Fat people are shown on planes all the time: loud, obnoxious, elbowing people, taking up space, getting cheetos crumbs all over ourselves and you, our whole existence designed to make you miserable. That caricature doesn't just hurt when I see it — I crumble under its weight. There's so much that happens before I even buy a ticket. I research policies, because every airline has one now for 'passengers of size.'"
In fact, some airlines are asking for passengers to pay extra for more seat space. Samoa Air introduced a passenger charge by weight rather than per seat in 2013, and unveiled a new "XL class" to accommodate larger customers.
RELATED: Are you as fit as the president? White House reveals Obama's enviable stats
According to the Medium author, airlines allow for the possibility that she will be charged double or be denied a seat on the plane the day of the flight because of her size. She even has to research whether the airports she'll pass through have a history of confiscating seat belt extenders, and often brings her own. TODAY reached out to the author for comment, but didn't hear back.
Her candid essay describes how her size has not only caused financial and scheduling troubles, but also an ongoing mental battle as well. She reveals how she gets anxious before a flight. "I practice how I will sit on the plane, pushing my body against the cabin wall, one arm holding the other firmly over my chest, so that I will make no physical contact with the person sitting next to me," she wrote. She even packs mints to avoid needing anything to drink "so that the flight attendant won't have to reach across the row for the fat person."
The essay also shows what it's like to be viewed as "the other." The author recalls how on one flight, a man complained about lack of space and switched seats with another passenger, who refused to make eye contact with her for the entire flight. "Neither would the other passengers in my row," she wrote. "I was so big, and so invisible. This could happen again. I blink back tears."
RELATED: Don't err at the airport: Avoid flying flubs with these tips
As airlines search for ways to make travel more economical, it often comes at the cost of comfort and space. Airbus even introduced a design that would provide bench seating on planes to accommodate people of different sizes. This push toward lower fares and less-than-desirable travel conditions is something the writer is keenly aware of, saying she is often "a scapegoat for all that frustration."
The essay has elicited empathy from many readers. "I've never taken the time to imagine that these kinds of panic-thoughts actually run through the head of fat people," wrote one self-described "skinny person" in the comments.
Others thanked the author for giving a voice to their own experiences. "As both a black and overweight female, the intersectionality of my marginalization speaks volumes," wrote another commenter.
RELATED: Want to be a pilot? JetBlue launches new program — no experience required
And still others said the issue is challenging for all parties. "Am I being unreasonable, in saying, that a stranger's sweat seeping into my clothes, makes me want to vomit too?" wrote a commenter. "I understood, exactly as you have described, how awful, it must have made him feel but  was it fair to me either?"
The Medium writer concluded her essay with this: "Air travel is sadly familiar, a microcosm of what happens so often as a fat person. I am watched — and judged harshly — as I try — and fail — to fit into a space that was made for someone else. I am always too big, always too much, always unacceptable. I must make myself smaller and smaller, reducing and reducing endlessly, my stubborn body resisting at every turn. Still, I am never quite small enough to make anyone else comfortable."