Coca-Cola's "Share a Coke" campaign invites consumers to submit a name online and, for $5, purchase a bottle labeled with said name. A typical bottle might read "Share a Coke with Michael" or "Share a Coke with Mom." But now some provocative designs are floating around that aren't so innocent. They bear the label, "Share a Coke with obesity."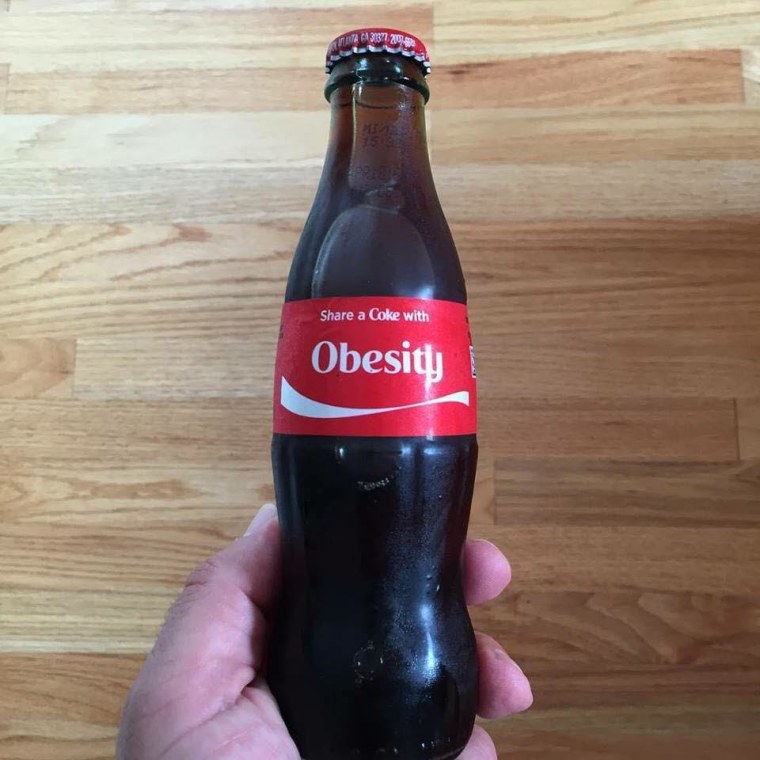 The bottle is part of a new awareness campaign engineered by the Center for Science in the Public Interest, a consumer advocacy group. The organization has been confronting the soda industry for years, and warning the public to watch out for the health dangers associated with sugary beverages.
RELATED: 'That Sugar Film' looks at impact of a diet filled with hidden sugar
"Reducing soda consumption is one of our top priorities," Jeff Cronin, director of communications at CSPI told TODAY.com. "Coke spends billions of dollars positioning sodas as a source of happiness when it fact it causes diabetes, obesity and heart disease. It's more a source of sadness than happiness."
CSPI has put out the YouTube video, "Share a Coke with obesity," showing how they created the imposter bottle. The video also shows a bottle being customized that reads, "Share a Coke with diabetes," though this bottle was not actually made.
CSPI also created the #ShareHonesty hashtag, which is now picking up steam on social media. The hashtag is an ironic spin on Coke's "Share a Coke" messaging, and one that Cronin hopes will effectively hurt Coke's marketing.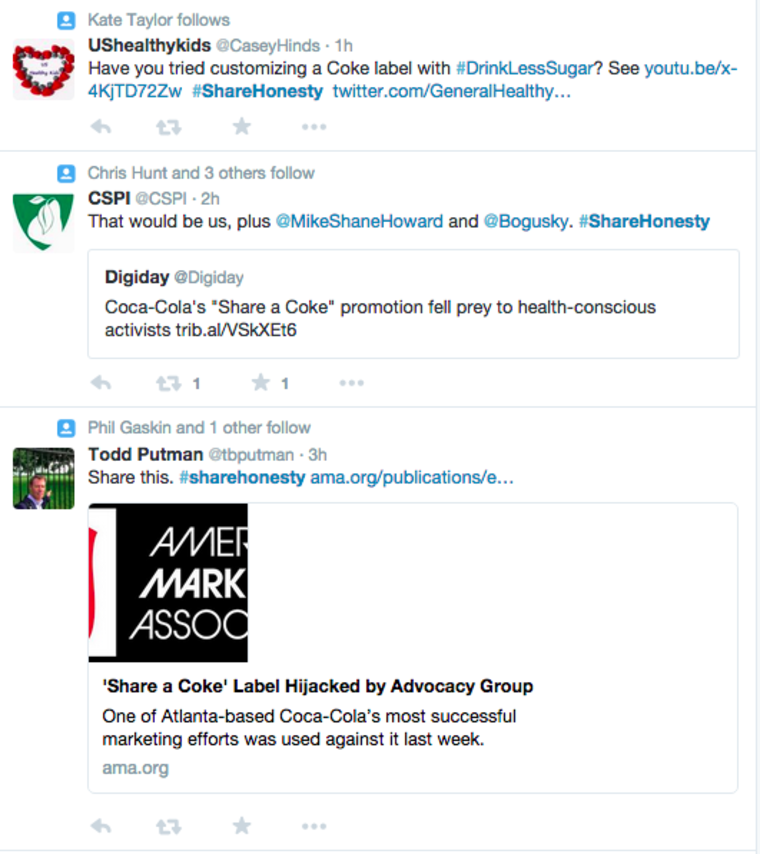 "Coke has been brilliant about using social media. This whole campaign 'Share a Coke' is brilliant. One of the benefits of us doing this is that we get people to think more critically about the messages they get from Coke on social media," said Cronin.
RELATED: Would you wash your hair with soda? KLG and Hoda test out Suki Waterhouse's hair trick
CSPI worked with Mike Howard, CEO of the creative agency Daughters & Howard, and Alex Bogusky, a former partner of the ad agency Crispin Porter + Bogusky, on its latest effort to take down Coca-Cola. But this exact campaign wasn't planned. Like so many great works, it was sort of an accident.
"We were messing around on the 'Share a Coke' site," Howard told TODAY.com. "They have a list of words they don't allow and some they'll let you submit for approval or rejection. I submitted 'obesity' and never got an email back and then as we were working on [another] idea, we heard that 'obesity' was working. [The bottle] came a few days later in the mail."
Howard was pleasantly shocked that "obesity" made it through. That's no longer the case though now. If you try to submit the term on the Share a Coke site, it will be instantly rejected, along with other words that suggest an unhealthy product. Only one "Share a Coke with Obesity" bottle exists as far as Howard and CSPI know, and it lives on Howard's desk.
RELATED: Following our 10-day sugar detox? Try these #NoSugarTODAY sweet treats!
"People were able to submit 'obesity' and [other negative words], but then their order would be canceled [by Coke]," said Howard. Now you can't even enter the word "obesity" for approval. Treated like profanity, it is instantly rejected.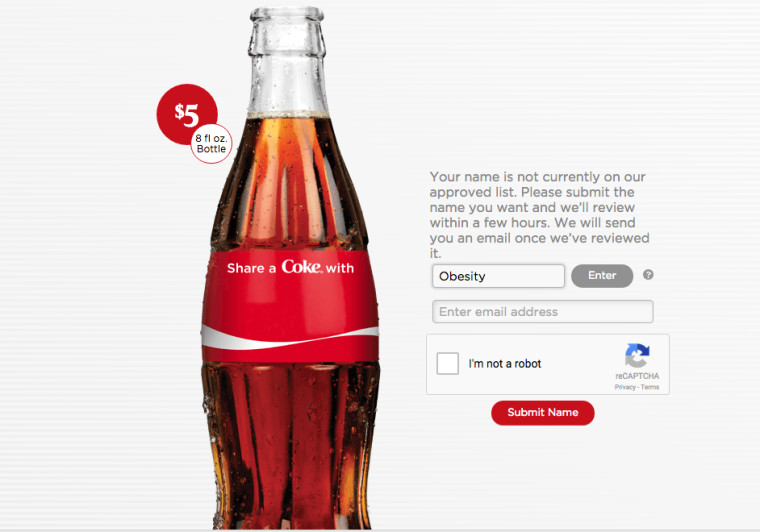 Coca-Cola didn't respond to phone calls and e-mail requests from TODAY at the time of publishing this article.
Howard and CSPI are hopeful that #ShareHonesty will go viral like the 2012 video, "The Real Bears," an animated short film that depicts polar bears, a past mascot of Coke's branding, drinking coke and suffering horrible health consequences. The video has racked up more than 2.5 million views.
The hashtag #ShareHonesty is gaining traction now, but is positioned to blow up once CSPI sends out its newsletter Wednesday morning to its some 800,000 subscribers.