Forget, "I've fallen and I can't get up!" These days, senior citizens have access to technology that is light years beyond the old Life Alert bracelets.
From specially designed smart watches to advanced sensor systems meant to detect falls, tech companies are designing products with seniors in mind. It's a trend that some in the industry think is long overdue.
"There was a stereotype earlier that seniors weren't interested in technology," Marjorie Skubic, director of the University of Missouri's Center for Eldercare and Rehabilitation Technology, told NBC News. "Seniors are willing to embrace technology as long as it has a function that's helpful to them."
Kids might start using Snapchat or Yik Yak because it's the cool new thing. Older people want something that is actually useful.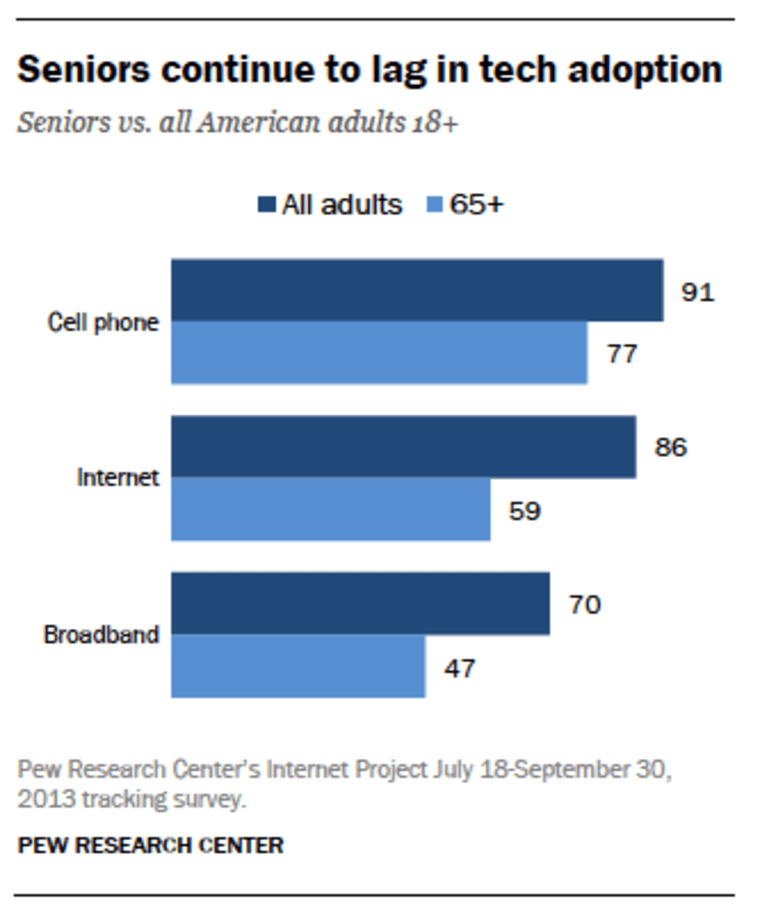 Yes, seniors do lag behind other demographics in adopting technology. Still, 59 percent of American adults age 65 and older used the Internet in 2014, according to a study published by the Pew Research Center, which is six percent higher than two years earlier. The overall number of seniors is also set to grow. By 2050, that population could double to 84 million people, according to a forecast by the U.S. Census Bureau.
That is a huge market — and plenty of companies want a piece of the pie.
Sexy Gadgets Are For Everybody
Iggy Fanlo, CEO and co-founder of Lively, didn't like the way people looked at him when he wore an emergency pendant around San Francisco for a couple of days.
"I felt like a special needs person," Fanlo, 53, told TODAY. "People pitied me."
He was trying to get a feel for why senior citizens might buy something like Life Alert, but then decline to wear it. A study published in the Journal of Gerontology and Geriatrics in 2010 found that only 14 percent of people who bought an emergency pendant wore it after purchase.
Fanlo wanted to make something senior citizens would actually want to put on. He came up with a simple, waterproof watch that displays time, counts steps and call for help when users press a big, orange button.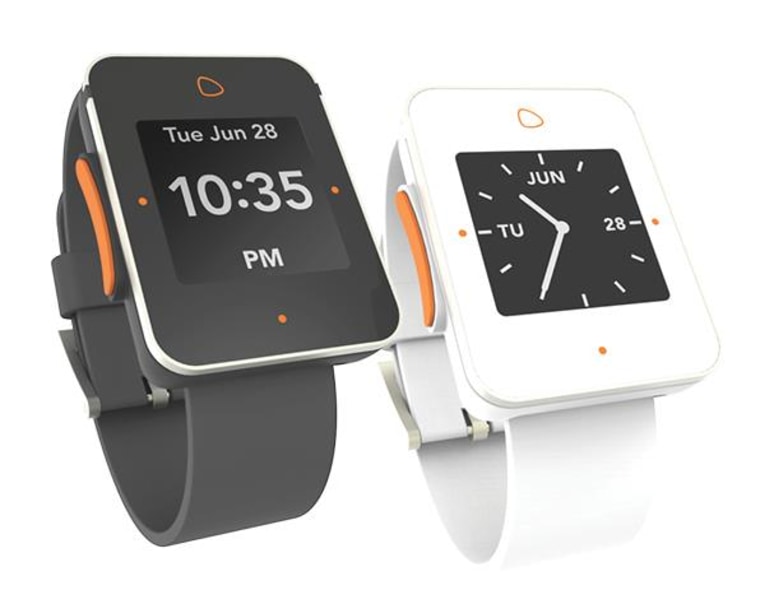 It doesn't really look that different from other smart watches — which is exactly the point. Nothing about it screams "medical device." If a 30-year-old wore it on the street, nobody would think it was weird.
"Seniors aren't any different from everyone else, " he said. "Whether you're eight or 88, you still want nice things."
Sure, senior citizens could just buy the new Apple Watch, but that is a relatively complicated device that doesn't make calling for medical help a priority. Emergency pendants, on the other hand, have no other function than calling for help. That makes them useless most of the time.
Lively hopes that its watch can appeal to people who want something in the middle. The company also makes sensors that can be attached to pillboxes and refrigerator doors that can remind someone to take their medication or alert family members if someone hasn't been active recently.
There are plenty of other companies creating products for seniors too. The grandPad is a modified Android tablet with an extremely simple interface and live member support. GreatCall sells several smartphones designed specifically for senior citizens.
L.A.-based SingFit is being used to provide music therapy to people in 60 senior citizen centers across the country. It's kind of like karaoke, but it speaks lyrics out in plain language before they are supposed to be sung, which helps people with conditions like dementia and vision problems follow along.
"It's when people begin to socially isolate that rapid decline happens," Rachel Francine, CEO and co-founder of SingFit, told TODAY. The hope is that SingFit can prevent that by encouraging seniors (even those with physical and mental ailments) to sing together as a group.
Other products take zero technical skill to use, like Marjorie Skubic's remote sensor network. It keeps track of seniors in their own home using motion sensors, Microsoft's Kinect and a sensor placed under the bed to monitor respiration and restlessness during sleep. The hope is to catch health problems or injuries early so they don't get worse — all with technology that seniors don't even have to interact with.
"We want it to be almost invisible," Skubic said. "They don't have to put anything on, they don't have to charge any batteries. They don't have to worry about anything."
Not So Old-School
When most people think of Uber or FreshDirect, they probably think of young urbanites. But senior citizens could benefit from them as well.
"A lot of convenience services are targeted toward busy yuppies," Katy Fike, co-founder of Aging2.0, which helps fund senior-focused tech companies, told TODAY.
"If you look at who has these needs, grocery shopping and transportation services can really make the difference between living independently and having to hire a caregiver or move into a home."
The problem could be that tech companies are young — really young. A study by Payscale, a salary comparison service, in 2013 found that only six of 32 tech companies surveyed had a median employee age over 35. That might explain why many products are designed and marketed without senior citizens in mind.
More senior citizens might use these apps if companies focused their advertising on specific features, instead of trying to build a hip, young brand, she said. It would also help if they hired more older Americans.
"It's very hard for a 24-year-old to put themselves in a senior's shoes," Fike said. "We do too much designing for seniors when we really should be designing with them."
Keith Wagstaff writes about technology for NBC News. He previously covered technology for TIME's Techland and wrote about politics as a staff writer at TheWeek.com. You can follow him on Twitter at @kwagstaff and reach him by email at: Keith.Wagstaff@nbcuni.com