Fresh drinking water makes up just one percent of the Earth — a tiny number when you consider that the Environmental Protection Agency (EPA) estimates that the average American household of four uses about 146,000 gallons of water annually (that's the equivalent of 100 gallons per day per person).
And a recent government study cited by the EPA reveals that at least 36 states anticipate water shortages on a local, regional, or statewide level by 2013. Any way you pour it, water is a big deal, but there's good news for Lazy Environmentalists. A few simple and affordable changes can dramatically reduce consumption levels. You can also save money as you save water. The EPA estimates that simple conservation techniques can help the average household reduce its yearly water and sewer bills by $170.
Start with the showerYour daily eight-minute shower uses about 20 gallons of water. Take a shower once a day and it adds up to 7,300 gallons per year. With that much water, a typical family of four could fill its own medium-size swimming pool, wash 4,152 loads of laundry, or make 166,115 pots of Campbell's soup.
Thankfully, you don't have to sacrifice your hygiene to conserve water in the shower. A strategic showerhead is all it takes. WaterPik — creator of the original massage showerhead — recently introduced the Ecoflow. The low-flow showerhead utilizes the company's patented optiFLOW technology to deliver a spray that's comparable to most standard showerheads, yet uses 40 percent less water. Ecoflow uses 1.5 gallons per minute, while the standard showerhead gushes out a whopping 2.5 gallons per minute. The showerhead also features a water pause switch so you can prevent waste when waiting for the hot water to kick in or while lathering up. Waterpik-store.com's fixed-mount Ecoflow models start at $19.99 and a handheld version is available on the site for $29.99.
Evolve has designed a series of water-saving showerheads that run cold water until the temperature reaches 95 degrees and then stops the flow to a trickle. This way hot water doesn't release until you actually step into the shower and turn the valve to release the flow.
So you can shave, make the bed, bake cupcakes and catch the end of "Oprah" without wasting gallons of water and all the energy required to heat it. Multiple showerhead styles are available, including the Roadrunner low-flow showerhead, delivering strong water pressure with just 1.59 gallons per minute ($39.95, Evolveshowerheads.com). The company estimates that the Roadrunner saves eight gallons of water for every five-minute shower when compared to standard showerhead models.
Trade in your toiletSit down on some great water savings by opting for a high-efficiency toilet (HET). According to the EPA, toilet flushing accounts for about 30 percent of all indoor residential water use, requiring more water than any other activity in our homes.
But the right toilet can change those statistics for the better. In response to rising water demand and looming water shortages, the EPA developed WaterSense, a program that makes it easy for consumers to quickly identify water-efficient products. Toilets that carry the WaterSense label are third-party certified to be at least 20 percent more efficient than today's standard toilets, which reduce flow per flush from an average 1.6 gallons to 1.28 (but toilets installed in your home before 1994 still use 3.5 gallons or more per flush). Visit the program's Web site to find qualifying products plus a list of participating retailers like Vidavici.com, offering one of the widest selections of WaterSense–rated toilets available on the Internet.
You can save even more money by taking advantage of rebates for water-efficient toilets that are sponsored by local city governments throughout North America. For example, residents of Albuquerque, N.M., can receive a $125 rebate when replacing a standard toilet model with a water-efficient model. In Sioux Falls, S.D., residents are eligible for a $75 rebate when making the switch. Visit Toiletrebate.com to see what incentives may be available to you.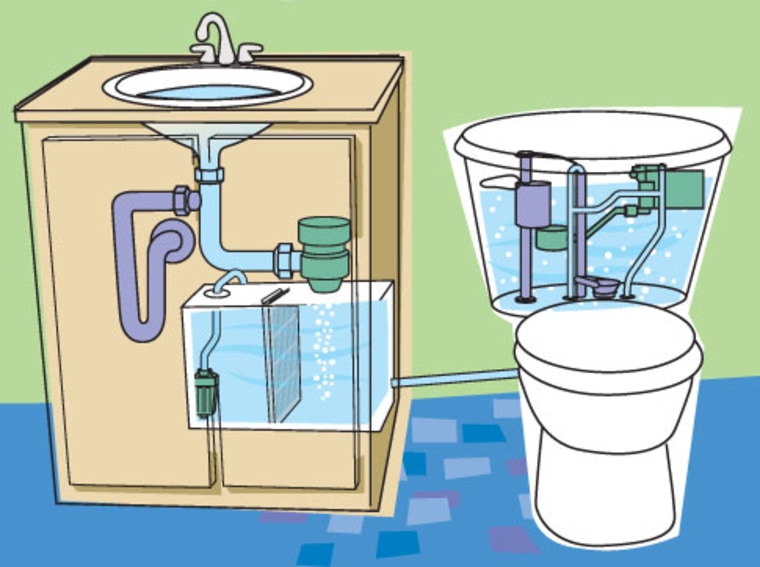 But why send perfectly clean drinking water down the toilet? An AQUS System reuses the water from your bathroom sink for all of your flushing needs. Developed by Water Saver Technologies, the AQUS is a small, simple system that uses a 5 1/2–gallon container inside your sink's vanity (or behind the wall or underneath the floorboards) to capture and filter water as it comes down the sink's drain. The water is run from the container to your toilet's tank with a small tube. Install the AQUS, and you'll be a hero of the planet though you'll barely notice that the device is there. Two people sharing an AQUS-equipped bathroom are estimated to save about 14 gallons of water per day, or 5,000 gallons over the course of a year. The system is available for $295 plus installation. Depending upon your local water and sewage rates, Water Saver Technologies estimates that it usually pays for itself within four to five years. You can find a distributor at Watersavertech.com.
Don't forget the faucetNext stop on the water conservation journey is the faucet. The EPA estimates that 15 percent of the average household's indoor water use goes toward running kitchen and bathroom faucets. Standard faucets flow at two gallons per minute. WaterSense-certified faucets reduce that number to 1.5 gallons per minute — savings that add up over time. Find brands that qualify — including Delta and Moen — on the program's Web site.
Like your faucets just the way they are? Install faucet aerators instead (you can find them at your local hardware store). Aerators from companies such as Creative Energy Technologies sell for under $7 and reduce faucet flow to 1.5 gallons per minute while still delivering a strong, powerful spray. The company also offers a model that reduces flow to .5 gallons per minute, which may be preferable for bathroom sinks, where a strong flow isn't as important. To date, Neoperl is the only aerator brand approved by WaterSense, but you can expect more to qualify as the WaterSense program gains broader recognition.
Upgrade your dishwasherYour dishwasher may seem like a guilty necessity, but now there's another reason — besides easy dinner-party cleanup — to love the appliance. A Europe-wide study conducted by scientists at the University of Bonn found that using the latest models of dishwashers saves both energy and water, not to mention time, when compared with washing dishes by hand.
This is one area where it's actually preferable to take the lazy route. Though high-quality dishwashers can cost as much as $1,000 when you add in perks like adjustable upper racks, hidden controls, sensors and self-cleaning filters, budget-minded environmentalists can still get the grease off their plates with more economical models. A quick visit to EnergyStar.gov will give you an expansive list of dishwasher models that qualify for the Energy Star label. Dishwashers that are Energy Star rated are at least 41 percent more efficient than standard models. Greenerchoices.org is another solid resource for identifying specific models that clean well while utilizing less energy and water.
The most affordable dishwasher for Lazy Environmentalists is the Whirlpool DU1055XTS(Q) available from Best Buy ($350) and numerous stores across the country. The washer is 43 percent more energy efficient than standard dishwashers and uses just six gallons of water per load (remember, the less water you use, the less energy you'll burn to heat it). The DU1055XTS(Q) features five wash cycles, a delay start, adjustable tines, a sani-rinse option and a self-cleaning filter.
The one downside to all this eco-affordability is noise. This particular Whirlpool model lacks the sound insulation available in more premium-priced models. If you're comfortable springing for a bit more, the Bosch SHE33M02UC ($549 at Homeverything.com) is 80 percent more energy efficient than standard dishwashers, utilizes just five gallons of water per load, and is considerably quieter than the Whirlpool DU1055XTS(Q). The Bosch also features a stainless-steel tub, adjustable tines and an adjustable upper rack. And like all Bosch dishwashers, this model uses heat from the wash cycle to dry dishes — yet another way to save energy.
Redefine your washing machineLaundry machines are a different story. According to the EPA, the average household uses about 40 gallons of water per day doing laundry. Energy Star–rated washing machines can help you cut that amount by more than half while still getting the grass stains out of your kids' sports uniforms. Ninety percent of the energy expended by clothes washers is used for heating the water, so moving toward an Energy Star, water-efficient model protects the environment and your bank account.
As a rule of thumb, front-loading washers are more energy- and water-efficient than top-loaders. They also require less detergent and have shorter drying times (thanks to better moisture extraction during the spin cycle). Front loaders also tend to hover in the upper price stratosphere with top-of-the-line models reaching close to $2,000. A highly rated yet more affordable front-loader is the Frigidaire GLTF2940FS, available from Sears, PC Richards, Amazon.com, and other retailers for as low as $594. The model gets the job done efficiently and can be stacked easily with a dryer. As for top-loaders, the eco-budget winner is the GE WSE5240GWW available from Sears, Home Depot and other retailers starting at under $400. This GE model offers an ample 3.2 cubic feet of capacity and features an automatic load balancing system that enables the washer to remove more moisture from clothing by spinning at faster speeds (a feature usually reserved for front loaders). As a result, clothes are less damp when they go in the dryer, so they won't have to stay in as long — which will earn you yet another energy saving point.
Find a new way to waterThere is no thirstier task than landscape irrigation, clocking in at about 30 percent of all household water use. To make matters worse, more than 50 percent of the water we use is wasted as a result of evaporation, wind, improper irrigation system design, or overwatering.
Throughout the South and Southwest, water restrictions are already in place in many communities, but installing a smarter irrigation system is another way to keep your lawn and plants thriving while conserving water and cash. The Cyber-Rain XCI is a residential sprinkler control system that allows you to program and control your water output directly from your computer via a wireless link (included with the system). The Cyber-Rain automatically connects to weather satellites to adjust the sprinkler schedule to rain and other climate patterns in your area and lets you view how much water you're saving in real-time on your computer. The system is equipped with wireless controllers for up to eight separate zones (more zones can be added by purchasing additional controllers) and retails for $349.
Flowerbeds and plants will benefit from a drip irrigation system that sends a slow trickle of water directly to your plants' roots from a perforated tube installed beneath the soil's surface. Drip irrigation systems eliminate evaporation waste and off-target sprinkling due to gusts of wind. The systems are affordable (typically as low as $40) though you may want to hire a professional to make sure it's installed properly.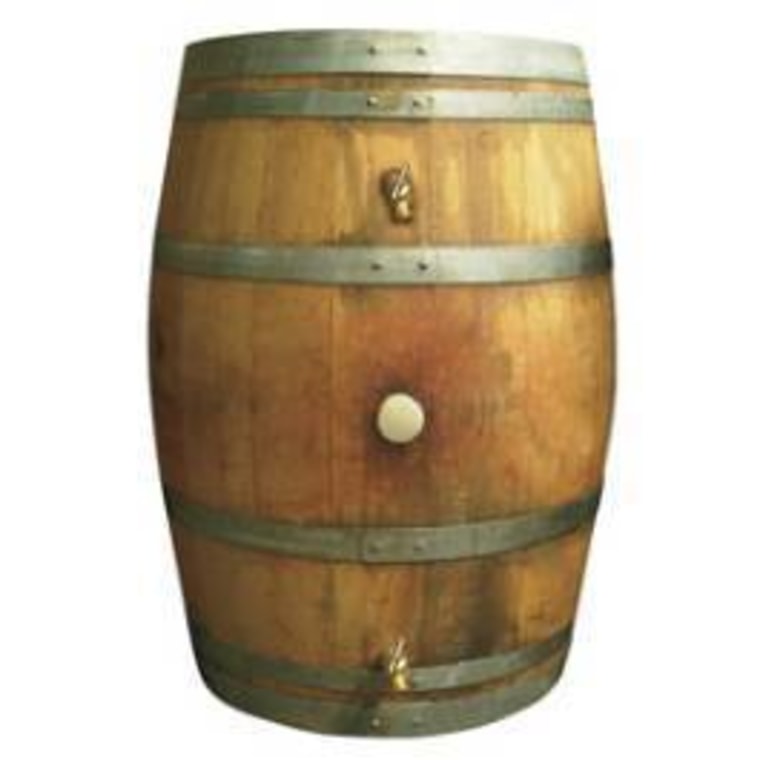 The EPA's WaterSense Web site maintains an active list of landscaping professionals throughout the country who are qualified to install and provide maintenance on such systems. Check out Dripdepot.com to view a wide selection of drip irrigation systems, and be sure to check out the company's simple online tutorials and videos that guide you through the installation process should you choose to DIY. A drip system can also be connected to rain barrels, which collect water from your roof's gutters and downspouts. Try TerraCycle's rain barrels ($99), made by repurposing empty Kendall-Jackson wine barrels. Find them at Sam's Club and major gardening centers around the country.
Adapted from Josh Dorfman's forthcoming book "The Lazy Environmentalist on a Budget: Save Money. Save Time. Save the Planet," to be published in April 2009 by Stewart, Tabori & Chang.
About the author: Josh Dorfman is author of "The Lazy Environmentalist: Your Guide to Easy, Stylish, Green Living" and also the founder and CEO of Vivavi, a provider of modern, eco-friendly furniture and home furnishings. Find out more at lazyenvironmentalist.com.